Philippe Coutinho believes he's continually improving under the leadership of Liverpool manager Jürgen Klopp, who he is confident in to restore the Reds to former glories.
The Brazilian made his return from a hamstring injury which kept him out for over a month against West Ham United in an FA Cup replay, scoring a terrific free-kick under-the-wall to remind supporters of his outstanding quality.
The No.10 has taken little time to get into his rhythm, again demonstrating the best of his abilities in his side's 6-0 win at Aston Villa, assisting both Daniel Sturridge and Divock Origi's goals with excellent set-ups.
Now, with a monumental week handing Liverpool the chance to reach the round of 16 in the Europa League and lift their first piece of silverware in four years in the Capital One Cup final against Manchester City, Coutinho is confident that Klopp is the right man to lead the club forward.
Creative midfielder declares Liverpool are moving in the right direction
Speaking to World Soccer magazine, Coutinho spoke about the German's work at his former club Borussia Dortmund where he says the manager "created a highly successful side" and said that it's "great for Liverpool to have him."
He revealed that the squad are "working hard and enjoying his methods" in training and insisted that Klopp and his backroom staff are "helping to make us better players."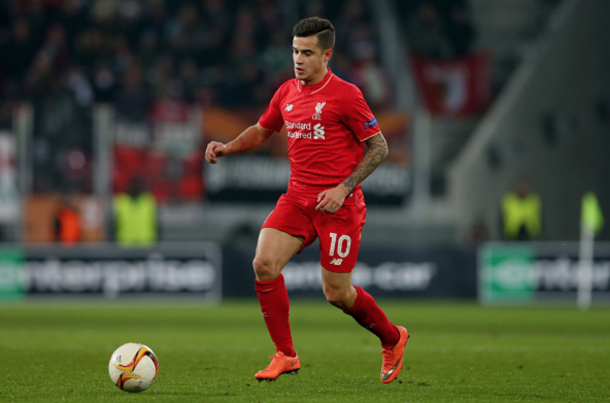 And the Brazil international believes that "little by little" the work behind-the-scenes is "translating to matches" and that "everyone has seen how effective his philosophy can be if we adapt it in the right way."
"It feels like we are moving in the right direction under him," declared Coutinho, who says he and his teammates are full of belief and confidence that they can "fight for the big prizes" and "enjoy some special moments with the fans."
I'm enjoying working under Klopp's style, says Coutinho
Injury troubles and a hectic training schedule has denied the Klopp the kind of time he needs to fully implement his ideas, but thre have been than a few occasions in which his methods have clearly been effective.
Not least their 4-1 win over City in the Premier League back in November, in addition to a 6-1 win at Southampton, the 6-0 win at Villa and their 3-1 win away at Chelsea.
Coutinho added that the team are playing "a high-pressing game" which he says he is "enjoying" because there is "more freedom" when his side are in possession.
"We still have responsibilities within the team," admitted the 23-year-old, adding that Klopp asks them to "play our game more naturally" which allows them to "express ourselves."
He added that the Reds boss has "put his ideas forward" and that they are "helping to make me an even better player" - a surely tantalising possibility for Liverpool fans, who have grown accustomed to Coutinho stealing the spotlight with sensational goals and performances in the last 18 months.
Coutinho thankful to former managers
But the attacking midfielder also credits his prevous managers for helping him to reach the level he's currently at, in particular Brendan Rodgers - who signed him for £8.5 million from Inter Milan three years ago.
He said that he's been "lucky to work under some fine managers" in his career thus far, explaining that they "have each added an element" into his game.
Coutinho listed Rafael Benitez, Mauricio Pochettino and Dunga as a number of those influences, before saying he will always have "a special gratitude" to former Liverpool manager Rodgers, saying: "He believed in me and brought me here. He gave me the opportunity to play for such a great club."
More to come from Firmino, hopes Brazilian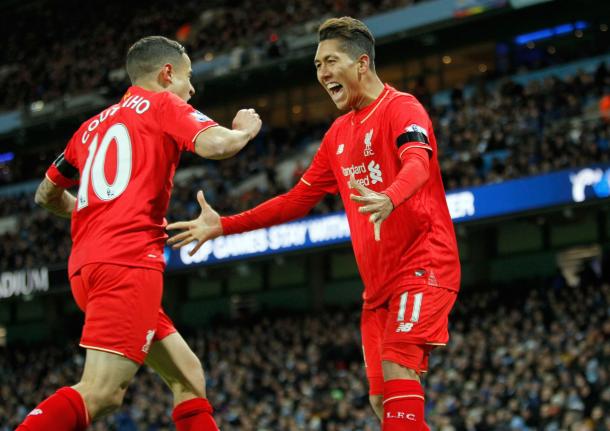 The Reds' forward has shown signs of a blossoming link between himself and his compatriot Roberto Firmino in recent months, with the compatriot having only joined the club from Hoffenheim last summer.
Their most notable impression was that 4-1 win at City, in which Firmino scored his first goal, but with the in-form forward having excelled in the absence of his fellow Brazilian - Coutinho is hoping they can improve further.
He explained that their understanding together is "improving" and says he's "learning more and more about the way he likes to play, as well as his movement off the ball."
Coutinho hopes the No.11 can be beneficial bothf or club and country and called him "a great player who brings a lot of quality into the squad."
"It is not just about two players and a partnership," he continued, before insisting that the entire squad is "working to improve" and reach their "main objective" of winning trophies "as a unit."