Jürgen Klopp insists that Liverpool deserved their 1-0 victory over FC Augsburg in the last-32 of the UEFA Europa League on Thursday as he explained his decision to field Lucas Leiva at centre-back.
James Milner's fifth-minute penalty proved the decisive strike between the Reds and their Bavarian opponents at Anfield, having come away from Germany with a goalless draw in the first leg.
Speaking in his post-match press conference, Klopp declared that his team were worthy winners - although he admitted Augsburg offered them a stern test.
Klopp: It was tough but we were the better team
"It was a very tough game," he described after the final whistle, saying that Markuz Weinzierl's side "showed their determination to play" and "made it difficult" for the hosts to play because they "took risks and defended very well."
The German said that, looking at it "overall", his opposite number has "got a great team and done really well" and in particular cited "the injuries they've had" in recent weeks.
But Klopp admitted it's "less important" what they think of their opponents and called it a night for Augsburg to "feel very proud" of their efforts.
He added that his team were "that good" that the visitor's game plan couldn't be seen for the first 70 minutes, but said that they "had the long balls and could chance [Raul] Bobadilla and a few other players, strikers" in the final 20 minutes.
The Reds boss admitted that the Bundesliga outfit's free-kick deliveries were "the biggest challenge" for his team, but said it was "a really good game" and the result was "absolutely deserved" because they "were the better team and created chances."
Klopp did acknowledged that they had "one problem" which he said was that they "didn't use" all their chances and didn't "score often enough" but dismissed it as "how football is sometimes" and said it's "still a long way" in their development.
He also accepted that they "couldn't control the game" as comfortably as they might have liked in the last 20 minutes but insisted, in hindsight, that a 1-0 win is "completely fine" and that "there are no injuries" and whilst it was "hard" they are now "in the next round - well deserved."
Lucas did well in defence, insists pleased Klopp
Liverpool made just the one change from the starting eleven that played in the first leg a week ago, with Kolo Touré making way for Lucas in the heart of defence.
Explaining that decision to reporters, Klopp praised the Brazilian for coming in and performing well and hinted that Touré's absence could be because he's in line to start their huge Capital One Cup final at the weekend.
"I knew we had to play more football from the last line," he said, describing that whilst Touré has "a lot of quality and skills" - the first reason the Ivorian veteran was not involved was "not that he always wants to play" but because against a side defending deep they "needed in nearly all positions a player who wants to play a pass."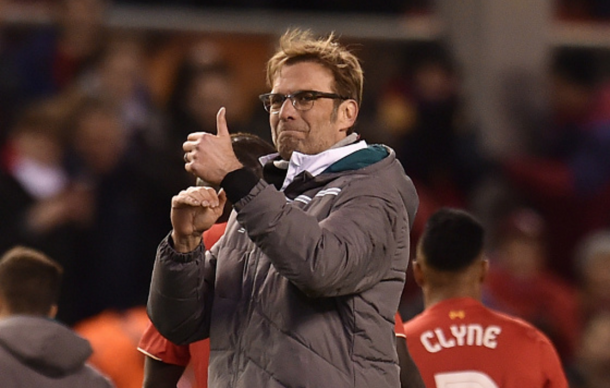 "Not the last pass from the last line but with passing skills. That was one thing," he added, saying that the other reason was because Touré "did really well and played great" but had "a lot of games now in his legs" and Lucas was "waiting."
Klopp was full of praise for the deputising defender, insisting that he "played this role really well" and he was "really pleased" for Lucas because it was "not too easy" for him.
"When he doesn't play, he's a different person!", joked the manager, who said that it's "not easy for him to enjoy life when he's not playing" but said he had worked hard enough to deserve "this game."
Sturridge and Coutinho need minutes to regain full fitness, explains Reds boss
The front three of Philippe Coutinho, Roberto Firmino and Daniel Sturridge were unable to get on the scoresheet but looked dangerous throughout and Klopp believes that it's vital for the attacking trio to find their rhythm through regular game time.
"That's important, that's what every player would tell you," said Klopp, who said players "need to know you can carry on in a situation where it's a little bit harder" as he said that Coutinho had "one or two situations after challenges where he felt this or this."
However, he said that he was fine and the team simply "need to find new faith or trust" in their bodies. "We are all like this - 'oh my god, what heppened?' - nothing, it's only normal in football that you have a few situations like this. That was really great."
The boss added that Coutinho and Sturridge are "both very important" for the squad and said they need them "in best shape" which they can only get to through "training and [playing in] matches."
Klopp says Liverpool will give the final their best shot
Liverpool's attention now turns to the cup final at Wembley in just a matter of days, as they take on Manchester City for the first piece of silverware of the season.
On the momentum gained from the win over Augsburg, Klopp said that it's a better result than if they had been beaten and gone out - but said that it's "different and not relevant to Sunday."
"The team has benefitted from a good performance and gained confidence," he added, although he admitted City could take the same from their Champions League win in Kiev the night before, before declaring: "We'll try our hardest to produce a good performance on Sunday."