Unfortunately, that's all we've got time for today. I've been Oliver Emmerson, taking you through the League Cup final, in which Manchester City beat Liverpool 3-1 on penalties after a 1-1 draw. Until next time, farewell!
Vincent Kompany lifts the trophy! Manchester City; Capital One Cup 2016 Champions!
Liverpool players getting their runners up medals, a few of them in tears. No surprise, they battled well, but it just wasn't to be. Jürgen Klopp will have to wait a little longer for his first trophy on L4.
Willy Caballero speaking on television, admits that it's been a tough week for him, but that he's delighted after today. He's then carried off by Wilfried Bony to celebrate with the jubilant City fans.
Heartbreak for Liverpool, who did extremely well to make it this far, but you do have to admit that the Citizens were the better side on the day, and probably deserve the win.
It's all over, Manchester City defeat Liverpool 3-1 on penalties to win the Capital One Cup! Caballero the hero, with three fantastic saves in the shoot-out to win it for his team.
TOURE SCORES! Manchester City win the Capital One Cup!
LALLANA MISSES! City have a penalty to win it! Toure to take...
AGUERO SCORES! 1-2, Advantage City with three taken each!
COUTINHO MISSES! 1-1
NAVAS SCORES! 1-1
LUCAS MISSES! 1-1
FERNANDINHO MISSES! 1-1
CAN SCORES! 1-0
So, who do we fancy here? City probably have better takers on the pitch, but you can't argue with Liverpool's recent record from the spot in cup shoot-outs. Mignolet and Caballero can makes themselves a hero, kicks to be taken at the City end. Can to go first.
Full-time ET: Liverpool 1-1 Manchester City (Fernandinho, Coutinho) Penalties it is!
120+1: Fernandinho nods wide from the corner, it looks like we're going to have penalties.
120: Lucas gets his head to the free-kick, but can only put it out for a corner, one minute of stoppage time.
119: Huge chance for City now, Coutinho fouls Navas...
117: Handbags! Adam Lallana - Yaya Toure. Both of them carded, and City have a free-kick in a good position to float it in.
113: Chances everywhere at the moment! Milner, so good going forward in the last few minutes, heads one back to Mignolet that Aguero latches on to, but his dink goes over the bar.
111: Caballero called into action again, but it's an easy one for him this time as Origi fails to get a touch on Milner's ball in.
110: Decent opportunity for Liverpool after Otamendi fouls Clyne just outside the penalty area, but Sturridge sends the free-kick into the hands of Cabellero.
109: Save! Caballero this time the hero, saving from an Origi header at point blank range after brilliant work from James Milner down the left. Final change for City, Bony on for Silva.
105: We're off again, a quick turnaround and play resumes.
Majestic Mignolet keeps Liverpool alive once more, that's the story from the first half of extra time. 15 minutes left to play.
Half-time ET: Liverpool 1-1 Manchester City (Fernandinho, Coutinho)
105: Another brilliant save! Henderson's backpass causes confusion in the Liverpool ranks, and Aguero has a chance to win it for his side, but a strong left hand from Mignolet keeps it out.
101: Liverpool's first effort of the extra time period, Origi lashes one over the bar from some way out. City are having muchmore of the ball, so you'd think Jurgen Klopp's side will have to hit them on the counter if they're to win this in 120 minutes. At this point, you'd probably put your money on the Citizens.
95: A tentative start to the final half hour. Hardly a surprise, given what's at stake. Jesus Navas and Pablo Zabaleta are both fresh down the right hand side, and you'd think they'll cause James Milner some problems as we enter the final stages.
90: Underway in extra time!
Two changes for City; Navas and Zabaleta on, Fernando and Sagna off.
Well, how haven't City won? After a horrendous bit of goalkeeping from Simon Mignolet allowed Fernandinho to put them ahead, they dominated, and went close on numerous occasions. However, Coutinho scored his fifth goal in his last six games against the Sky Blues to level up, and that's what takes us to extra time.
Full-time: Liverpool 1-1 Manchester City (Fernandinho, Coutinh0) Extra time it is!
90: Four minutes of stoppage time, will someone make themselves a hero?
89: Toure plays it to Silva, who appears to handle the ball, before having a shot blocked out for a corner by Toure. How it doesn't go in, we'll never know! The ball bounces down in the area, to the feet of Toure, Mignolet again with a top save.
86: What a save from Mignolet! A City cross falls for Fernando in the area, six yards from goal, surely he can't miss, but Mignolet stops it! That might have made up for his earlier error. Kompany now carded too.
85: Can the latest to be given a yellow card, foul on Clichy.
83: Just as it looked like City had their name on the cup, Coutinho levels up! The ball breaks for Sturridge in the area, he puts a great ball across to Lallana, who hits the post. The ball comes back into the path of Coutinho, and he makes no mistake in sending the ball into the net!
GOALLLLLL!!! COUTINHO LEVELS UP!
80: Superb from Aguero, who has Lucas on skates before pulling it back for Sterling, with the youngster putting another golden chance wide. Origi replaces Firmino in Liverpool's final change, no Benteke today.
78: An opening for Milner, as Sturridge picks out a good pass to him down the left hand side. Unfortunately for the Reds, his ball in is poor, and Otamendi shovels it away.
75: Aguero tries his luck from range, but a weak effort is gobbled up by Mignolet. City look more like scoring a second on the break than Liverpool do on the counter. Fernando into the book, carded for pulling down Lallana.
72: Liverpool bring Adam Lallana on for Alberto Moreno, Milner to left back.
69: Aguero again threatening, taking the ball away from Lucas with his first touch, before sending a strong left footed effort at goal. Mignolet gets down to stop it though, gathering at the second attempt.
66: David Silva goes for it, but it curls over the bar. You'd imagine that Jurgen Klopp will be looking to make a change, given the way his side have collapsed since conceding the opening goal. Liverpool 0-1 Manchester City, 24 minutes of normal time left.
65: Moreno does concede a foul now, hauling Fernandinho over as he broke away. He gets a booking, City get a free-kick in an excellent position to shoot.
62: Penalty appeal! Moreno seems to take Aguero out as the Argentine races away into the area, but Michael Oliver says no. Liverpool are hanging on ever so dearly here.
60: Sterling with a huge miss! Lucas charges out of position and allows Toure to slip in Silva. The Spaniard is calm under pressure and plays Sterling in, with only Mignolet to beat from 10 yards out, but the winger puts it wide. An agonising miss that could have secured the cup against his old club.
59: Kompany and Otamendi have been absolute rocks at the heart of the City defence today, so much so that Liverpool are yet to have a shot on target. They'll need that to change if they're to get back in this final.
56: Chance for Liverpool, missed! Sturridge, Coutinho and Henderson do well before the former pops a ball through to Milner, but it's a shocker from the Englishman who slices it wide.
53: Clyne the first player to go into the book, given a yellow for a foul on Sterling.
49: That's an absolute howler from Simon Mignolet! Aguero waits patiently with the ball on the 18 yard line, slipping it to Fernandinho to his right. The Brazilian shoots from an unlikely angle, but Liverpool's Belgian 'keeper lets it slip through his arms and into the net. 1-0 City!
GOAL! Fernandinho fires City ahead!
48: Half a chance for Aguero! Can puts in a brilliant challenge in midfield after Henderson's sloppy pass, but the ball breaks for Silva who releases his frontman. However, the Argentien struggles to get his head over a bouncing ball and blazes over.
45: The second half is underway.
No goals yet, but it's not by any means been a drab match. Liverpool started and finished strongly, but it was City who looked most like scoring for most of the half. Sergio Aguero could, and should, when he capitalised on some sloppy defending to curl an effort towards the corner, Simon Mignolet expertly tipping it onto the post.
Half-time: Liverpool 0-0 Manchester City
45: Two added minutes at the end of the first half, resulting from the treatment given to Sakho and Can earlier in the game.
43: No, he won't. It was from some distance, so Toure chipped one into the area, with the Reds easing the ball out for a corner.
42: Lucas leaves a late one in on Aguero, but escapes a booking. Will Yaya Toure threaten from the free-kick?
39: A couple of corners for City, but Liverpool deal with them both. The closest we've come to a goal was Sergio Aguero's shot being saved onto the post. Will we see one before half-time? Just over five minutes for that to happen.
33: Well worked! Milner nudges it to Coutinho, who has a shot rifle across the box, inches away from the head of Toure. City fans had their hearts in their mouths for half a second.
32: Liverpool free-kick right on the edge of the area as Fernandinho fouls Sturridge, again a set-piece down the channel, so it'll be crossed by Milner.
26: You really do feel sorry for Sakho, who has a jacket covering his head as he sits on the bench. He completely lost his balance as Aguero went through, and it's for his own safety that he's had to come off. Toure-Lucas the centre-back pairing for the Reds, they had a brilliant game together away at Stoke in the first leg of the semi final.
24: Sahko's distraught, but he's had to be replaced. Kolo Toure on for the Frenchman, hopefully he'll be okay.
23: Off the post! Sakho's all over the place, that head injury has effected him more than first thought. Aguero turns both him and Lucas, before curling an effort which Mignolet does brilliantly to turn onto the post.
21: Another set-piece opportunity for the Citizens as Henderson fouls that man Sterling, but Lucas rises highest to clear.
18: That's a relief for the Reds, both of them back on the pitch. The game continues, no goals as of yet.
16: There's a big worry for Liverpool here, as Mamadou Sakho and Emre Can clash heads when trying to beat Fernandinho to a header. Sakho did eventually clear the ball, but at what cost? They're both recieving treatment.
11: Nathaniel Clyne has already fouled Sterling a couple of times, and that's set up to be an intriguing battle as the game goes on. Unsurprisingly, after his aforementioned exit, Liverpool fans are booing Sterling everytime he gets on the ball. Toure releases Sagna down the right in a dangerous position, but Lucas heads clear. City growing into the game.
8: Well headed away by Mamadou Sakho, and Fernandinho sends a volley high over the bar.
7: First chance for City to trouble Mignolet, as Clyne fouls Sterling on the edge of the area, down the left hand side. David Silva will deliver the ball in, with Kompany and Otamendiing up the large Wembley pitch.
6: Milner turns on the edge of the area and has a shot blocked, which frustrates Nathaniel Clyne, who was making an excellent run 10 yards to the right. Coutinho attempts to release Clyne in behind soon after, but his pass is a little too heavy.
4: The Steven Gerrard chant (the friendly one) rings around Wembley as the Merseyside fans seek to be heard. They've seen more of the ball in the opening few minutes.
1: Bright start from Liverpool! Firmino and Sturridge link up in the middle before the ball is played out to Moreno, but the Spaniard sends a fairly weak cross-cum-shot into the hands of Caballero.
0: Kick-off, we're underway at Wembley!
That's all done with, the handshakes are over, the players take their positions and we're ready to begin!
The players are emerging out onto the pitch! The atmosphere is electric, and they'll now line up for the national anthem.
Just 10 minutes until kick-off! Get your predictions into @VAVEL on Twitter! How do you think it's going to go, will Klopp or Pellegrini be smiling at the end of the day? Not long until we find out!
Manuel Pellegrini has stuck with the same system that brought him success against Dynamo Kyiv in midweek. Yaya Toure is again not risked in a pivot midfield, the Ivorian lines up ahead of Fernando and Fernandinho. Sergio Aguero will of course be the main threat up front, but it might be more important for City that they're able to select their first choice centre back pairing, in Vincent Kompany and Nicolas Otamendi.
So, the big news for Liverpool is that Lucas is chosen to start at centre-back, ahead of Kolo Toure. The Brazilian has never played at Wembley before, often speaking of his desire to play at the National Stadium, so it's a big day for him. That attacking three of Roberto Firmino, Philippe Coutinho and Daniel Sturridge all start, whilst James Milner will also offer a threat. Interestingly, there's no place on the bench for youngster Jordan Ibe, whilst Christian Benteke is again amongst the substitutes.
Manchester City substitutes: Hart, Kolarov, Zabaleta, Demichelis, Navas, Iheanacho, Bony.
Liverpool substitutes: Bogdan, Toure, Allen, Flanagan, Benteke, Lallana, Origi.
Manchester City XI: Caballero; Sagna, Kompany, Otamendi, Clichy; Fernando, Fernandinho; Sterling, Silva, Toure; Aguero.
Liverpool XI: Mignolet; Clyne, Lucas, Sakho, Moreno; Can, Henderson; Milner, Coutinho, Firmino; Sturridge.
We've got the all important team news! Who is starting at Wembley? Find out now!
Liverpool also won their last fixture before this final, making it three games unbeaten following a run of five games without a win. Having draw 0-0 in Germany last week, they beat Augsburg 1-0 at Anfield to clinch their place in the Europa League last 16 stage. James Milner scored a penalty to secure that win, and he'll be hoping to get one over his former club today. As will Raheem Sterling, who faces Liverpool for just the second time since his £49million move to Manchester last summer.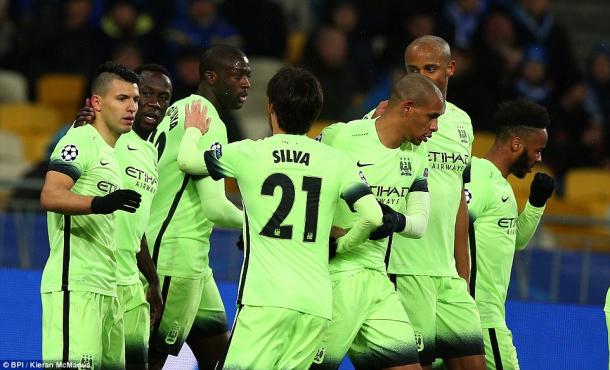 Take a look at the recent form of both teams, and you'll find a rollercoaster ride of inconsistency. Manchester City had lost three games on the bounce, including a youthful side being thumped 5-1 by Chelsea in the FA Cup, but responded in the best possible way on Wednesday evening. Playing Dynamo Kyiv away from home in the first leg of their Champions League last 16 tie, the Citizens put in a masterclass of how to go away in Europe, winning 3-1. What's most important for them is that they fielded Joe Hart, Vincent Kompany, Yaya Toure, David Silva and Sergio Aguero at the same time, which they've rarely been able to do this season. The latter three all scored in that victory.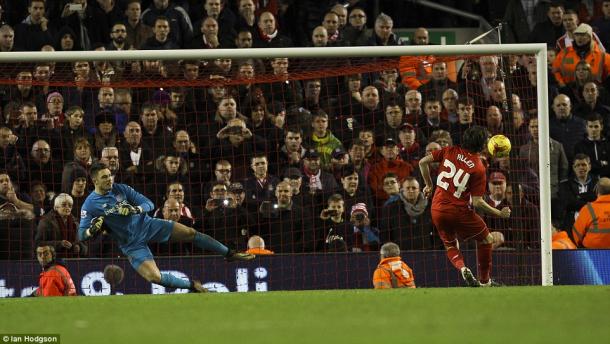 Just like City, Liverpool met Premier League opposition in three of the four rounds they've got past to get to the final. However, they started against minnows Carlisle United, and it was a close one, the Reds edging through on penalties after a 1-1 draw. They were neat and tidy in a 1-0 win against Bournemouth in the next round, before producing their finest performance yet in the competition this season - a 6-1 away win against Southampton. The semi final against Stoke City saw two tight affairs, each team winning 1-0 away from home, before Joe Allen scored the winning penalty in a shootout to book Liverpool's Wembley ticket.
Starting with Manchester City, who have scored 17 goals in their five games. Starting away at Sunderland in the third round, they won 4-1 to set up a meeting with Crystal Palace, who they hammered 5-1. Playing Championship opposition in the fourth round, they saw off Hull City 4-1. Whilst most of the nation wanted the two Merseyside teams to meet in the competition, the Citizens put a stop to that, beating Everton 4-3 on aggregate in their semi final, winning 3-1 at the Etihad after losing 2-1 away from home.
Let's take a quick look at how each team got to the final. Both are in European competition this season, so they each started in the third round, and have played five games in the competition up to this point.
It's difficult to pinpoint a favourite for this game, in all honesty. Given City's riches and talent available, you'd probably give them the edge, but neither have been in impressive form recently. It might be worthwhile looking back at the last time these teams met, back in late November. Putting in one of their most impressive performances yet under Klopp, Liverpool dismantled City. With Adam Lallana, Roberto Firmino and Philippe Coutinho running riot in a flexible front three, they won 4-1 away at the Etihad, leaving Pellegrini's men shellshocked. Still, the hosts were without their influential captain and centre-back Vincent Kompany that day, and he's set to start today, adding some solidity to the Sky Blue backline.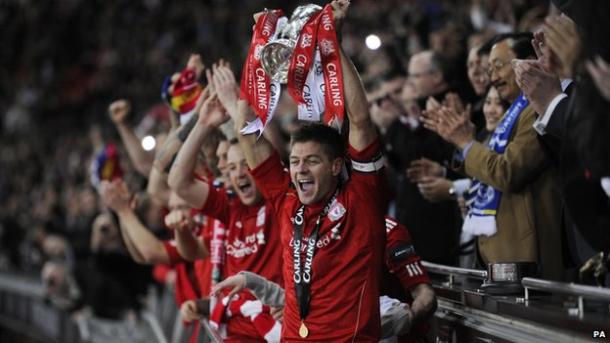 Liverpool's latest triumph in this competition came four years ago, as they beat Cardiff City on penalties after a 2-2 draw. They'll be hoping for a similar result today, but might want to avoid the dreaded penalty shoot-out, which we'll of course go to if the teams remain level following 90 minutes, and 30 minutes of extra-time.
These two teams have had some very impressive success in this competition throughout the years, having won it a combined total of 11 times. Liverpool have the advantage with eight wins, more than any other team in the competition's history, but City have won it more recently. Just two years ago, Yaya Toure scored a fantastic long range goal as the Citizens beat Sunderland 3-1, despite having gone behind to a Fabio Borini strike 10 minutes in.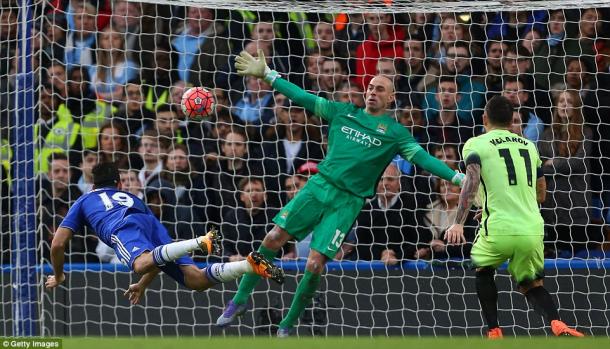 For Manchester City, it's seen as crucial that Manuel Pellegrini wins a trophy in his last season at the club. It's already been confirmed that the Chilean will leave in the summer, with Pep Guardiola set to takeover. The league looks like it's slowly slipping away, winning the Champions League looks an impossible task, whilst they were unceremoniously dumped out of the FA Cup last weekend, a young side losing 5-1 to Chelsea at Stamford Bridge. Winning today would present Pellegrini with something of a parting gift, whilst also ensuring that City don't go a second successive season without winning a trophy.
Liverpool's league season has been over for quite some time, some may argue that their chances of Champions League qualification were ruined when Brendan Rodgers was kept on as manager for the start of the season, the Ulsterman was sacked in August. They're out of the FA Cup, but remain in the Europa League having got past Augsburg at Anfield on Thursday. Still, that's a tough competition to win, and triumphing today would give Jürgen Klopp a trophy just months into his tenure on L4, Liverpool's first in four years.
It's fair to say that going into this season, this competition wouldn't have been too high on the priorities of either team. However, due to differing circumstances, it now takes on a huge level of importance for each club.
So, the Capital One Cup final. Or, for those who can't keep up with the regular sponsorship changes (there have been seven since 1982), simply the League Cup final. 92 teams have been whittled down to two, and both sets of fans will flock from the North of England to see their two teams in action at the national stadium today, with a capacity crowd of over 85,000 expected.
Hello and welcome to VAVEL UK's live minute-by-minute commentary of the Capital One Cup final! Manchester City and Liverpool are the teams on show at Wembley, as they contest the first final of the English domestic season. Kick-off in London is set for 16:30 BST, but stick with us until then, as we build up to the game and get the all important team news.