Jordan Henderson insists that he's not allowing himself to think about lifting the Capital One Cup trophy as Liverpool captain, despite admitting he's under greater scrutiny for tomorrow's final because of his role.
With Martin Skrtel not yet fit enough for a starting spot, the midfielder will be the only starter that featured the last time the Reds reached the final of the competition in 2012 when he and his teammates take on Manchester City at Wembley Stadium on Sunday afternoon.
His only previous experience of the showpiece occasion was when he played an hour of their penalty shoot-out victory over Cardiff City in the national stadium four years ago, Liverpool's last piece of silverware.
And as the skipper of Jürgen Klopp's side, Henderson believes the expectations of his personal performance will be greatly amplified - though says he's relishing the pressure as he prepares to step onto the field for his first final as the club's captain.
Reds skipper only concerned with trying to win
"That's not really in my thoughts," said Henderson, when asked whether he's imagined himself joining the illustrious list of previous winning captains, including the likes of Steven Gerrard, Graeme Souness and Ian Rush.
Instead, the 25-year-old says that all he's "thinking about is doing the best for the team" and where he needs to "lead by example." Henderson even went as far to say that "it doesn't matter who lifts the trophy" or "who judges me about being captain."
"All I'm bothered about is winning," he said, calling a triumph the "most important thing" and insisting that "anybody can judge or say what they like because at the end of the day we [would] have won and that's the main thing."
Captaincy comes with extra pressure, he admits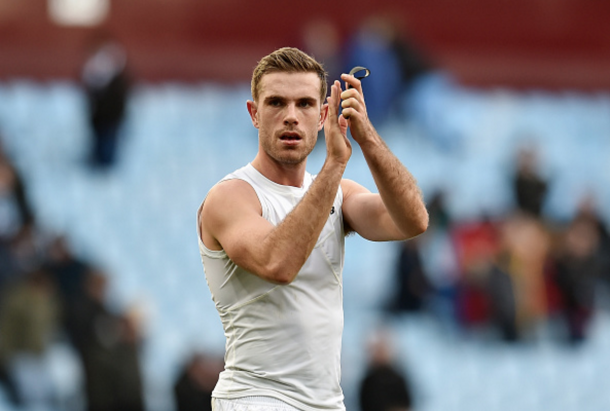 However, the England international acknowledges that leading Klopp's charges out means all eyes will be on him as they go head-to-head with City.
He accepted that it "adds pressure" when you take on he role of captain at "such a big club like Liverpool" but insisted that it's "pressure anyway" and "as players, you want that."
"You want that pressure to drive you on, to motivate you to want to do better for not only the team but the club and the fans," explained Henderson, who joked that "the only added pressure" is the abundance of media work in the build-up to the game.
He declared that his "main focus" is just on doing as well as he can in the final and "concentrating" on his job and what he needs to do "for the team to be successful."
Squad won't let occasion get the better of them, Henderson explains
A lot has changed since Liverpool's last visit to Wembley, once dubbed 'Anfield South', in April last year and Henderson is aware that they must keep a lid on their emotions - after a 2-1 defeat to Aston Villa in the semi-finals of the FA Cup last term.
Asked on what the squad will be feeling ahead of what marks their first cup final for the majority, Henderson responded that there's "a lot of excitement" and said the players will get "that feeling inside your stomach" but insisted it's "a good thing" because their "adrenaline" will help at the start of what he predicts to be a "pretty manic" start.
He believes that "with it being a cup final, the emotions will be flowing" but said the Liverpool squad must "try to control them the best you can" and "whichever way is best" for the players individually.
"I'll just try to treat it as a normal game," Henderson said, despite admitting he'll have "that extra bit of adrenaline" ahead of such a huge game, as well as accepting that it will be "difficult to approach it the same as any other game" because of the "huge" rewards on hand to the winners.
"But you've got to try your best to approach it the same," he added, insisting that on the night before the game they must ensure "everything goes like it normally would and you are in your routine" so as not to let the inevitable nerves take effect.
And Henderson believes the squad can only "soak it up and enjoy" the "incredible" feeling of walking out at Wembley in a cup final and try to use the atmosphere "on the pitch."