He took his time but finally Daniel Sturridge has returned to the Liverpool first team and is enjoying a consistent run of games leading the Reds' attack.
However, is enjoying the best word to describe his current performances and run of form? It certainly wasn't as he collected his runners up medal after his side's cup final defeat to Manchester City on Sunday.
Sturridge was given the responsibility upon his return to boost the goalscoring charts that up until his comeback, Liverpool had massively struggled with. A promising return in the FA Cup replay against West Ham was then coupled with a goal in his first Premier League appearance for what felt like years.
It was looking positive as not only did Sturridge get on the scoresheet but Liverpool ran out 6-0 winners against Aston Villa, Sturridge's second successive start that produced six goals. Everything was looking great.
But then things have slowed. Goals have dried up and the momentum which should have come from the Villa game was halted in the 0-0 draw away at Augsburg in the Europa League. Then in the return leg, Sturridge didn't fare much better and an early James Milner penalty was needed to get Liverpool through. Then, of course, the final on Sunday where Sturridge didn't even get a clear chance on goal throughout 120 minutes.
Two up-front the answer for Liverpool?
Now you can look at that and say the long injury lay-off means that he is still getting up to speed and regaining match fitness and form. Another positive way to look at it is that him, Philippe Coutinho and Roberto Firmino are still trying to string together a proper partnership after playing only four games together. But would a strike partner help?
Liverpool have struggled to penetrate teams all season but there's hasn't really been much improvement since Sturridge and Coutinho have returned to the team. One of the main problems is the fact that all three enjoy coming deep for the ball, Sturridge picking the ball up from as deep as the halfway line at times and clearly, he isn't going to score from there. By all three coming deep though, it means that nobody is occupying the two opposition centre halves and they themselves can press further up the pitch making it difficult to string passes together, with little space and time for the Reds' threats to carve out openings.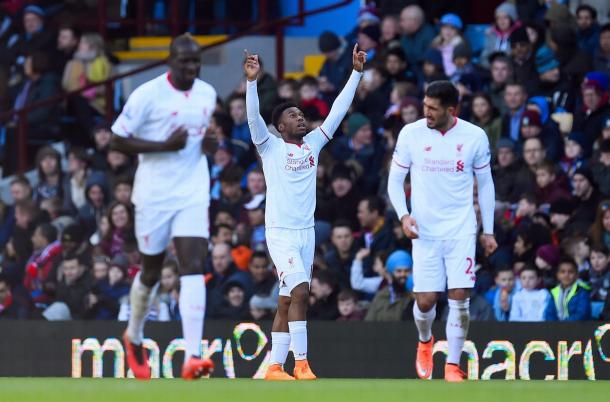 It is why Divock Origi could be considered as a perfect partner for Daniel Sturridge. The young Belgian has plenty of pace and has been excellent since returning from his injury. He is always playing on the defenders' shoulder and is a willing runner in behind. This could work perfectly with Sturridge and we became more dangerous at Wembley when he came on. Origi stretching the defence means that Sturridge has more room to work in between the midfield and defence of the opposition and the team as a whole can push further up the field and make inroads into the opposition.
The second option is Christian Benteke whose future at Anfield looks like it is over, with Origi's return from injury demoting him to the third choice striker. Currently, he is struggling to get onto the pitch at all. However, since being replaced in the starting line up by Firmino and Sturridge, Benteke's best performance in a long time came when playing alongside Sturridge in the 2-1 fourth-round replay defeat in the FA Cup at West Ham.
Sturridge the man to save Benteke's flailing career?
The Belgian seemed to strike up a partnership instantly with Liverpool's No.15 and if Benteke puts away that one-on-one opportunity in extra time then Liverpool could still be sitting pretty in the FA Cup. What I noticed about the game was that instantly when Sturridge came on, Benteke found himself in so much more space and his hold-up and link-up played improved drastically from the first half, when he had been ineffective for the majority.
By playing two up front you instantly cause the defending team more problems because instead of all the focus being on just one player, marking two of them creates spaces for the rest of the team. The problem Liverpool found with Benteke was that he lacked the pace to stretch a team. The pace of Sturridge on the other hand worries the opposition and forces them to drop deeper meaning Liverpool can push further forward and make the opposition retreat backwards.
Benteke and Origi are also both taller and more physical than Sturridge, meaning they are theoretically going to have a better chance at winning high balls and challenging the opposing central defenders in the air. Benteke struggled up front on his own because of the lack of midfield runners so when he won flick-ons, there was nobody there to get them. Put him alongside Sturridge and you feel that Sturridge will get onto those flick-ons and Liverpool instantly become more dangerous.
Of course, playing with two up front causes its own problems in the fact that the system has to change and players have to miss out. Can you risk playing two strikers, what happens with Coutinho and Firmino? You certainly leave yourself open on the counter attack, but then that's what we did with Luis Suarez and Sturridge in 2013-14 and the lethal concoction of the two nearly won us the league. Obviously neither Origi or Benteke have the anywhere near the same amount of quality as Suarez, but the two up front did see Sturridge flourish.
The season is coming to a close quickly and with a big summer window ahead, the trial period for many of the current players is running out. You feel Klopp will look to experiment on occasion and two upfront hopefully will be one of the options he looks at, because it might just be the key to solving the Reds' goalscoring woes.