Jürgen Klopp says Liverpool must be more aggressive and "angry" if they are to maintain a late push for the Champions League spots this season.
The Reds convincingly thrashed Manchester City in midweek as goals from Adam Lallana, James Milner and Roberto Firmino lifted them just six points off fourth with a game in hand.
But according to the manager, Liverpool need to be more consistent, and in particular more angry in each game, if they are to repeat that calibre of performance regularly and eventually qualify for Europe's top-tier competition next year.
Klopp says Liverpool can end the season strongly if they find consistency
"If you want our best two performances in this season, it was not only these, but the games were easy to see that [they were] Man City [away] and Man City [home], with different systems, different formations and different everything," explained Klopp, when asked whether he would consider persisting with the team, and set-up, that thrived in Wednesday's 3-0 win over City.
Previewing his side's trip to London to take on Crystal Palace this Sunday, Klopp continued that both of his side's games against City - a 4-1 win at the Etihad and the 3-0 victory at Anfield - were "very good with a few months in between." He insisted that they've "had a few good games in different formations and systems" and said that "the only thing" they will prepare themselves for are "the special questions at Crystal Palace and who is fit, who is available and other things."
The Reds boss explained that it's not that they "try to push 11 players through", as he referred to the "few changes" they made for the second City game, which he said were "the right decisions" to make. Instead, he insists they must "make a few other decisions" after their last training session before the journey to Palace, from which they will "make a squad" for the game.
The German declared that his team are "always trying" to improve their consistency, with those two spectacular victories over City sandwiched between plenty of highs and lows, including their defeat to the same opponents in the final of the Capital One Cup last weekend.
Klopp said that his team have had their moments throughout the season, but warned that "consistency is not overnight" and stated it's "not a problem" because it's "not like" they have "always played badly after a very good game."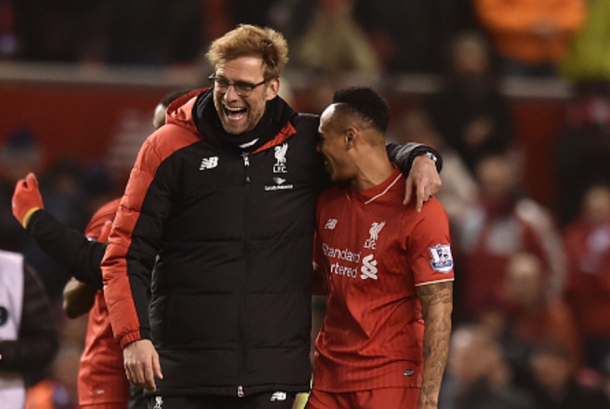 He also believes that with the League Cup now over and the Reds out of the FA Cup, they can be "fully concentrated" on the Premier League because it's "the last few metres" until the end of the campaign.
"It's the truth that we were not too consistent until now," admitted Klopp, who added that as "one reason" why Liverpool aren't in "a better position in the table" but said that from now on it "can be completely different."
To do so, they "need to stay angry" according to the manager, who explained that the recent win against City was "an extremely lively game" which demonstrated "how mentality can beat tired legs because both teams had the same things to do in the last few weeks, the sane number of games and things like this."
Klopp continued that because they weren't distracted and "nobody thought about how many games we had" going into the clash, they "only thought about this game and what we can get" and were "the better side."
Bolasie key to Palace, says Klopp
The Reds face a different proposition altogether at Selhurst Park on Sunday, coming up against an Alan Pardew side who haven't won in the league since December - a run stretching to 11 games.
Nevertheless, having become a bogey team for Liverpool since the 3-3 draw in the capital at the end of the 2013-14 season, Palace have enjoyed three wins in their last three league games against the Merseyside outfit and go in search of a second consecutive league double.
And Klopp, whose first defeat as Liverpool manager came against Palace back in early November, is well aware of the threats that the Eagles possess - including the returning Yannick Bolasie.
"In the last two games when he [Bolasie] was involved, the first game on the bench, he came in and changed the whole game. After 3-0 behind, it was then 3-2," Klopp told journalists. He added that the DR Congo international makes "a big difference" to the team because he's "a quality player" and is "pretty good" with Wilfried Zaha on the opposite flank.
But he admitted that he doesn't know everything about Palace's situation, insisting he knows only "from the first game [against Liverpool] and watching a few other games" but insisted that Palace is "not [a place] where you should go if you want easy points."
Klopp challenged his team to "show that we are ready for this game" as he explained that they have had "a few not-so-good games" in which "always the problem was the same" and they had "no good start in the game."
He added that he doesn't necessarily mean his side "have to score in the first minute" but that they "have to be concentrated" from the kick off, saying they need to be fully focused away at Palace and "hopefully show that we learned this in the last six months."
Quizzed as to whether his side can genuinely still entertain hopes of reaching the top four, he said that their game against Palace represents "a big chance" for the team and says they must "try everything to take it."
"I think you smile by yourself when you think about last week, we talked about no goals in the last five games and now win in the last four games," Klopp said, adding that now with one win against City and "only six points from the top four" they are now in a position to challenge.