Jürgen Klopp fully intends to utilise Jon Flanagan's return to fitness after the full-back's impressive cameo as Liverpool beat Manchester City 3-0 at Anfield on Wednesday.
The Scouser made his first league start since May 2014, coming in for Alberto Moreno but taking up a more familiar right-back role, and was excellent throughout the Reds' win against their Capital One Cup final conquerors.
Flanagan set the tempo from the outset as he crunched into a tackle with former teammate Raheem Sterling and lifted the crowd, but Klopp said that he did not purposefully pit the two together down the right.
I didn't want to play Flanagan on the left in first league game back, admits Klopp
The Reds boss said that the decision to play the 23-year-old defender on the left was not a tactical decision, admitting it was "clear that he would play" but that he "didn't know exactly if he [Flanagan] would play instead of Nathaniel Clyne or Alberto."
He said his decision to field Flanagan was influenced by the fact Moreno "got a really bad knock" in the final a few days earlier, saying he played through the pain because he's "a hard boy" who "can always play" and is "always available" but said that it was "clear" that he would be the one replaced.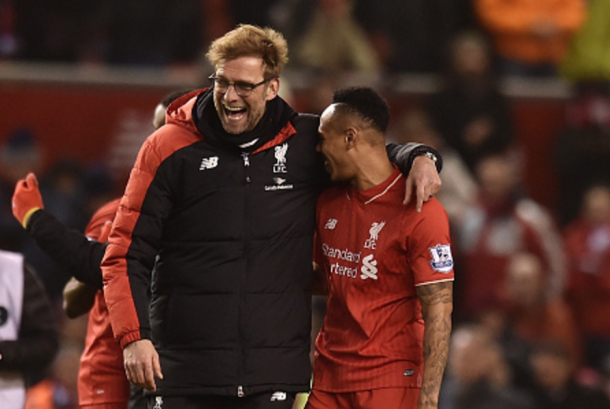 Klopp said that he's aware Flanagan has played at left-back previously but said "after this long time" out of the team, he "didn't want to play him" on the opposite side to which he normally plays.
Reds must work on attacking from full-backs if Clyne is to play left-back more often
He added that with Flanagan on the right and Clyne on the left, which the German said he is capable of playing, it was not a case of bringing the local-born defender "against Raheem and take him out of the game" and dismissed that as just "coincidence."
Klopp also spoke about the versatility of players such as Flanagan and Clyne and the options they open up as such, despite admitting the former Southampton man's crossing needs improvement.
He said that they "can all play this [side of the pitch" which is good because he needs "the possibility to change things." Klopp explained that Clyne played on the left for the second time since his appointment in October, insisting that they "should talk more about offensive moments with the right foot on the left wing" if he is to play there more regularly, because there was "no cross in moments when we could cross."
However, the manager did admit that is "normal" and "you can't get everything." He added that they have only had "three days between the games" and "no training" so they could only talk to the team about "defend[ing] well and if they have the opportunity, then go [forward]. We should do more on this but we haven't done it until now."