In the summer of 2014, Liverpool's pursuit of Adam Lallana made a lot of sense.
The attacking midfielder was one of the outstanding performers in a season which had just come to an anti-climatic close for the Reds.
But despite club icons falling over at title-deciding moments and commentator Martin Tyler announcing that "Liverpool have caved in" at Selhurst Park, there was reason for those at Anfield to feel positive going forward.
Whilst Liverpool were tearing apart the Premier League with an all-action, intense-pressing and high-tempo style of play, Lallana was an integral part of a Southampton side that shared similar hyphenated characteristics.
Mauricio Pochetino, now working wonders at Tottenham Hotspur, took the Saints from a club with modest aims just to stay in the division, to a dynamic outfit with aspirations of playing European football.
The centrepiece of all that was going on at St. Mary's wasn't down to one individual, nor even a collective of performers as the likes of Jay Rodriguez, Rickie Lambert and Lallana excelled in front of a solid back-four that kept sheets clean more often than not.
However, the latter mentioned player of that English trident was seen by many as the man bigger clubs would look to poach from the South Coast after Lallana scored nine, assisted five and drew plaudits from pundits as Southampton finished 8th in the Premier League.
His exciting dribbling, hard work when out of possession and flair rarely associated with an Englishman made him an obvious choice for a Liverpool side that had come so close to ending their long wait for a league title - and so the money was paid to bring him to Anfield.
Despite the transfer seeming so perfect, a tough start to his career on Merseyside was to be in store. A heavy price-tag courtesy of an unwritten rule that means English players must cost considerably more than those of any other nationalities meant that he was always likely to receive scrutiny if he didn't hit the ground running.
A part played in a World Cup campaign that would demoralise any member of the England squad, along with a niggling injury that meant no 2014-15 pre-season for Lallana also made adjusting to life in his new surroundings difficult.
Snippets of ability but feature-length disappointment
The Reds' new No.20, like the overall performance of the team in his debut season at Liverpool, was a player showing mere trailers of excellence, whereas the entire screenplay was a feature-length showing of unfilled promise.
One notable performance occurred in December of 2014, where Rodgers' side met Swansea City at Anfield on a cold Merseyside evening. Used as one of the 'two' in a new '3-4-2-1' system that brought a run of results in an otherwise uninspiring season, Lallana excelled.
Pressing aggressively and linking up with Philippe Coutinho wonderfully, the former-Saint netted two goals on that night. His second strike was the pick of the five goals seen under the floodlights that evening.
He Cruyff-turned just inside the Swansea half, laid off the ball to Jordan Henderson then proceeded to make an intelligent run forward to latch on to Coutinho's back-heel after the Brazilian had received it from the skipper. Momentum on his side, Lallana dribbled towards the edge of the box, beating two defenders as he entered the area before slotting a well-placed finish to score at the Kop end.
"He obviously came here for a lot of money, and it was a big move for him coming out of Southampton as the club captain. He's been outstanding since he's been here, it's just about bedding in. He's a player with great quality."

- Brendan Rodgers on Lallana after 4-1 victory over Swansea, 29/12/14
The goal topped off a night where for the first occasion in his short Liverpool career, his nifty turns and quick flicks looked like they had a real purpose and efficiency, rather than just making him spin round like he's trying to find the back of his own head.
But man-of-the-match performances against the likes of Garry Monk's Swansea were never going to win over the doubters within the press and within the Anfield crowd.
Lallana's inconsistency saw him rounded up and bunged in with the rest of the Liverpool signings that failed to justify their transfer fee from that summer window.
Despite being told over and over again that the club wouldn't do with their 'Luis Suarez money' what Spurs did with their 'Gareth Bale money,' they did exactly that.
Lallana, along with Emre Can and Alberto Moreno, became a player who had displayed potential in his first season, but was perhaps afforded less time than signings of years gone by, as a result of the criticism that the transfer committee had received and are still receiving.
Lallana and Liverpool's form very much mirrored one another up to the point when Brendan Rodgers' roller-coaster tenure at Anfield was ended, after a dramatic drop from the incline he'd constructed in the 2013-14 season.
When the Reds were at their best, such as during yet another Anfield victory over Manchester City in March 2015, Lallana was too.
In the same formation used against Swansea, Lallana's superb performance alongside Coutinho was key in a 2-1 win which saw the Brazilian score a memorable winner.
The duo pestered City's midfield, giving Fernandinho no time on the ball and turning over possession high up the field in the manner which many expected the signing of Lallana would help Liverpool achieve.
But once more this proved to be just a glimpse of the 27-year-old's potential in a Red shirt and it wasn't until a certain spectacled German arrived at Anfield that this sort of performance became frequently achievable for the England international.
Klopp, Aggression and Confidence
Klopp's arrival at Liverpool Football Club was greeted with a sense of genuine excitement. Excitement which at times is yet to fade as I check my pulse once again whilst absorbing another of his press conferences.
From the beginning, his man management style was obvious. It involves a lot of love for his playing staff combined with a lot of hugs. Lallana in particular seemed to be one man who the six-feet-four-inch German liked wrapping his arms around.
The scene of the beginning of Klopp's tenure was White Hart Lane, where his new side played out a goalless draw with the aforementioned Pochetino's Tottenham.
It wasn't a particularly enthralling spectacle as the score suggests and more than anything else underlined how much work there was to be done at Melwood. Liverpool were, in Klopp's words "not cool enough" on the ball.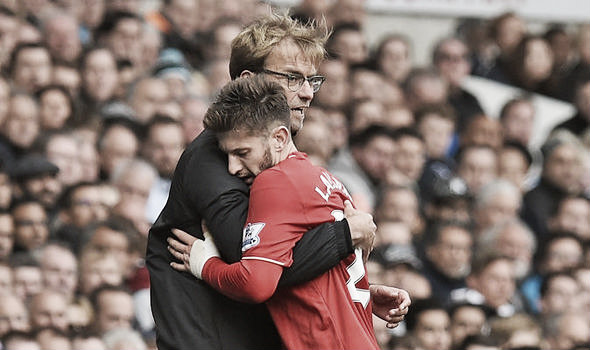 However what travelling fans in the away end at Spurs would've seen is a Liverpool side work incredibly hard and press aggressively when off the ball. Of course, with the new manager's arrival and thusly 'gegenpress' very much being the buzzword of that week, everyone was on the look out for this tireless off-the-ball work.
Yet, it really was there to see and as the pictured embrace suggests, Adam Lallana had his 'gegenpressing' boots on from the start of Klopp's reign.
An aggression in the former Saints man has come to the surface since the managerial change, evidenced no clearer than in these two following case studies. The first being in that completely and utterly absurd game of football between Liverpool and Norwich at Carrow Road, in which teams took it in turns to exhibit both moments of inspiration and abysmal defending.
Lallana's last minute heroics were celebrated with aggressive celebrations from the goal-scorer, grimacing with delight in a manner only seen in such a bizarre social situation. Leading on from this came yet another Klopp and Lallana embrace as the big German charged down the touchline, beckoning his match-winning substitute over to him with a wag of his finger.
Some weeks later, in front of a Wembley audience, the midfielder is tackled dangerously by Yaya Toure in the 116th minute of a gruelling League Cup final. The Ivorian's challenge seemed to be a response to another tough tackle that Lallana had made on Toure's compatriot, Wilfried Bony.
Outraged, the England international jumps up off the Wembley turf, aiming to get his face as close to that of Yaya Toure's as his 5ft 6" body would allow him. The two do more than bicker, as the gigantic Man City midfielder seems to pick his opponent up with one arm, dangling him like a child with an Action Man.
But the little man does not back down, needing some of the rest of the game's contingent to separate them before play was resumed. Lallana has shown he can be a real 'feisty bugger' if needed, something crucial in a Liverpool team that since Gerrard's departure and with the greatest respect to Henderson, lacks some leadership and grit.
The steely determination to charge down opponents is something a side with principles of a high-pressing philosophy requires. As part of a side containing a lot of younger players, a mentality like Lallana has shown recently is contagious and encourages others to follow suit.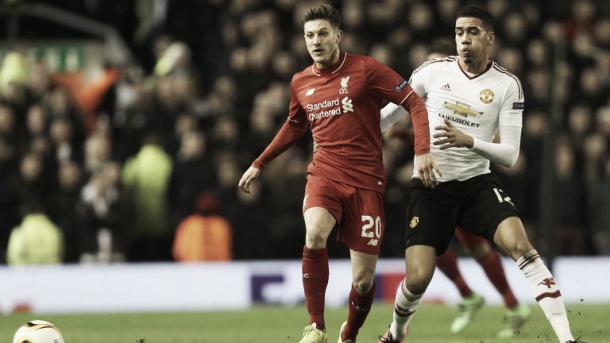 Most importantly of all though, as is often the case in all fields of sport, confidence has lead to better individual performances. In the cruel world we live in, it seems to be impossible to have one without the other. Bad performances are often reacted to with calls for a new-found sense of confidence, but that self-belief doesn't return until something triggers it.
Klopp seems to have triggered something in Lallana in recent months, as displays against City (again) and their friendly neighbours, Manchester United have shown. One piece of skill which has been caught in many a 'Gif' and 'Vine' from the man in question has been met with great praise.
Quite rightly, too, as he rolled the ball with his studs away from Michael Carrick, used his instep to evade the United midfielder before swiping it away from Guillermo Varela with his other foot in one swift motion.
Yet, these few seconds of magic were far from his only contribution to a match where Liverpool embarrassed their great rivals to an extent more than the two-nil scoreline connotes.
From the opening minutes of the game, that aggression off the ball and sublime skill when in control of it were clear from Lallana and typified his resurgence under Jürgen Klopp.
Liverpool fans are beginning to see from the 25 million pound man, exactly what lead to the club paying such money in the first place.It's testament to Lallana's form that his transfer is once again making a lot of sense.