Jon Flanagan is keen to repay the faith Liverpool manager Jürgen Klopp has shown in him after he signed a new three-year contract with the club on Friday.
The full-back put an end to speculation by committing his future to the club until 2019 this week, with his previous deal running out in the summer.
But Academy graduate Flanagan, who is closing in on the 50 appearance milestone, never showed any desire to leave his boyhood club and has proven that in recent weeks.
Having overcome a 20-month injury lay-off, he's produced a number of committed performances to remind the Reds of his worth, and Klopp since stepped in to ensure the hard-working Scouser stays on at Anfield.
Klopp has been "a massive help" for me, says Flanagan
Speaking to Liverpoolfc.com, Flanagan said that playing for Liverpool is "brilliant" and something he has "always wanted to do" since being a child.
"I think this is my third professional contract with Liverpool now, so I'm really happy," continued the defender, who acknowledged that he has been "through a lot in the last two years" which led to a few people thinking his future "was in doubt."
But he believes is new deal is a product of working hard and said "this is a bonus at the end of it" and says that criticism and doubt about his quality has driven him on "even more" and made him "come back stronger."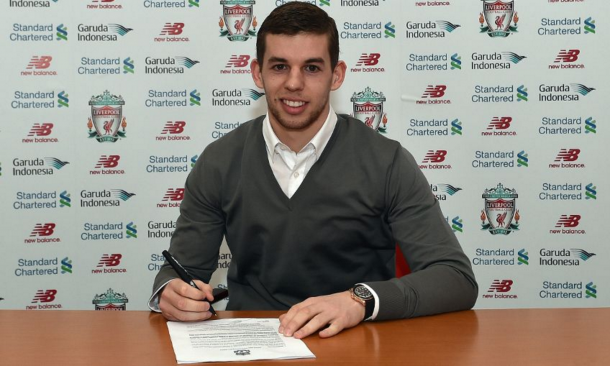 The 23-year-old, who called it "fantastic" to receive such a tremendous reception from the Kop after his first appearance in over a year-and-a-half in January, hailed the impact Klopp has had on him.
"He's been massive. He's been a brilliant help," he explained, insisting that he's "stuck by" him since his appointment. "He's had faith in me and when the time has come, he's put me in and had faith in me. I can only thank him."
He called the support from the manager "a massive boost" and said that he's "brilliant to work with" because "every day he is on it in training."
Flanagan, who referred to Klopp as "a very successful manager" after his time at Borussia Dortmund, also said that "he is on the ball every day with all the lads" and "everybody is learning from him and taking what they can from him."
Klopp admits he was involved in Flanagan negotiatons
Asked on his aspirations for the future, Flanagan said he hopes to "just keep progressing" and "hopefully play as many games from now until the end of the season, get a little run going and hopefully stay in the side."
He called it "very exciting" to be a part of the current squad in what he called "an exciting team" in which "the lads are on a good run" and "if we keep taking each game as it comes, maybe we'll have a chance [of qualifying for the Champions League]."
Earlier the same day, Klopp revealed in a press conference that he was "a bit involved" in the negotiations and insisted: "There are other full-backs in the world, but not so many Scousers. He is our boy and we are really happy."