Dejan Lovren has become a completely different player since the arrival of Jürgen Klopp at Anfield.
His performances, which had been nervy and full of errors beforehand, have become much more assured and he has grown into the defender Liverpool expected him him to be when they spent £20 million on the Croatian.
Klopp referenced the 4-0 defeat his Borussia Dortmund suffered when he brought them to Anfield in 2014 for a pre-season friendly as the reason why he knew Lovren possesed the qualities he needed to succeed on Merseyside.
Klopp not surprised by Lovren's recent displays
Speaking ahead of the Reds' trip to the defender's former club, Southampton, this weekend - Klopp reminisced to that game and therefore isn't too surprised about Lovren's recent upturn in form.
"What can I say about Dejan Lovren?," said the German. "I heard about before I came here, and I saw in his eyes when I came here, that he was not in the best situation."
However, Klopp said it was "really good" for the defender because he "only one game in mind" when judging his ability, saying he was "outstanding" in the pre-season win over Dortmund which left a "pretty positive" memory for Klopp, which said "helped him."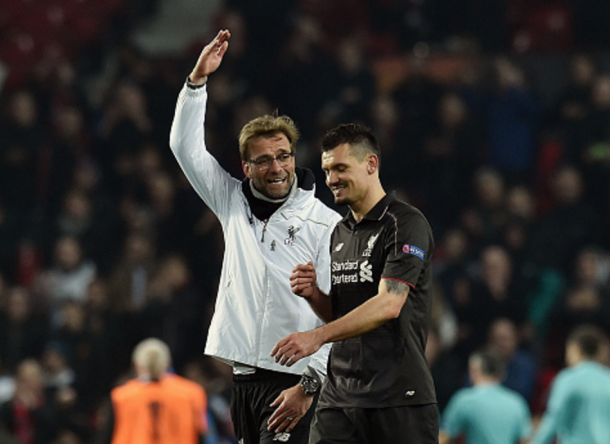 Klopp added: "Sometimes for players, that's the good thing with a complete change – that you can start really new, and that's what he did."
He said that "now everybody can see what he is capable of" and insisted that the centre-back "is in a good way."
Klopp has high praise for Lucas and Touré
Lovren was superb alongside the immense Mamadou Sakho on Thursday night at Old Trafford. Both were key in helping book Liverpool's place in the Europa League last eight after Manchester United sealed a 3-1 aggregate win.
The centre-back position has been a troubled spot since Klopp came in, with Lovren and Sakho both being hampered by injuries. Klopp was, however, keen to point out the other players who have contributed in that position this season.
In reference to the game on Thursday, he said: "The games of both centre-halves were really brilliant," before adding that he doesn't "want to forget in this position" about the "brilliant" Martin Skrtel, who he says "played with big passion in the U21s game" off of a "long-term injury."
He also spoke glowingly of the "brilliant job" Kolo Touré has done since he arrived calling him a "real role model" who is now "always available" for each game and has been great in each training sessions.
Lucas Leiva has also filled in on a few occasions and given a number of assured performances with Klopp describing him as playing "perfectly in this position." The Brazilian is a defensive midfielder and his adaptability to a new unknown position makes his performances even more impressive.
Liverpool's defensive issues have been well-documented over the past few seasons and Klopp admitted that but is confident that performances will continue to improve and things will keep getting better.
"We had a lot of problems with centre-halves and had not the best record for conceding goals for a while," he admitted. "But [recently] we've had really good performances in this position."