It has fuelled the rumours - Jonas Hector avows persuasion from Jürgen Klopp could see him switch the red of Köln to that of Merseyside, despite admitting he's happy at his current club.
Open interview
When asked in an interview with Eurosport about interest from Liverpool, Hector answered: "You always have to consider whether you are ready to take the next step. But at the moment I am not thinking about it. I think what we have to do at FC Köln is enough. I also have with the national team a big tournament ahead of us."
However, Hector admits a phone call from Klopp could change things: "Then I would start to think about it."
Hector profile
The 25-year old has been at Köln since 2012 and having made over 100 appearances for the historic club, it goes without saying he's a vital cog in the machine. What's not very well known, however, is while Germany were on their way to success in Brazil, Hector was yet to make his Bundesliga debut, having being mired in the reserves at the age of 24.
The full-back is contracted to die Geißböcke until 2018, and is said to be valued at £12m (€15.2m).
No doubt an appealing fact, Hector has made the most appearances for the World Champions in 2015 and is still in Joachim Löw's plans for EURO 2016 having been called up for Germany's friendlies against England and Italy.
A cool, consistent natural defender, Hector has assuredly calmed the qualms of many die Mannschaft fans over their fears of few quality full-backs, having seen Philipp Lahm retire from international duty.
Is he good enough for Liverpool?
Ever since letting go of John Arne Riise in 2008 to AS Roma, the Reds have struggled to find a suitable replacement. Fábio Aurélio showed great promise but sadly his injuries let him down, José Enrique turned out to be more known for his off-the-pitch hobbies and current left-back Alberto Moreno has a giant question mark hanging over his future, following a disappointing season
Moreno has been heavily criticised for constantly being caught out of position, as well as his need to play winger by surging up the field.
Hector is more of a natural full-back, as opposed to the offensively-minded breed nowadays. Under the philosophy of manager Peter Stöger, the patient defender keeps things tight and organised then pounces on the break, aiding the counter-attack.
Though not as gifted at attacking as his fellow full-backs, Hector still has many admirable traits which are evident to see at the RheinEnergieStadion. Good crosses, combination play and keeping hold of possession is something the Anfield faithful can only dream of on the left flank. Löw's philosophy of dictating possession results in Hector, as well as the right-back, pushing up high into an advanced position.
It's common knowledge Liverpool are prone to conceding from set-pieces and crosses. Hector has shown, in abundance, he's capable of excelling in one-on-ones and stop crosses from being delivered into the box, not to say he doesn't make mistakes, everyone does. Moreover, standing at 6ft1 there's the advantage of defending these aerial balls that threaten the goal.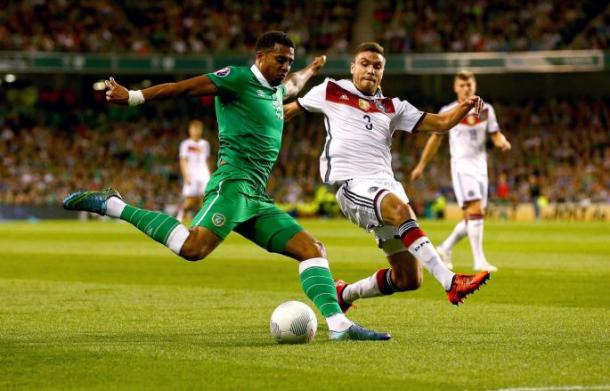 Undoubtedly, Löw has consistently chosen Hector not just for his playing style, but also due to his high stamina and lack of injury problems - things that are crucial for any professional football team.
Hector also boasts an incredible versatility having impressed as a holding midfielder, another position Liverpool are suffering in. Stöger has praised this quality before: "Because of his game intelligence, Jonas is a player who has mastered all the positions on which it comes to organisation, playmaking and order."
There are other options for Klopp to look into, but given his history in the Bundesliga as well as Hector's successful spell in it and his crucial role internationally, the ex-Dortmund manager may be swayed to make the call, literally.