Alberto Moreno is relishing his return from injury for Liverpool after spending a week rehabilitating and recovering with the rest of the club's non-internationals in Tenerife.
The Spaniard complained of a hamstring tweak in training the day before the Reds' Europa League second-leg draw with Manchester United, which saw them into the quarter-finals to set up a mouthwatering affair against Borussia Dortmund next week.
Before that fixture, Jürgen Klopp's charges take on Tottenham Hotspur in a tough Barclays Premier League tie this Saturday - a game in which Moreno is likely to make his return from injury.
Having missed their 3-2 league defeat to Southampton before the international break, Moreno has now successfully recovered from his hamstring problem after a week's worth of warm-weather training.
Defender issues positive fitness update after week abroad
"I started training with the team in Tenerife," Moreno told Liverpoolfc.com when asked for an update on his injury. He added that "everything went well" and that he hasn't "felt anything else" since returning to training.
The 23-year-old, who has been criticised at times this season for poor performances defensively, explained that he hopes to "be ready for the next game" and also "for the rest of the season."
"The main thing was training and keeping fit," Moreno continued, when asked about the time spent in Tenerife where he trained with the likes of Kolo Touré, Jon Flanagan and some of the Reds' youngsters who weren't called up for international duty.
"But it's true that after training we had some moments to relax and go to the spa and the beach, and it helped to clear up our minds a bit," said the defender, who said that the squad were "always thinking of improving and making the most of the training" in what he believes was "a great experience."
Reds believe they can achieve Europa League triumph, Moreno says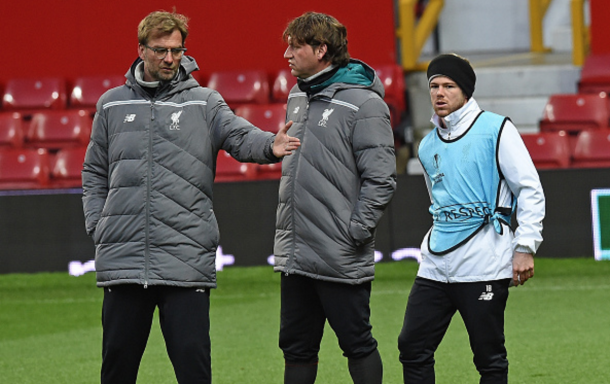 With the international break now over, attentions are once again turned to domestic exploits. With Spurs and Dortmund both on the horizon, Liverpool face a tough return after a two-week break - but Moreno believes they are prepared and willing to try and end the season successfully.
He explained that Klopp's squad must "keep working to get there" as he acknowledged that they are "closer to winning the Europa League title" despite having "a few games left" than they are reaching the top-four of the Premier League.
With Champions League qualification still very much the goal this season, Moreno says they "still believe" that they can win the Europa League and insists they are "working really hard to get a higher position in the league table" although it is "more difficult" for them.
Moreno: Work as a team helping us find form
Eyeing a strong finish to the campaign, Moreno believes that the confidence Klopp has injected into the team will be vital if they are to end the season with any silverware.
"He has always, from the first day he joined the club, emphasised how important it is to work as a team," explained the Reds' No.18, who could find his position under threat if, as rumours suggest, the club look to sign another left-back to compete for his place in the summer.
He added that in the "last few games" Liverpool have "conceded fewer goals" as a result of "the tam working together and being aggressive defensively" and despite losing at Southampton, which brought an end to a four-game unbeaten run, Moreno says they are "in a good moment" and have "very strong strikers" to help them out.
That run included a 3-1 aggregate win over fierce rivals United in their first ever continental meeting, as well as wins over Crystal Palace and Manchester City in the league. With eight games left to play, the Reds sit seven points off Manuel Pellegrini's fourth-placed side with a game in hand.