Jürgen Klopp declared himself "satisfied" with Liverpool's 1-1 Europa League quarter-final first-leg draw with Borussia Dortmund in Germany on Thursday night.
The Reds stole a first-half lead through Divock Origi, who was selected over Daniel Sturridge to lead the line for the German's charges, after he latched on to James Milner's headed flick-on before finding the bottom corner from the edge of the area.
Mats Hummels brought Dortmund level just a few minutes after the break, but Klopp and co. weathered the storm at the Westfalenstadion to return to England with a creditable draw for the second-leg next week.
Klopp taking the positives from display full of "really good" moments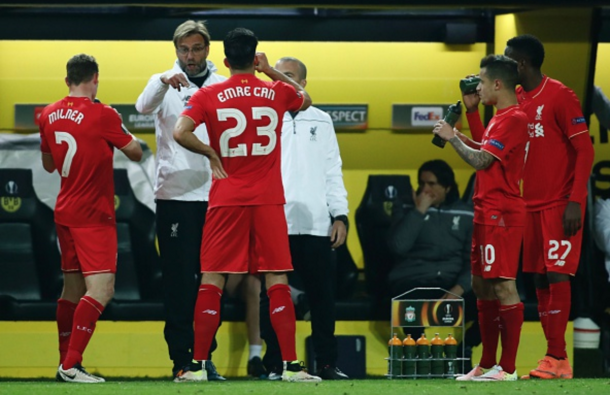 Klopp, speaking afterwards in his press conference, insisted that he was "satisfied with lots of parts of the game" and said that their "organisation was good and we were brave with our plan."
"Around the 1-0 we were brilliant, to be honest, really good moments," added the Reds boss, returning to his former club for the first time since leaving after a seven-year tenure in May, saying they "played direct football" and "showed what we are capable of."
He continued that "against a team like Dortmund, with their quality, organisation and self-confidence, you cannot defend each pass" and praised his side for being "patient in the midfield" and prepared to "be ready to get frustrated and when you can't avoid the pass."
Klopp also enthused about how his side fought "with big passion" as he lauded the defensive discipline of his team, reducing them to few clear chances, saying: "Their biggest chance in the first-half was when they played a chip ball behind the line, Marcel Schmelzer with a cross and then Mamadou [Sakho] blocked the ball - that was really brilliant play. Usually they have more of these moments, so we did really well."
He also insisted that they "scored a wonderful goal" and praised Origi for being "quick in mind" after "a nice pass from Alberto [Moreno], a nice run by Milly and flick-on, and Divock scored like he played the whole game - brilliant."
Despite conceding a sloppy goal, from a set piece which had proved a crux for the Reds earlier in the season, Klopp insisted that's "how it is in football, that's a fault of all of us." Admitting fault for the goal, he said: "I decided to have Adam Lallana in this position instead of Divock Origi, sorry for this."
He also bemoaned that they "could have avoided the cross" but continued: "Hummels scored the goal, but we were still in the game. [For] our really big chances, Roman Weidenfeller did really well, a perfect performance. At the end it was open. I think we deserved the draw."
Reds aren't through yet despite encouraging result and performance, warns Klopp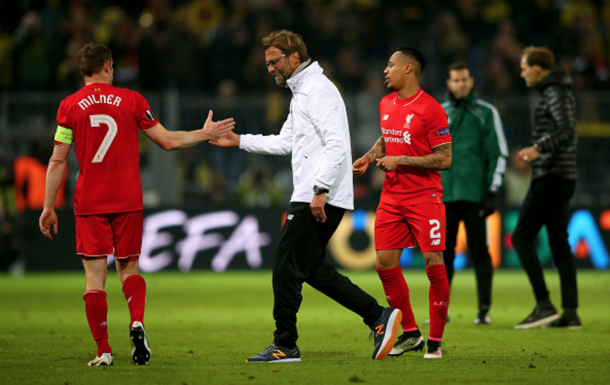 Jordan Henderson's injury, a knee problem which forced him off at the interval, was the only thing that marred an otherwise memorable evening for Klopp's side.
On familiar turf, the experienced manager delivered a tactical masterclass to help thwart one of the most prolific teams across Europe - thrashing Tottenham Hotspur 5-1 over 180 minutes in the previous round, the same side Liverpool drew 1-1 with in the league last weekend.
Klopp admitted it was "an unusual situation" to return to Dortmund for the first time, but said that "coming back was good" and it was "a great venue and a great place to play football."
But he said that his focus "was totally on the game" after kick-off, saying that they "travel home back to Liverpool looking forward to next Thursday's return game at Anfield" as he described the tie as still being "50-50."
On whether there is any advantage to his side, Klopp said that Dortmund "don't care too much where they play and where they score goals" and said the Bundesliga outfit are "still in a very good position."
Regardless, the German said that it was "very important" for his team to show their "Liverpool face" because "a lot of people thought a lot of things about our probable or possible performance" and will be left "a little bit surprised" by the result.
"I'm really happy with the performance," Klopp continued, saying that "the away goal is good" and "100 per cent better" than "a 0-0." He refused to get complacent, though, saying that they "have to play at our best in the rematch to go through" because "nothing is decided" and "it will be another really tight clash" on Merseyside.