Joe Allen's appearances in the first team under Jürgen Klopp have been limited, but the 26-year-old plans to take his chance in the starting XI amidst rumours he may be moved on in the summer.
"At a club like Liverpool you are always playing for your future," the central midfielder told the Liverpool Echo.
"Maybe more so now than ever before for me," he continued, with the player's lack of first team action seeing him linked with an exit from Anfield.
However, the man signed for £15 million back in 2012 insists the speculation hasn't been a distraction for him, and "it's just a case of looking forward to games like Thursday night."
Henderson out, Allen in?
Another injury for Jordan Henderson has opened the door to Allen's first team opportunities as the season draws to a close, and the Welshman told the Echo that the captain will be missed.
"Losing Jordan has been the one big disappointment we've had in the last week or so."
"He's going to be missed for sure," Allen continued, but he admitted that "it's a case of making sure whoever starts steps up and helps the team get through what's an exciting time."
The exciting time Allen refers to relates to Liverpool's Europa League quarter final second leg against Borussia Dortmund on Thursday, a game which he looks set to start.
The number 24 impressed when he replaced Henderson during the first leg of the tie in Germany, form which he continued in the 4-1 victory over Stoke City at Anfield on Sunday.
Speaking to the Echo, Allen said: "Of course I hope I start. It's a huge game. Every single player in the squad will be hoping the same."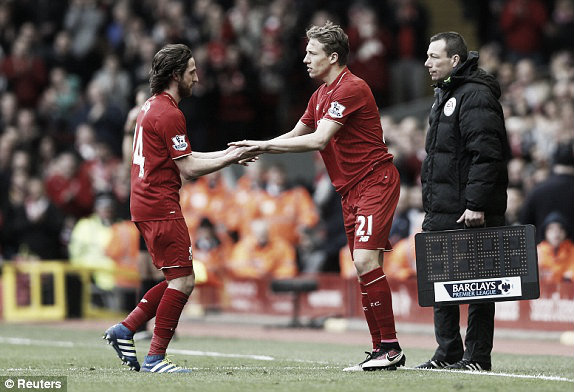 The Wales international was substituted late on during Sunday's match, with Klopp seemingly keeping one eye on the second leg of the tie with his former side.
The Anfield crowd gave Allen a great reception as he was replaced by the returning Lucas Leiva on 78 minutes, something that he greatly appreciated.
"It meant a huge amount," said Allen, adding "it was a special moment to have experienced that. I really enjoyed it."
As mentioned, Allen's next appearance at Anfield will likely be in the Europa League tie with Dortmund, and the Welshman will likely be keen to carry on impressing.