The Europa League. Last season it fell to Dejan Lovren who took the deciding penalty against Besiktas. It's yet to be known whether the ball has come down from the sky as the Croatian blazed the penalty over the bar and sent Liverpool out of the Europa League.
It was definitely one of Lovren's lowest points of his Liverpool career with him shutting his social media accounts down due to the abuse he received afterwards. In many people's eyes it was the beginning of the end of his Liverpool career.
A £20 million signing by Brendan Rodgers, Lovren struggled immensely in his first season at Liverpool with numerous mistakes and a seeming inability to remember how to defend seeing him look to have become another poor signing. He struggled with the basics and ended last season on the bench, a shell of the player that had been so good in his spell at Southampton.
The beginning of the season was meant to be a fresh start for Lovren, who started in all three of the opening league games and helped Liverpool to three consecutive clean sheets. It was the home game against West Ham United however which looked to have finally ended his career as he returned to the shaky, nervous, indecisive defender we had witnessed in his first season at Anfield. His mistake for West Ham's second and the image of him lying on his back with his head in his hands summed up his Liverpool career completely.
Fast forward to Thursday night and the Dejan Lovren we saw and have seen over the last couple of months is almost unrecognisable. Instead of the nervous defender we saw under Rodgers we've been introduced to a new commanding, dominating central defender.
It shows how hard work can pay off. Instead of sulking and moaning, Lovren got his head down and worked on his game. The introduction of new manager Jürgen Klopp has certainly helped as he has instilled a new found confidence in a number of players. Players like Joe Allen, Adam Lallana and Lovren himself who were not at their best under Rodgers have shown huge improvement under the German with the pressure of being Rodgers signings a label of the past.
Dortmund winner a fine example of Lovren's rise
It felt almost storybook that it would be Lovren who rose at the back post to power home a header and give Liverpool a 4-3 win on the night and passage into the semi-finals of the Europa League. A comeback which seemed impossible on the night especially when Marco Reus put Borussia Dortmund 3-1 up on the night mirrors the comeback that Lovren himself has made. A career that looked over, just like Liverpool's Europa League dream, rose from the dead and looks to be ready to roll on to greater things.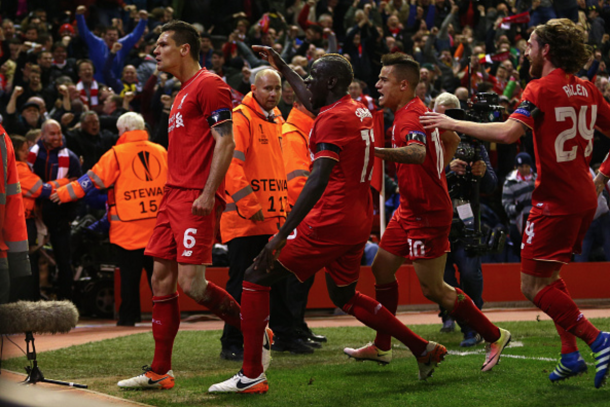 His partnership with Mamadou Sakho is ever growing and the two have been outstanding in the last couple of weeks. The Dortmund first-leg was the highlight, with both putting in monstrous displays in which lethal partners Marco Reus and Pierre-Emerick Aubameyang were kept unusually quiet on home turf.
You feel Lovren's upturn in form has come through sheer dedication to succeed and also the confidence he has been given by Klopp. Lovren has improved dramatically in the air and has becoming commanding when faced with high balls. He's also reduced the risks he takes by keeping things very simple. The occasional cross field ball is still there but no more halfway line stepovers occur with the Croatian getting it and giving it, keeping things simple.
His apparent reading of the game seems to have improved as well as his communication and this has led to a more settled back line with less confusion. Its becomes noticeable that if one centre half makes a mistake then the other will be on hand to cover and he has become much more conservative with no silly challenges where he dived in too early, instead challenging at the correct times and winning the ball back.
With Joel Matip arriving in the summer it will be an interesting conundrum for Klopp as to who will be missing out next season at the heart of the defence. Lovren is certainly staking his claim for that starting spot but you feel that if the partnership between him and Sakho continues to improve then Matip may struggle to see the first team upon his arrival.
What is certain is that Lovren has proven over the last couple of months that he is a quality defender and is getting back to his best form which was the reason Liverpool splashed the cash on him with the idea of him being the first choice centre half for many years to come. If he continues in this form, he will do himself no harm in that respect.