Jürgen Klopp has admitted Liverpool will have to find "other solutions" to their midfield conundrum after it was confirmed Emre Can will spend around four to six weeks out injured.
The powerful German midfielder ruptured ankle ligaments against Borussia Dortmund on Thursday evening and could miss a significant portion of the rest of the season.
He joins captain Jordan Henderson, who is out with a knee injury, on the sidelines and leaves Klopp's options in the centre of the park much more limited with the Europa League semi-finals and seven league games left to play of the campaign.
The Reds boss, asked about Can's injury, acknowledged that his injury is "not the best news" and said that the club "will see" how he recovers.
"Emre wants to be back as soon as possible and we will try everything we can do," added Klopp, who said that anyone who watched that match against Dortmund "knows it would not be too bad if we could involve him once or twice."
Klopp revealed that "there's a chance" the midfielder could feature again before the end of the season, but added: "How big? Time will show."
Reds must change their style to accomodate without Can, says Klopp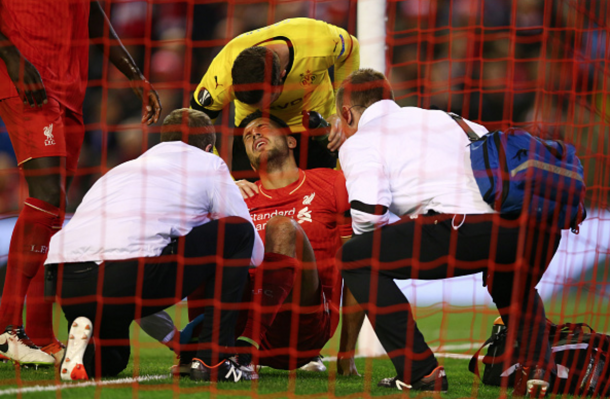 Speaking prior to his side's trip south to Bournemouth in the Barclays Premier League, Klopp explained that Can's recovery will "take time, that's clear."
He said that in the meantime the Reds will "have to find other solutions" without him and that it's "not about moaning about the situation, it's how it is" because they "cannot change it."
"Like always, we try everything to bring the boys back as soon as possible," continued the German, who said that "there is hope for a few things" with "four or five weeks of the season" remaining.
"We should not say 'Ok, his season is finished' - because it's not. We will work for it," Klopp added, saying that they "have to find other solutions" in his absence and "have to play in a different way" and "give the job to different people and change the style."
Klopp said that it's "not that we can only play like this" although he rued that Can was "in really good shape" prior to suffering the knock in midweek.
He praised how the 22-year-old "felt really secure" and "was confident" and "used his skills like he should." Klopp insisted that was "really cool" although accepted that "if he is injured, he is injured" and said: "We cannot change it and so we have to think about other things."