Jürgen Klopp isn't underestimating the importance of Liverpool's Premier League trip to Swansea City on Sunday afternoon although it appears that his side have little to play for.
A top-four finish is now all but out of reach for the Reds, who are nine points off Manchester City in fourth having played one game less. Instead, they are left playing purely for pride and to finish as high as possible in the league table.
As a result, Klopp is expected to field a largely understrength starting eleven in comparison to the team that lost 1-0 in the first-leg of their Europa League semi-final with Villarreal on Thursday night.
Given that Liverpool are left needing to overturn that one-goal deficit at Anfield in order to reach their first European final since 2007, the likes of Roberto Firmino, James Milner, Nathaniel Clyne and Dejan Lovren are all likely to be rested so that they are fully fit for the return leg.
But according to Klopp, resting such key players doesn't mean that he is taking the match lightly, instead treating it as an opportunity for Liverpool to climb up the table with a fully refreshed team.
Reds boss explains plans to field second-string side
"I'm really the first [person] who wants everything," he told the media in his pre-Swansea press conference, insisting that they travel to the Liberty Stadium to "try to win" because they "know about the situation" and "can read about the table."
He acknowledged that his side "know about everything" and realise that they have played "one game less" and so can catch up on their rivals, but also admitted that they "have to make a few difficult decision with the line-up."
On recent teams he has fielded, Klopp justified his decisions as being motivated by "the intensity" of their fixture schedule and "all the games" they have had to play in quick succession, meaning they have been "changing a lot" in order to cope.
"We know we need, again, fresh legs and fresh minds at Swansea," the German continued, insisting that winning is all "we are thinking about" and saying that they can "change the situation in the table with this game."
Before last weekend's 2-2 draw with Newcastle United, Klopp and co. had won their last four matches in all competitions as they put together an encouraging run of performances and results.
That came despite the boss frequently ringing mass changes to the team, with Liverpool's fringe players helping them to a 4-1 win over Stoke City as well as a 2-1 win away at Bournemouth, both which followed intensive clashes in continental competition.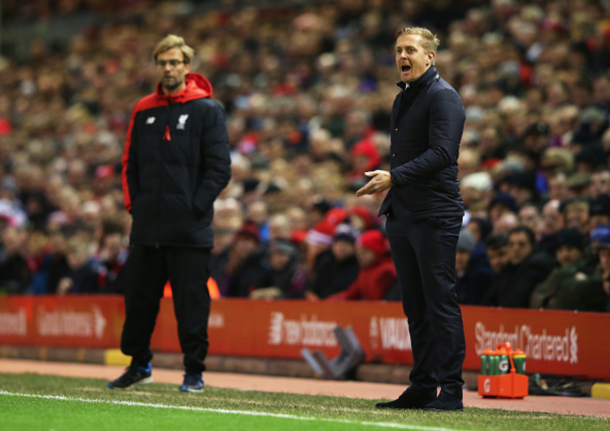 And the Reds boss admitted that ensuring performance levels don't fluctuate despite making changes across the board is something they are actively working on, insisting it is something they are trying to improve "all the time."
Klopp added: "You have a starting line-up and we always try to keep the rest of the players confident too with little talks, with little sings or whatever - especially in training. I'm pleased with [them] and for them because Bournemouth was impressive, Stoke was impressive, so that's very important for us."
It "wouldn't make sense" to name same team, says Klopp
The manager, who has regularly declared that changes are necessary to ensure the best possible performances from his team, explained that it's "really not probable" that they would "start with the exact line-up" like Thursday because "it wouldn't make sense."
Instead, Klopp believes they "have to make a few changes" so that they can "try everything" to beat Swansea. He called that "the only target for this week and nothing else" as he refused to look forward to Villarreal.
He also called himself "pleased" with the development of the club's younger players, which he says is "what they have to do" in order to feature more regularly. "We can give advice, we can give training sessions, we can give a lot, but at the end, it's a decision of the players," he insisted.
"It's up to the players to show [that they are good enough] and perform," he said, despite acknowledging that it is "not too easy with no rhythm."
On the confidence of the Reds' fringe and young players, Klopp said that it would be "a big mistake" for 18 or 19-year-old playersto "lose confidence" if they are starting one week and not in the squad the next.
He said that this attitude "make no sense" because instead they need to "take the chance" they get and "work as hard as possible" in order to feature "more often in the future."
Klopp states that it is "not too important" how regularly players play, but that it is "more important how you play" which he says he is trying to communicate with the players.
"Stay patient and, in the same moment, be greedy," he explained is the "information" they are trying to get across to the players, adding: "That's maybe something like a challenge, but it is possible and, until now, they have done well."