Jürgen Klopp has confirmed that Emre Can will return to the Liverpool squad for their Europa League semi-final second-leg against Villarreal on Thursday night.
The German midfielder damaged his ankle ligaments in the previous round's win over Borussia Dortmund in mid-April and it was feared his season had been brought to an abrupt end, but he has since recovered quicker than first expected.
After missing the Reds' last five matches, Can was back in full training earlier this week and Klopp has revealed that he is now in contention to feature at Anfield as they aim to turn around a one-goal deficit against their La Liga opponents.
"Emre Can is ready to return to the squad for sure," the Reds boss declared in his pre-match press conference, adding that they will "have to see" about the rest.
He explained that Jordan Henderson is "in a good way" as he recovers from an ankle injury, but said that he is in more of a "good way" for England than Liverpool, saying he's "not too sure how good a way it is" because the midfielder has "not been on the pitch yet."
Can back but no scheduled return for Henderson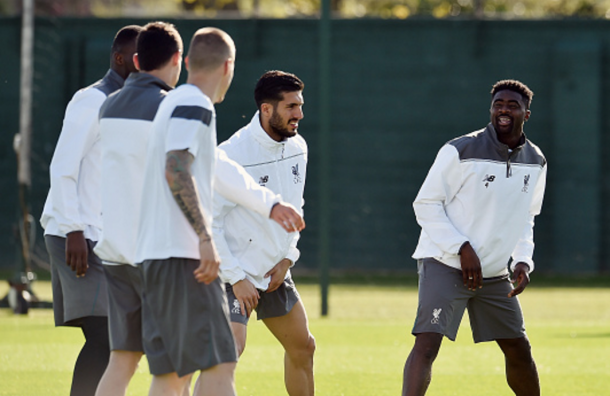 The Liverpool captain is unlikely to feature for his club again this season, but harbours hopes of returning in time to represent his country at the European Championship in France this summer.
Klopp added that he and his backroom staff will have to see "day-by-day" how the player's "improvement" is but said that he's "in a good way" as he told journalists that "only Emre will return to the squad" and the rest are "still out."
Striker Danny Ings was also back in training at a sun-soaked Melwood on Wednesday evening, but isn't yet fit enough to be considered for first-team action.
Regardless, there are hopes that Ings can feature before the end of the current season as he continues to fully recuperate from an anterior ligament injury sustained seven months ago on the club's training ground.
Sturridge in Klopp's thoughts for starting spot
Attentions soon turned to Daniel Sturridge, who played the full 90 minutes in the weekend's defeat to Swansea City, and whether he would feature after sitting on the bench throughout the first-leg in Spain last week.
When asked about whether Sturridge would start the return fixture, Klopp joked that he was "waiting for this question" before saying that he has made "no decision up until now about the line up."
"If you want to talk about this, we have to think [about] how we will start in the game, how we can change in the game, how can we react in different situations," he continued, although he did admit that Sturridge is "absolutely involved" in "all these thoughts."