This has been Maxwell Hogg, and I hoped you enjoyed the match as much as I did! Until next time, tune in to VAVEL UK for all the post-match coverage.
The sending off of Victor Ruiz was fairly cruel and took the fight out of a defiant Villarreal side. As the match went on, Liverpool were picture perfect as they won nearly every second ball, drew all the fouls, and won nearly every aerial duel. It was a truly clinical performance from the Reds.
Daniel Sturridge did well to handle the pressure from the media to perform well. His goal was all thanks to his striker's intuition, timing his run perfectly to go one-on-one with Areola and score the decisive match.
I was surprsied to see Emre Can play the full 90 minutes, but he was absolutely fantastic. He anchored down the midfield so well today and won nearly every second ball his way.
FT: It is all over and the Liverpool squad celebrate in front of the Kop. Jürgen Klopp warned Villarreal about coming to Anfield, and he couldn't have been more right. Villarreal were simply swept aside by Liverpool as the Reds march on to Basel!
90+3' SAVE Amazing save from Areola as Lallana arrowed one for the top right corner. Denis Suarez receives a yellow card for taking down Moreno is the dying minutes.
90+1' SAVE Areola with his eight save of the night to deny Joe Allen as he cut into the box. Lucas also enters the match, replacing Daniel Sturridge.
90' Liverpool just passing around now as this one comes to a close. Lucas prepares to enter the match.
89' SUBSTITUTION Christian Benteke enters the match for Roberto Firmino, who receives a standing ovation and a hug from his manager.
87' SAVE Another save from Areola as Daniel Sturridge was clear on goal. The goalkeeper did well to stick his leg out to push the shot wide. Joe Allen had a chance to hit the rebound into the loose net but couldn't reach it.
86' SAVE Emre Can lets loose from far as Areola dives to catch it. Cheeky attempt from Can right there.
85' Trigueros plays a long ball for Bakambu, but the ball was far beyond him. He has been a non-factor this match, even more in the second half.
82' SUBSTITUTION Joe Allen comes on for Coutinho as Liverpool look to see this one out.
81' Game. Set. Match. Roberto Firmino does well to fight off Musacchio to send the ball into the middle. Daniel Sturridge's attempt was poor, but Adam Lallana was there to flick it past Areola and put the game beyond Villarreal. 3-0 Liverpool, 3-1 on aggregate!
GOOOOOOOOOAAAAAAALLLLLLLL!!!!!! ADAM LALLANA!
79' Villarreal are beginning to get spread out as they search for their goal. Coutinho finds Clyne in space as he darts down the side. Clyne finds Sturridge at the top of the box, but his shot is nowhere close.
77' The visitors get a chance with a corner kick, but they fail to get the ball past the first defender. Marcelino clearly frustrated.
75' Chants of Jurgen Klopp ring out around Anfield. The fans feel as if they have this in the bag, but just one goal for Villarreal sees them through to Basel. This one is far from over.
74' SAVE! Firmino gets the ball on the edge of the box and fire for the top right corner, but Areola makes another fantastic save to deny him. The resulting corner is taken short, but Villarreal deal with it quite easily. Ten corners on the night for Liverpool.
73' SUBSTITUTION The free kick is shot into the wall and play stops after an offiside call. Jonathan Dos Santos makes way for Daniele Bonera.
71' RED CARD! Victor Ruiz brings down Lallana one the edge of the box and collects his second yellow card of the evening. Down a goal, Villarreal now find themselves down a man. A bit harsh, but good news to ears of every Red.
69' Shouts for penalty as James Milner goes to ground trying to find Firmino's cross, but the whistle doesn't blow and play goes on. I think that was the right call in the end as Milner had no chance to reach that ball.
68' SUBSTITUTION Soldado is booed as he extis the match, making way for Adrian Lopez. He was the goalscorer in the first leg. Hopefully he doesn't make a similar impact today.
67' A long ball finds Bakambu behind the defence, but Kolo Toure does well to recover and pressure the player whose shot was poor and ended up behind for a goal kick.
65' Firmino with a brilliant bit of skill cuts into the box before passing back to Coutinho. The pass was behind him, but he was able to tip it back just a bit for Moreno. He has a go but drags his shot wide. Liverpool are just all over the visitors.
63' I promise this one is actually his! Roberto Firmino collected a loose ball at the top of the box, and Sturridge timed his run so perfect to get behind the defense. Areola gets a part of it, but the ball hits off the post and in! 2-0 to Liverpool, 2-1 on aggregate.
GOOOOOOOOAAAAAALLLLLLL!!!! DANIEL STURRIDGE!
62' SAVE! Adam Lallana sends Daniel Sturridge through on the counter attack, but Areola does well to save his near post attempt.
59' SUBSTITUTION Yet another corner dealt with by the visitors quite easily. The ball goes out, and Manu Trigueros is introduced into the match for Tomas Pina.
58' Jurgen Klopp seems annoyed with his side as they pass around the back, slowing down the pace of the match. They quickly bring it up the pitch and earn another corner. One of these has to go in, surely?
56' The resulting free kick is a dangerous one as the long swerving ball was headed barely wide. Villarreal still remain as dangerous as ever.
55' Liverpool taking plenty of shots, clearly in search of the winning goal. Villarreal do well to soak up the pressure as Soldado earns a foul just a little over the midfield line.
53' Yet ANOTHER Liverpool corner that leads to nothing. Bodies flying as the ball pops out to the feet of Alberto Moreno. He has a go, but the shot is beyond far and wide.
51' Sturridge lines one up from distance but has neither the power or the placement to get past Areola.
50' Milner cuts into the middle after laying the ball off to Firmino. Bobby does well to return the ball as Milner has a go. He did well to get the shot off, but it was directly at Areola.
48' Another corner for Liverpool as Sturridge tries to find the far bottom corner. Milner plays it short before playing Coutinho into the box. Phil takes a go at the near post, but Areola did well to deny him.
46' No changes for either side as the visitors get the second half underway. A massive block from Lovren denies Bakambu a shot at goal. Not the start Liverpool were looking for.
The back four have been solid, Dejan Lovren has been doing fantastic when it comes to stoppping the counter. Countless crucial tackles from the Croatian as he continuously frustrates the Villarreal offense. It is important that both him and Kolo Toure keep their concentration sharp. Allowing a late goal in this match will have far greater consequences than a week ago.
Set pieces are looking surprisingly good for the Reds. Nearly every corner is threatening and demands the full attention of the visitors. It is a complete 180 turn around for Milner whose consistent poor corners in the Dortmund tie led to audible groans from the Kop. I wouldn't be surprised to see the winner come off one of them.
Clyne has easily had the best half of any player on the pitch. He has won nearly every one on one and has intercepted anything sent his way. His initial cross caused the problems for the Villarreal defense that led to the own goal. It is insanity that a majority of Villarreal's attacks have come up that side as Clyne is almost always there to snuff out the threat.
Emre Can has been fairly quiet so far but has made his presence a problem for the Villarreal midfield. He hasas done well to collect that ball when the visitors have tried to clear to keep the pressure on. He had a key pass in the build up to the own goal that leveled the tie.
HT: Wow. We can all relax and take a breath now after a thrilling first half. Liverpool clearly the team on top right now, but Villarreal is slowly working their way back into the match. Hopefully the players take this break to calm down and focus on the match at hand. If things continue as they are, I can't see Villarreal snagging that vital away goal. It's more of a question on whether the Reds can put this one away before we go into extra time.
45' Villarreal build up pressure in the Liverpool half, but once again turns the ball over quite easily. A long ball to Sturridge on the break was behind him as the Yellow Submarine surged back up the pitch. A weak effort from Bakambu is gathered by Mignolet as the halftime whistle blares. No stoppage time.
42' Clyne's interception sends Liverpool on the break once more. Sturridge brought the ball forward before finding Firmino. Firmino sends the ball wide to Coutinho who pushes onwards but can only get past the first defender.
40' A yellow card for Roberto Soldado as he cynically took Coutinho down well after the ball left the Brazilian's feet. The referee is clearly trying to gain control of the match as tempers begin to flare.
39' Another good grab from Areola as Coutinho sends a dangerous ball towards the head of Lallana. The goalkeeper has made plenty of crucial interventions.
38' Areola gathers the resulting corner quite easily. A foul is then called on Toure as he obstructed the Villarreal goalkeeper while he tried to clear the ball.
37' Villarreal try to slow down play, but Liverpool still in the driver's seat as they dictate the flow of the game with their pace. James Milner has a go from long, and it deflects behind for another corner.
35' Milner hooks a long ball forward for Sturridge, but Suarez does well to intercept. Suarez then goes in strong on Sturridge before Clyne takes Suarez down hard to receive a yellow card. Harsh from Viktor Kassai as the replay shows a fair tackle.
33' Referee Viktor Kassai pulls Lovren and Soldado aside after a small mixup between the two. The players make nice and play continues. Coutinho gets loose on the break amounts to nothing in the end.
31' Dejan Lovren rises high to meet James Milner's corner, and Areola does well to collect as it was on its way to the top left corner.
29' Tensions are high as Denis Suarez is furious as Dejan Lovren takes him down hard to stop the counter. Should have been a yellow card as Suarez cynically takes Moreno down.
28' Plays stops briefly to attend to Moreno after clattering heads with a Villarreal defender. No damage done and play goes on. Firmino nearly spins past Musacchio, but the ball goes behind for another corner.
26' Cedric Bakambu is adjudged offside as Liverpool once again claim possession. Liverpool have done well to deal with the threat of Bakambu for the most part. His pace is causing some problems.
25' A dangerous cross from the corner nearly finds Emre Can, but Pina gets to it before him to head behind for another corner. The second one is easily dealt with by Villarreal.
23' Neat interweaving passing on the right side leads to a Firmino cross that is too high for anyone to reach. The space has been out wide all match, just as Klopp predicted.
21' Milner goes down hard on the side following a rough tackle. He gets up and plays on, but is limping and is clearly struggling. Hopefully he can walk it off and continue in this match.
19' Nice build up play from Villarreal requires Mingolet's attention as Mario Gaspar's cross to the middle is tipped by Toure. Liverpool look very solid in the back.
18' Villarreal threaten goal through Dos Santos who receives the ball in the box, but Toure does well to close him down and send the ball behind for a corner.
16' A small spell of possession ends abruptly for Villarreal as they continue to struggle to get the ball into the Liverpool zone. Alberto Moreno is completely shutting down the left side of the field.
14' CHANCE! James Milner plays a long and low pass into the feet of Adam Lallana who redirects the ball just wide. You can just feel that there are more goals to come from this side.
13' It is is all Liverpool in these opening minutes. The visitors can't seem to get the ball out of their own half.
11' A dangerous ball into the Villarreal box, but Areola gathers well before taking a tumble and spilling the ball. Play is whistled dead for a foul on Firmino.
10' Villarreal are in shambles as the Liverpool press causes all kinds of problems. Each player is given barely a second before a red shirt is in their face.
8' After looking at the replay, it turns out the ball was turned into the net off of Bruno Soriano. So no goal for Sturridge, but a massive goal for the Reds with plenty to play for!
GOOOOOOOOOOOAL DANIEL STURRDIGE! Nathaniel Clyne sends a dangerous cross that Areola comes out to brush wide. Firmino sent the ball back in and Sturridge tip into the back of the net! 1-1 on aggregate!
6' Another chance from Villarreal as the Liverpool defence does poor clear before Jonathan Dos Santos fires high and wide.
5' SAVE! A chance for Villarreal as the ball fell to Mario Gaspar in the box, but Simon Mignolet did well to deny the chance as Kolo Toure cleans up the rebound.
4' A long speall of possession ends with a flop as James Milner can't keep the ball in on the sideline.
3' This match is already lightning quick. Liverpool close Villarreal down quickly to deny them possession of the ball.
2' A good start for Liverpool as Coutinho lofts the ball over the defense to Roberto Firmino. Bobby sends an average cross into the box, but Alphonse Areola botches the intial grab.
KO: Sturridge taps the ball to Philippe Coutinho and we are underway!
We are nearing kick-off as Anfield is up and roaring in anticipation. How will both sides react to the atmosphere? We'll have all the action right here. Don't miss a minute with VAVEL UK.
Here is the aformentioned mosaic, courtesy of James Pearce.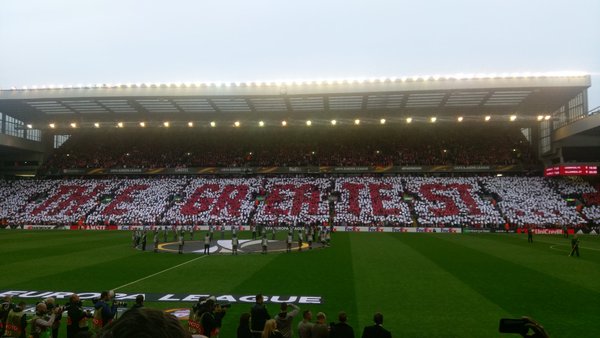 Villarreal fans join in as the fans reveal a mosaic in honor of the 96 victims of Hillsborough. '96 The Greatest Football Family' it reads. Stunning. The fans still sing on well past the conclusion.
An interesting redition of "You'll Never Walk Alone" rings out in Anfield, performed live with a small gospel arrangement. Still the same anthem we have grown to love.
The Villarreal side is also in. No surprises here.

Villarreal XI: Areola, Mario Gaspar, Musacchio, Ruiz, Soriano, Pina, Suarez, Dos Santos, Costa, Bakambu, Soldado

Subs: Asenjo, Samu, Trigueros, Castillejo, Lopez, Rukavina, Bonera
Wonderful scenes on Anfield Road as the supporters welcome the coach to the stadium. The players seemed to love this kind of welcoming when Dortmund came to town, and this will be no different.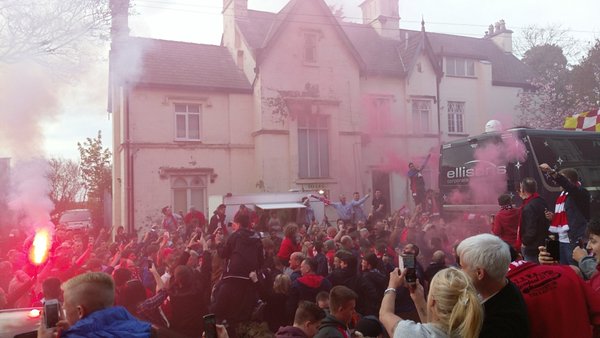 A great lineup for this crucial match. I personally would like to see Joe Allen out there in place of Roberto Firmino given the Welsh midfielder's recent run of form. Firmino also hasn't been at his best as of late. Still, a minor complaint.
And the manager seems to agree with the masses. The lineup is in for the Reds. Sturridge is in, and Emre Can makes a return from injury to bolster the middle of the field.

Liverpool XI: Mignolet; Clyne, Toure, Lovren, Moreno; Milner, Can, Lallana; Coutinho, Firmino, Sturridge

Subs: Ward, Skrtel, Smith, Lucas, Allen, Ibe, Benteke
Klopp came under criticism for leaving Daniel Sturridge out of the action when an away goal could have been massive. The manager insists the England striker just didn't fit into his tactics, but hindsight is 20/20, and it is clear to see it was a mistake. Many are calling for Sturridge to start tonight, and Klopp will have a lot of explaining to do if he is left out of the action once more.
It was a disappointing time out last week as Jürgen Klopp's men suffered a late defeat at El Madrigal. The Reds were defensively solid until a late lapse in concentration handed Villarreal a 1-0 advantrage heading into the second leg.
Hello and welcome to VAVEL UK's live minute-by-minute match coverage and commentary. It is Thursday 5th May 2016, and today's match sees Liverpool host Villarreal in the second leg of their Europa League semifinal tie. The match kicks off at about 20:05 GMT, so we're not too far off. Until then, we'll have plenty of pre-match build-up, team news, and analysis from me, Maxwell Hogg. Make sure you stay following, so you don't miss a thing.