Daniel Sturridge and Adam Lallana were in high spirits after Liverpool eased past Villarreal at Anfield on Thursday night.
A 3-0 victory on the night and an aggregate score of 3-1 sent Liverpool into their first European final in nine years at the expense of the La Liga outfit.
Sturridge told BT Sport after the game that it was "about soaking up the atmosphere" and "putting on a performance" in front of their own fans, adding that they had to "work our socks off" but said that they "got the result needed, and we deserved it."
Lallana told the reporters on the pitch afterwards that they said "at the beginning of the competition, it's a long slog and you've got to show the competition respect."
On the Reds' performance, he continued: "[It was] a brilliant performance tonight and the lads are looking forward to the final now."
When the No.20 was told the news that they would be facing Sevilla in the final, he replied: "If we play well, if we press like that, if we play for each other, then we can beat any team."
Both players were all smiles during the interview, presumably because they both got on the score sheet and played key roles in the victory. Despite recent reports suggesting Sturridge is eyeing up a move away from Liverpool, he seemed very content after 90 minutes on Thursday.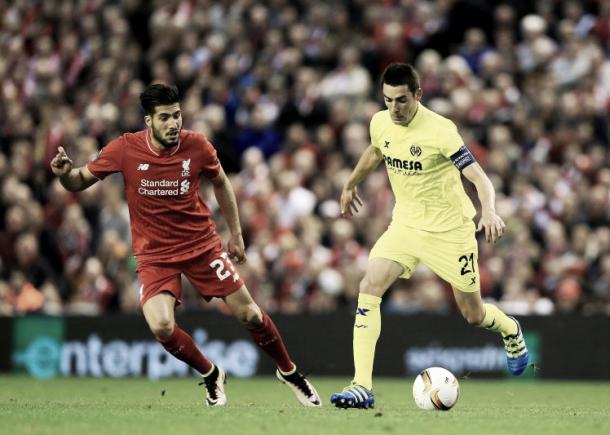 What was different in this leg?
Liverpool looked a completely different side to the one that was beaten 1-0 by Villarreal at the Estadio El Madrigal last week. Mainly because this week Klopp decided to start striker Daniel Sturridge who was an unused substitute for the first leg.
Many feel if Sturridge had of played the first leg the Reds would have brought a score-line in their favour back to Merseyside and Sturridge proved this to be right as he scored and assisted in the return leg.
Emre Can was also a huge boost for Liverpool this week, after returning from a ruptured ankle ligament injury which he sustained during Liverpool's second leg victory against Dortmund in the Europa League quarter-final in mid-April.
Can was expected to be our for four to six weeks however just three weeks later he was back in starting line-up to face Villarreal. Can was easily one of the best players on the pitch Thursday , he brought control to their midfield slowing down the game when needed and organising counter-attacks.
Can's ability to pass from deep inside his own half was on full display against Villarreal and worked very effectively as he was able to transition from defending to attacking in a matter of seconds catching the Villarreal defence off-guard.
Without a doubt Sturridge and Emre Can had a massive influence on Liverpool reaching the final and their performances also showed just how vital they are to Klopp's Liverpool side.