Without a doubt Roberto Firmino had a tough start to his Liverpool career. It took him until November 2015 to score his first goal for the Reds which came in a 4-1 victory away at Manchester City. Firmino also assisted twice in that game to deservedly earn himself the Man of the Match award.
When rumours first broke about the Brazilian playmaker joining Liverpool, many were quick to judge. The fee of £29 million was seen as a huge amount of money to spend on player with no Premier League experience, however Liverpool went through with the transfer regardless.
While playing under Brendan Rodgers at the start of the season, Roberto played as a right-winger and many feel this is the reason for his poor performances at the beginning of the season. As he was not used to playing in this position, Firmino disappointed and was soon branded as a "flop."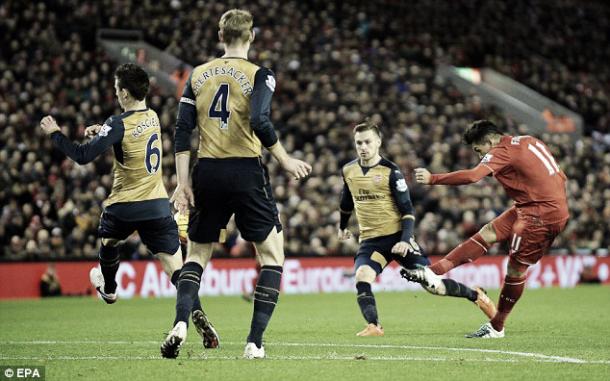 Klopp's Arrival
However when Jürgen Klopp arrived at Anfield he knew about Firmino from the Bundesliga and began playing him in his natural role as an attacking midfielder behind the striker. In his fourth game since Klopp's arrival he had scored his first goal and his performances had taken a turn for the better.
Unfortunately for Firmino he had to play as a centre forward or up front on his own during the end of November through December and January as Daniel Sturridge had been sidelined due to an injury. But Firmino did find the net twice against Arsenal in an entertaining 3-3 game at Anfield and he also scored twice in a thrilling 5-4 victory away at Norwich. Firmino played centre forward for these two games, both of which he thrived in.
Klopp told the Liverpool Echo yesterday that "it wasn't a surprise to me when I heard people questioning him" admitting " that's how it is in Germany too." The German also noted the forward's development, saying: "Now with Roberto you can see the confidence in his work" before signing off the interview warning the British media and football fans: "Don't be too quick to judge players."
Brazilian Partnership
Another factor in Firmino's great form is the partnership between himself and fellow Brazilian Philippe Coutinho. The 'Magician' as Coutinho is often referred to as has been stunning Liverpool fans since 2013 with his extensive range of long-range goals and his samba-style tricks and flicks.
The two compatriots certainly have much in common, playing in very similar positions with very similar styles, and this connection shows on the field. The duo have conjured up 23 goals between them in all competitions this season and have 17 assists combined. When on the field together, the two undoubtedly seem to have a certain flair to their play and they act as key players in Liverpool's pressing and counter-attacking football.
As such, it is probably fair to say Firmino has been Liverpool's best player this season. Liverpool's No.11 has scored as many Premier League goals in 2016 as record-breaker Jamie Vardy. That stat shows exactly how good Firmino's second half of the season has been and under Klopp, there's no saying he can't get even better.
Despite Coutinho currently being Liverpool's top scorer, Firmino has been more consistent all season with assists and performances. Firmino has now raked up 11 goals and 10 assists in all competitions this season with two games still remaining in the season. This in just his first year, one which has been blighted by a poor start and niggling injuries.
The 24-year-old ability to cut open defences with fantastic through balls, his mesmerising long-range shooting, his intense pressing and his effective off-the-ball movement all contribute to him being a key part of Klopp's Liverpool regime going forward. The question is will he be crowned Liverpool's 'Player of the Year' for the 2015-16 season? Well, he's certainly a stand-out contender.