Jürgen Klopp is keen to ensure his Liverpool players don't allow pressure to get to them when they face Sevilla in next Wednesday's Europa League final.
The Reds travel to Basel looking to end an 11-year wait for continental silverware and their first trophy since 2012, but they face a La Liga outfit bidding for their third consecutive triumph, and a record fifth overall, in the competition.
The winners will also be granted passage into the group stages of next year's Champions League, a huge incentive to both finalists given that they can no longer qualify through their domestic leagues.
But though the stakes are unarguably high, Klopp believes his side can take confidence from their performances against Villarreal, Borussia Dortmund and Manchester United in the previous rounds.
We must be at 100% in order to beat Sevilla, says Klopp
The Reds boss revealed to journalists on Friday that he told the players before he took charge of his first Europa League tie earlier in the season that only "10 to 15 can win" the competition out of the "around 148 teams [that] started" and added: "'Liverpool is one of these teams, so let's try'."
He declared that their approach to the tournament has always been "about winning" and said that it remains "the same target" now they are in the final. However, Klopp insisted that they "will need to be good in the final" and that there will be "no chance to win it with only 60% of our quality."
Pointing to their recent performances in the competition, he insisted that they've "shown what we're capable of" and now have "an outstanding opportunity" to win such a prestigious trophy, vowing they will "be ready 100%" for the game.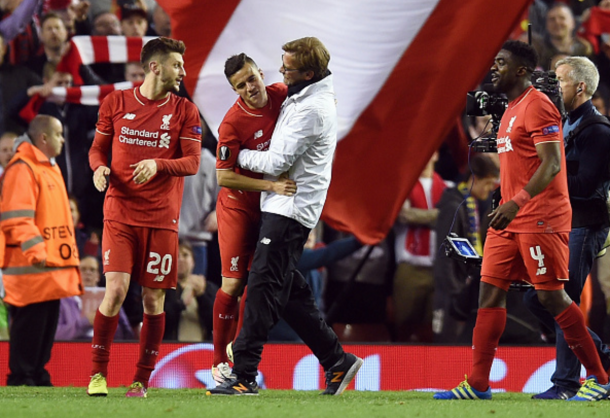 Klopp also added that the Reds will "have to create an atmosphere in the team" so that "everyone is able to enjoy this game" as he feels that if the players "only feel pressure" then they "have no chance" of winning.
On their opponents, four-time winners Sevilla, he said that Unai Emery's side are "very experienced" and are a "strong side" who "defend well" with a "brilliant counter-attacking game."
"But we are strong too," he said, insisting that if Liverpool "play our best" then it will be "a real open game and open games you can win."
Klopp acknowledged that if they are not at their best then "it will be quite difficult" but said Los Rojiblancos "aren't better" than his side, whilst they "aren't better than Sevilla" because it is simply about his side "doing the right things in the right moments."
Boss rues lack of league points despite European run
Liverpool's road to the final has been typically pulsating with the second-leg against Klopp's former club Dortmund, a 4-3 victory in which the hosts twice found themselves down by three goals on aggregate and required a stoppage-time Dejan Lovren header to progress.
Their European exploits have helped to distract from an inconsistent and largely underwhelming Barclays Premier League campaign and with just one game remaining in domestic competitions, Klopp insists he has few regrets from his first season in charge.
On the occasions Liverpool have enjoyed at Anfield in the last few months, Klopp said that they have had "some great atmospheres" including "maybe some of the best in the world" as he said: "Nobody had [predicted] something [would] happen like our game against Dortmund. To strike back against Villarreal, the performance against United, was quite good from all of us."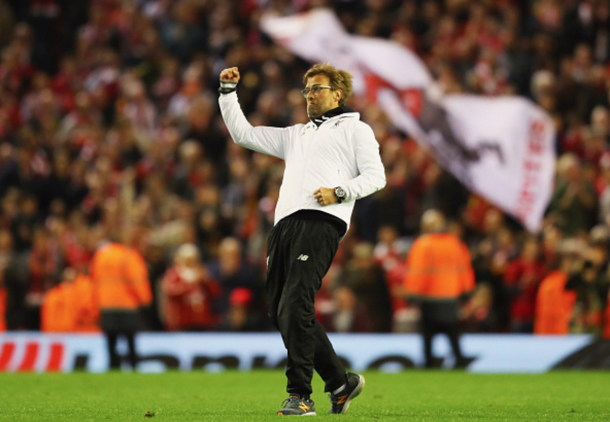 The manager acknowledged that it has been "a bit more difficult" for Liverpool supporters to enjoy football "in the past few years" and that they have been "waiting for the moment when there was something to enjoy again."
He declared that "this team has given these moments back" and took pleasure from the club's end of season awards evening earlier in the week, in which he said there were "difficult decisions to be made" and that "there could have been five or six players for each award" which he thinks means "something happened this year."
"We haven't had the chance this year to be [league] champions," he continued. "We could have had a chance of top four, but because of the number of the games and the injuries, we couldn't get enough points."
Although his team aren't in the position Klopp might have hoped they'd be in when he arrived, he accepted that it couldn't "have gone better in terms of relationships with the players, the club and the fans" despite rueing that they could "have had more points."
The German said that, looking "how close the table is" and the manner in which Liverpool "dropped points", that they could be much closer to the top four with just "three or four more points."
However, he insisted: "If you cannot be one of the best four teams, you still have to develop. That's what we did. We will go to the final and see where it ends. We have to use each experience from this year next year. It's a good atmosphere around Liverpool FC and we're really optimistic [about the future]."
Reds must think about West Brom before final, warns the German
Although it is easy to be distracted by the Reds' upcoming final, they still have one more league game remaining before they can fully focus on their trip to Switzerland's St. Jakob-Park.
Klopp is expected to name a near fully-changed starting eleven for the trip to West Bromwich Albion on Sunday afternoon, but he insists he is only doing so to ensure they have the best chance of winning and climbing up the table.
He called the clash at the Hawthorns "very important" because it offers them the opportunity to "move up two positions in the table." Whilst the boss recognised that it is "not in our hands", he said they can only force it by winning at West Brom.
"It's my job to find a line up to win," he said, adding that "in this moment" Sunday's game is "the most important in the world" and "it makes no sense to think about the final" or else they "will lose" against the Baggies.