There was a game to play on Sunday afternoon but even the 2,500-strong away contingent inside the Hawthorns could be forgiven for allowing their minds to drift elsewhere.
Admittedly, it was easier to drift off given the largely dull and uninspiring 90 minutes of football on offer between Liverpool and West Bromwich Albion, with Jordon Ibe's 24th minute equaliser the last shot on target before the full-time whistle was blown. Riveting stuff.
Indeed, there were plenty of hints from the away end that they were focusing on bigger and better things to come. The range of chants referencing those clichéd European nights (and they've become a cliché for a season) and the coming trip to Basel were on full show from a vocal travelling Kop.
In fact, when the match was brought to an end and after the away fans had applauded those players in red shirts and began to filter out of the Smethwick End, there was almost a sigh of relief. Finally, the undercard is complete. Now comes the main event. The game everyone has been waiting for as soon as it was learned that Liverpool would be playing in their first European final in nine years.
The Europa League run has rekindled Liverpool's European love affair
And so it approaches. Faster and faster, closer and closer. The big day. The big game. The football club which was made for nights like these steadily counts down towards another.
A mass of supporters decked in red will use any and every form of transport possible for the trip to Basel. Jürgen Klopp may have rescinded his invite for "100,000 supporters" to descend upon Switzerland, but there's a good chance the Reds will take at lest double, or triple, their 10,000 allocation to St. Jakob-Park and its surrounding areas.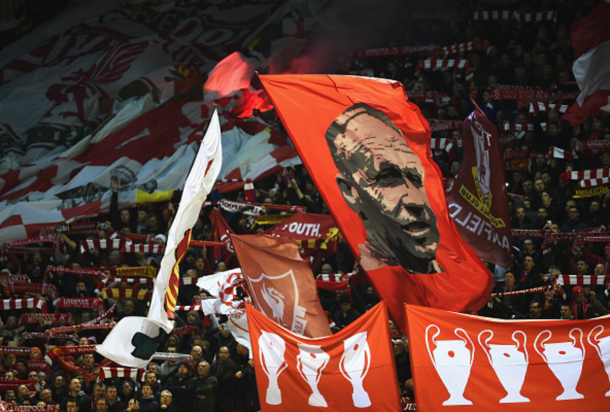 Understandably so. For Liverpool, despite finishing in eighth place in the Barclays Premier League with Ibe's first-half strike earning a 1-1 draw at West Brom, there is a renewed sense of hope and optimism. The future looks bright, not so long after the club lurched towards crisis and uncertainty. Only a year ago, the Reds ended their campaign with a humiliating 6-1 defeat at Stoke City. A European final couldn't have felt further away.
It's also so easy to forget that just over two weeks before Klopp's appointment, when he replaced Brendan Rodgers at the Anfield helm, the Reds required a penalty shoot-out to beat Carlisle United - then 10th in League Two - to scrape into the fourth round of the Capital One Cup. There were even a smattering of boos throughout that cold September evening, with Liverpool having 47 shots across 120 minutes and somehow scoring just once. Little had improved, despite the money spent, from the four months between then and the chastening defeat at Stoke.
By contrast, a few months under Klopp's stewardship and the club found themselves in the final of that very same tournament. A few more months and Liverpool have made the Europa League their own. Memorable nights against Manchester United, Borussia Dortmund and Villarreal have stirred the soul and helped them to a long-awaited major European final.
Some will point to Liverpool's poor league finish, two points less and two places lower than what Rodgers' side mustered in 2014-15, and suggest Klopp's impact has not been so great. The truth is the opposite. Having vowed to turn "doubters into believers" when he first took over, the Reds boss has done so in half the time many might have expected.
There has been the odd setback, of course, but Liverpool can make outstanding progress on Wednesday night. Just 90 minutes, or maybe even 120 seeing as the Reds like to do things the hard way, stands between them and a fourth Europa League (or UEFA Cup, whichever tickles your fancy) trophy and the season's label being transformed from average and one of transition to one that can be remembered as a successful campaign.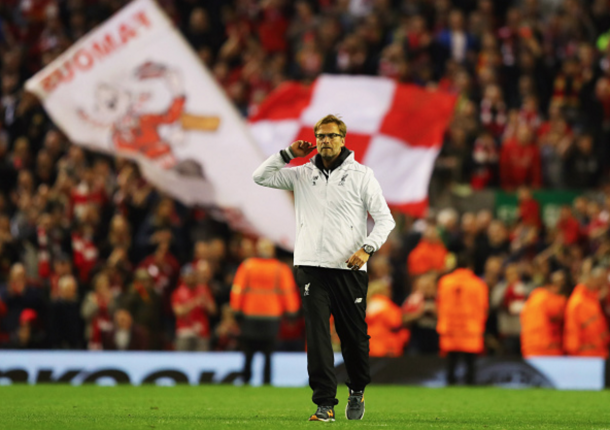 Not just that, but winning it could also be viewed as the start of a journey under Klopp. The first of many trophies, should all things go to plan. Of course, it's not the true start of the journey. That began many moons ago and since then, many a high and many a low have been felt. Just about everything in between, too.
Reds have had a topsy-turvy campaign - but this would be the perfect finale
Tumultuous doesn't quite come close to what has been a true rollercoaster of a campaign. One which will only truly be defined in Switzerland in mid-week. Lose and just like that, the season is cast off as a forgetful failure. Win and it's the start of something.
The truth is somewhere in between, regardless of the result. The league season has been underwhelming, but injuries and the staggering amount of football - the final Liverpool's 63rd fixture of this long and tiring season - have played their part.
Despite it all, just six points separate them and fourth-place after 38 games. In the circumstances, the gap is frustratingly small. Had the small margins fallen Liverpool's way in just a few games, they might be approaching this final with Champions League already secured.
But that isn't how this club do things. It never has been. It probably never will be, even under Klopp. This season, in particular, Liverpool seem to have taken the hardest route possible. If there's been a chance to go to extra-time, Liverpool have gone to extra-time.
If there's been a chance for a replay, Liverpool have taken up the offer gleefully. "More games you say?" the players jubilantly shout at the prospect. Don't be surprised if they do it again in the final, going to penalties for the fourth time in one season. We'd only been in 15 total before this season, bear in mind.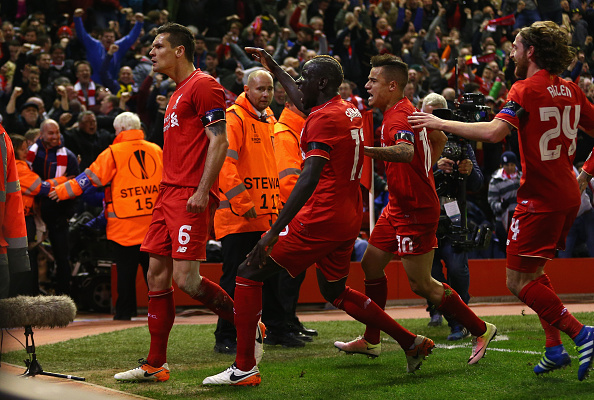 That has all weighed itself in to a season which has felt quite unlike any other. The league campaign mattered, then it didn't, then it did for a bit, and then it didn't again. Now, it definitely doesn't. All eggs are firmly in the Europa League basket, one which delivers rich rewards should you treat it as seriously as Klopp and Liverpool have this summer. Now they are just one more game away from the kind of prize that makes a season - Champions League football.
What that does for the club, on and off the pitch, is obvious. A higher calibre of players and a higher calibre of competition, all teams aspire to be amongst the 32 teams in the group stages for a reason. It opens up a window of opportunities, but it's not just that. Something new and shiny for the Anfield trophy cabinet is long overdue, and this would eclipse and outshine their most recent trophies comfortably.
The message, then, is pretty clear. This is just the beginning under Klopp. Liverpool have so many more improvements and adjustments to make the fact and so the fact that they've still so much more to do and yet they're within one game of a European trophy and a return to Europe's top-table, is quite a tantalising prospect.
Should they return from Basel with the trophy, the feel-good factor around the club will be just that more valid and it would justly depict the immense improvement the Reds have already undertaken since Klopp's appointment.