Look what it means to them. I'll leave you with that image of Sevilla celebrating their third goal, the goal that sealed their third straight Europa League triumph. I've been Sam France and this, as always, has been a pleasure. Have a great night.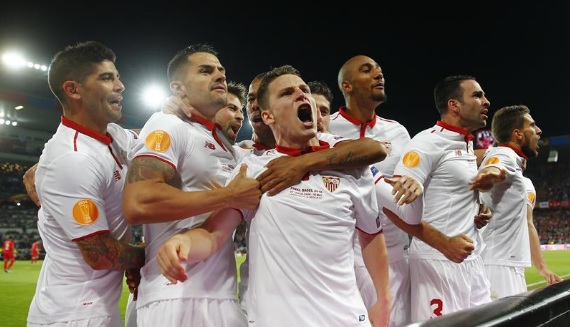 There it goes! Well, sort of. There's lots of cheering but it turns out the trophy is actually quite heavy, and it takes a while for them to get it properly in the air. The dramatic music booms, the confetti twinkles in the air and Sevilla lift the Europa League. It's a familiar scene.
Sevilla are up on the stage now, ready to lift their trophy. And it really is their trophy.
Klopp is leading his team up to the stands to receive their runners-up medals, which I don't think any of them are going to be happy about. Some glum faces out there - they'll need some picking up after this, their second cup final defeat of the season.
Speaking of Liverpool's weaknesses, I like Alberto Moreno but he has had an absolute nightmare tonight. Sevilla could have had two more from his mistakes alone.
Huge, huge credit to Unai Emery and his Sevilla side. They went in at half-time a goal down, outplayed and heavily outnumbered in the stands but they've identified Liverpool's weaknesses and made them pay for them.
Daniel Sturridge turns a camera away from his face and Emre Can joins an awful lot of upset Scousers in tears on the pitch, before Jordan Henderson gives him a big hug.
Not that it will be any consolation for the people of Liverpool, but we've witnessed history tonight! Sevilla become the first side to ever lift this trophy for a third consecutive time, and you've got to say they deserve it.
Full-time: Liverpool 1-3 Sevilla
90+4' Clyne puts in an ugly, frustrated tackle on Vitolo and gets a yellow card for his trouble. That might just be that.
90+3' Sevilla sub: Sebastián Cristóforo comes on for Banega.
90+2' Lovren gets a touch on the corner but not a threatening one and Sevilla clear. They build an attack and Vitolo bends a shot high and wide from the edge of the area.
90+1' Liverpool win a corner as Sturridge challenges for Can's long ball forward.
90' Allen delivers the ball in from the right but Kolodziejczak heads it clear. Liverpool still need two, but they've only got four minutes of stoppage time to do it in.
89' Banega wins another throw-in by the corner flag, before another Sevilla sub: Iborra comes on for Gameiro, who gets a standing ovation from the travelling Spanish fans.
88' Benteke gets his head to another long ball, but he's correctly pulled back for clambering all over Mariano in doing so. Sevilla have another sub ready.
87' Liverpool get the ball back and Milner attempts to feed Sturridge, but the England forward looks absolutely exhausted and he can't latch onto it.
86' Banega's delivery is decent but headed clear by Lovren. Sevilla break back and Gameiro almost has a chance for a second goal before the ball comes to Coke at the edge of the area and he goes for his third, winning a corner as his placed shot deflects behind.
85' Coke is struck by a sniper's bullet as he challenges for a header with Moreno, and a few more seconds are killed as he rolls around on the floor making a meal of it. Sevilla have a free kick in a good position.
84' Benteke wins a knock-down from Milner's long ball forward and it drops for Sturridge, but his left-footed half-volley from range is fairly weak and easily saved.
84' Mariano sees yellow for timewasting, before an ironic cheer goes around as a Sevilla attack is halted by the offside flag.
83' Liverpool sub: Klopp throws the kitchen sink at Sevilla, Christian Benteke coming on for Toure.
82' Liverpool have a three-on-three break and Allen feeds Sturridge over on the right, but he can't quite get his feet sorted out and his eventual shot is powered off a defender.
81' Origi looks to run forward at pace, but the excellent Mariano gets a foot in and clears. Ten minutes to go, Liverpool need to do something soon. But if they did, #Istanbasel would probably become a thing, and nobody wants that.
80' The corner is initially cleared but it breaks for Coutinho who has his first effort of the evening over on the left, but his powerful shot is always rising and it screams over the bar.
79' Milner cuts back onto his left foot on the right flank and delivers a decent ball towards Sturridge and Origi, which the goalkeeper can only half clear. Moments later, Milner wins a corner on the same side of the pitch.
77' Sevilla sub: Rami goes off, and on comes Timothée Kolodziejczak. Rami is booked for taking too long.
76' There's some panicked defending involving Gameiro inside the Sevilla area but they get the ball clear eventually, before Rami goes down in a heap after a challenge from Origi and requests to be taken off. He will be, and his replacement has a really long name which I'm probably about to spell wrong.
76' And just to confirm from the aftermath of the goal. No Skrtel isn't playing, yes he did get a booking. Impressive.
75' Mignolet claims a decent-looking corner, and is fouled in the process. Fifteen minutes to go, Liverpool need two.
73' Liverpool sub: Joe Allen comes on to replace Lallana.
72' Liverpool try to launch a counter attack but Origi is booked for an elbow.
70' A shot bounces off a defender and to the feet of Coke on the right, who once again is totally unmarked. He has time to set himself and stab the ball in off the far post via a touch from Mignolet, but there's an almighty kerfuffle as Liverpool are adamant he was offside. There's some confusion, but the goal is given and Skrtel is booked for his protests.
70' GOOA-is it? Yes, it is! GOOOAAAL! Sevilla have a third!
69' Banega puts a great free kick into the area from deep and it's headed back across the face of goal, but just too far away for anyone to react quickly enough to turn it home.
69' Liverpool sub: Firmino is the man to come off, replaced by Divock Origi.
67' Toure is back to snuff out another counter attack with Gameiro, but his boot catches in the turf slightly and he looks in some discomfort. He gets up and carries on, where he is about to be joined by Origi.
67' Moreno, who hasn't had a great game, shoots from range but it's instantly blocked by Mariano. He might have been better off trying to beat his man and get a ball into the area, there.
64' It's a delicious move from Sevilla with Vitolo at the heart of things down the left. He plays a one-two before driving infield and teeing up Coke at the edge of the area, with the latter stroking a sumptuous finish across Mignolet and into the far bottom corner. What a turnaround!
64' GOAL! Call that a decisive touch! Coke with a clinical finish!
63' Sevilla have a free kick around the halfway line but decide to build the move up a little before delivering it into the area, where nobody in a white shirt can get a decisive touch.
62' Mariano's cross from deep bisects Banega and N'Zonzi perfectly, and what looks like a decent delivery floats straight through to Mignolet.
60' What a save! The throw is taken long once again and N'Zonzi flicks the header on for a totally unmarked Gameiro to fire at goal, but Mignolet touches it over. Moreno almost at fault for a second goal there, he really needs to get his head in the game at the back.
60' Escudero cannons a cross off Clyne and out right by the corner flag - he wants a corner kick, but the throw is correctly given.
58' Divock Origi's arrival looks to be imminent as he warms up on the touchline, but it's not obvious who he will come on for.
57' And another yellow, this time for Banega. Liverpool have a throw in an attacking position over on the right, just about in line with the edge of the area.
56' Sevilla get their first yellow of the match, Vitolo going into the book for another late challenge on Lallana.
54' Mariano looks to slip the ball down the right for Coke but Toure is there first to slam it out of play, straight off a cameraman by the looks of things. Lallana wins a free kick from the resulting throw as Gameiro puts a late foot across him after the ball has gone.
52' Lallana turns creator as Milner ponders on the ball for a while before the former Southampton man lifts it into the area, but it's cleared away from the lurking Sturridge near the penalty spot.
51' Liverpool come forward for the first time in the second half but Firmino and Coutinho get in each other's way a little and the move threatens to break down. Clyne picks up the ball and delivers a decent ball in towards Lallana, but the ball comes off him last after a 50-50 with Carrico and it's a Sevilla goal kick.
49' Vitolo is down for a couple of seconds after a heavy blow, and we can all take stock and catch our breath. Phew.
48' The comeback should be complete there, Gameiro is played in behind and hes clear, but the oldest man on the pitch Kolo Toure gets across to tackle as he gears up to shoot. What a second half we have in prospect now!
46' Play is spread from left to right and Moreno's clearing header is poor. Mariano picks it up and bombs forward, between two Liverpool defenders and slides it across for Gameiro to sweep home from close range. Game on!
46' GOOOOOOALLLL! The fightback is right on! Sevilla equalise after 17 seconds!
The teams are back out, and we're ready to go. Sevilla to kick us off this time.
Right, just a moment or two until the second half gets underway. Will Liverpool run away with it, or is a Sevilla fightback on the cards?
Not heard any traces of "Sturridge is on fire, your defence is terrified" from the Liverpool fans yet, which is a shame. It wouldn't be inaccurate, either. Since the goal, the Sevilla defence has hardly been able to cope with the onrushing Reds attackers.
Right. We're all thinking it, and I'm going to say it. With Kane winning the golden boot, Vardy having a party and Sturridge bending in screamers in European finals, there's basically no way England aren't winning the Euros this summer, is there?
Half-time: There's one minute added on but it passes without incident, and Liverpool go in one goal to the good at the break. Klopp decides to sprint the length of the touchline to the tunnel, because he can and nobody is going to stop him.
45' How have we not seen another goal there?! Coutinho tees up Milner to bang a volley towards goal at the edge of the area but he misses the ball completely. Clyne picks it up and delivers a great low ball across the line of the six-yard box, but somehow nobody gets a touch to it.
43' That was a little untidy from the Liverpool defence. Toure misjudges a header and almost tees it up for a Sevilla attacker before Can decides to put the ball behind for a corner which is easily cleared.
42' Banega looks for Gameiro, but Liverpool are wise to it and get the ball away before winning a throw in deep in their own half.
40' Firmino and Sturridge hassle the Sevilla back-line and almost get the ball through, but Krychowiak gets his foot in the way before winning a free kick.
39' GOOAAA- wait, no! Lovren rises highest from the corner and Sturridge touches it in from close range, but he's correctly pulled back for offside. That could have killed Sevilla off, they look totally shaken right now.
38' Almost a second! Clyne has acres of space to find Lallana at the edge of the area. He takes a touch and shoots, but Carrico just gets across in time to block his shot and send it out for a corner.
37' I said we needed a spark here in Basel tonight, and that might just do it. Sevilla need to try something different if they're going to hit back here.
35' Firmino spreads the play over to Sturridge on the left and the forward finds himself in enough space to direct a wonderful trivela shot into the far corner, curling it in sumptuously with the outside of his left foot. An absolute beauty.
35' GOOOOAAAL! What a goal from Daniel Sturridge! His arms have gone all wiggly!
33' Milner finds Lovren with the corner but it's slightly too high for him and the ball bounces over to the other side before we're treated to that rarest of beasts - a Sevilla free-kick in a defensive position.
33' And now Liverpool have their first corner. Coutinho finds Clyne in some space over on the right and his cross deflects out, with Milner to take it.
31' Sevilla get another corner off Toure, over on the left this time. Banega delivers long where it is delivered towards the back-post and Gameiro goes for the sensational with an overhead kick, but the ball drops just wide of the near post.
30' Firmino leads the counter-attack and does well to hold onto the ball, but his eventual pass to Lallana is weak and easily cut out. Sevilla break back and Lovren gets the first yellow card of the night for wiping out Gameiro as he looked to come away down the left.
29' Toure does well to finish the job, rising like a salmon to head the corner away from a dangerous area. Sevilla get the ball into the area again, but Lovren takes it away from the feet of Gameiro before Milner completes the clearance.
28' We have our first corner of the game! Sevilla win it, Mariano running the ball down the right and putting his cross out off Toure.
27' Morenos down the left wing and Coutinho dinks a ball over the defensive line towards him, but he can't keep the ball in and it's another goal kick for Sevilla.
25' That's more like it! Lallana feeds Sturridge inside the area but Soria gets down to save well at his near post, before Milner takes an unsolicited piggy-back on Escudero, gets up and fouls him. So that'll be another defensive free-kick, then.
23' Play almost threatens to turn into something entertaining, but Milner fouls Escudero in the Sevilla left-back area and there's another defensive free kick to be had. Cagey, bitty, whatever you want to call it - this game needs a spark.
22' It's started to rain again, which could help the spectacle. Is there anything better than a rainy European game under the lights? (Answer: Yes, winning the Europa League).
20' Firmino, having drifted over to the left this time, looks to force his way into the penalty area but he's crowded out and the ball is eventually cleared. Still awaiting a clear-cut chance here.
19' Sevilla are dealing fairly well with Liverpool's pressing game so far - they always seem to have a spare shirt when Klopp's charges are chasing them down in possession.
17' Mariano gives the ball to N'Zonzi to the right of the penalty area with the apparent intention of a one-two, but the former Stoke man instead elects to thump the pass straight out of play for a Liverpool throw.
16' Can looks to be in a spot of bother with three white Sevilla shirts bearing down on him at the edge of the area, but he manages to run the ball out to the left flank before playing it away down the line.
15' Mariano's ball from the right is fairly aimless and evades everyone in the area, but Escudero does well on the other flank to retrieve the ball and win a throw-in.
14' Firmino is in space again to the right of the penalty area, but Can's pass towards him is slightly overhit and out of play for a goal kick. The Brazilian looks like he could have some joy down that side tonight.
12' Firmino shows a great touch to bring a long ball down the right under control and break into the area, where the ball deflects away off the arm of Carrico. He wants a penalty, but it would have been a little harsh with the defender's arm close to his body with no time to get it out of the way.
11' Ooooh! Clyne delivers a great ball in towards the back post which Sturridge heads down towards Firmino who was waiting for a tap-in, but Carrico makes an overhead-kick clearance from close to the goalline.
10' The stand-in left-back's delivery from the dead ball is poor, floating unthreateningly into the arms of Mignolet, who takes a simple catch.
9' Almost a worry for Liverpool there as N'Zonzi receives a long ball inside the area totally unchallenged from a free kick, but his knock-down is considerably out of reach for Gameiro. Sevilla get a free kick in a decent opportunity over on the left, with Escudero to deliver into the area.
8' Liverpool thoroughly ignore my advice and spread the play from left to right to open up a shooting opportunity for Can, who draws a good save from Soria with a curling right-footed effort from range towards the bottom corner.
7' Milner wins a free kick just outside his own penalty area. The Reds could perhaps to with holding on to the ball for a few moments, as they haven't really seen it yet.
6' Liverpool look to come forward for the first real time in the game, but Lallana fouls and possession turns over.
5' The throw is taken long from the left wing, but once again it is a Liverpool head to it first. Neither side has really managed to get control of the ball so far, but Sevilla have seen considerably more of it than Liverpool in the opening exchanges.
4' Almost the first shooting opportunity of the night as Coke looks to get the ball down and work himself some space, but the ball is cleared by a Liverpool foot for a throw-in.
3' Banega looks to slip the free kick down the right channel but there is no obvious runner and Can makes amends by thumping the ball clear.
2' Another free kick here, our third in two minutes as Can trips Banega slightly further into the Liverpool half this time. At this rate, we're on course for over 130 free kicks in this game.
1' Rami drifts the free kick into the area where Lovren heads clear, but he was being fouled by Krychowiak anyway.
1' Here we go! Liverpool get us underway and immediately launch a ball forward which is headed back towards the halfway line, where Sevilla win an early free kick.
Sevilla win the toss, and they'll put Liverpool into bat. Which means the Reds will kick us off.
Daniel Sturridge looked to get the best connection on his high-five/handshakes with the opposition there. Lallana's were a little weak. Here comes the coin toss!
There are also some people holding up "BASEL FINAL 2016" behind the teams as they line up, a big tifo in the Sevilla end, and some... Chinese lanterns? With the club crests on? I think.
The teams are out of the tunnel! Here they come!
The teams are in the tunnel...
Of course, that's just about enough time to watch that Liverpool movie quotes video, which makes a lot more sense to me than this opening ceremony. With all the fans left outside the stadium, could we have done with a bigger boat?
Just a little over five minutes until we get underway, now. Is anybody feeling the nerves yet? No? Nah, thought not.
For all the pre-match managerial love-in might be directed towards Herr Klopp, his opposite number Unai Emery certainly knows how to wear a suit. [Image via Metro]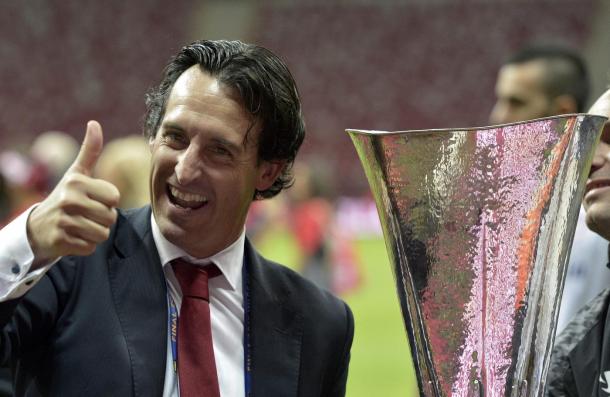 The nils have gone into the scoreboard, and that can only mean one thing. We're a quarter of an hour away from kick-off!
A few minor skirmishes have broken out between the fans, so the Sevilla team have gone over to their supporters to try and calm things down a bit. Meanwhile in the other half of the stadium, we've got our first You'll Never Walk Alone of the evening.
There have been a couple of disturbances in the stadium ahead of the game, with the segregation system supposed to keep the two sets of supporters apart not working perfectly. Let's hope nothing serious comes of it.
Jürgen Klopp seems in good spirits at this point in time, but then he has every reason to. Chief among those reasons being that he's Jürgen Klopp, and he gets to spend all his time with Jürgen Klopp.
Half an hour to go! If you're anything like me, I'm sure you can't wait.
Shall we have a look at what we're playing for tonight? If you want to stroke the picture of the hefty-looking trophy and whisper "my precious" to yourself, I won't judge you. [Photo via Squawka]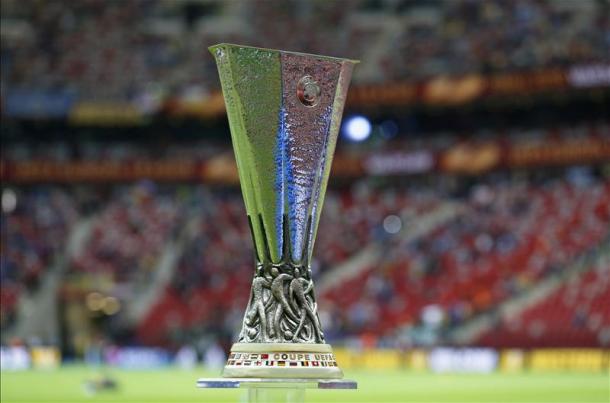 The teams are on their way out to warm up, with Simon Mignolet presumably about to spend the next 20 minutes practising his wobbly legs in case penalties are needed at the end of the night.
But for those of you with other priorities, we will of course have full coverage of the FA Cup and Champions League trophies in the next couple of weeks. Which is nice.
Every season, there are accusations levelled that the Europa League doesn't matter - it's just the Champions League's little brother, a second-rate trophy chased by second-rate sides. Try telling that to this lot. [Photo via BBC Sport]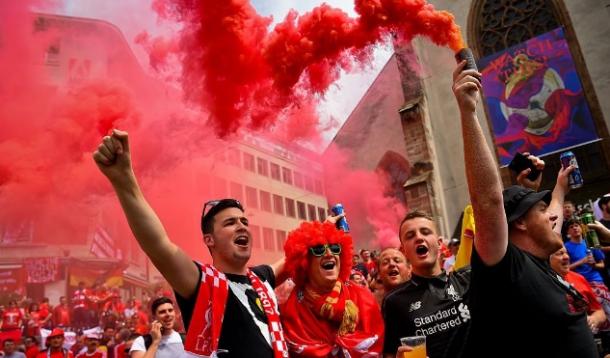 Just under an hour until kick-off now, and the first fans are starting to take their seats in the stadium. If anyone can't make it, the entire combined populations of Merseyside and Seville are waiting outside to take their place.
For a more in-depth take on that Liverpool eleven, click here to read one of our Reds experts' take on the line-up.
Speaking of Origi, his bench-mate Henderson and Emre Can were all expected to be out for the season when they were injured recently. The Anfield medical team has worked wonders to get all three fit for a European final.
So a defensive-looking line-up from the Spaniards, while Klopp goes with the starting eleven many expected. Origi on the bench is a boost and with Benteke, Llorente and Konoplyanka also starting from the sidelines, both sides have options if things start to go pear-shaped.
Sevilla subs: Llorente, Konoplyanka, Cristoforo, Rico, Parejo, Iborra, Kolodziejczak.
Sevilla XI: Soria, Escudero, Carrico, Rami, Mariano, N'Zonzi, Krychowiak, Vitolo, Coke, Banega, Gameiro.
That's more like it! Sevilla have announced their squad for the game, and here it is...
Nothing from the Sevilla camp as of yet. Klopp winning the hearts of live text commentators the world over with his promptness.
Liverpool subs: Ward, Benteke, Henderson, Lucas, Allen, Origi, Skrtel.
Liverpool XI: Mignolet, Clyne, Toure, Lovren, Moreno, Can, Milner, Lallana, Firmino, Coutinho, Sturridge.
We have a Liverpool team! Starting eleven, coming right your way...
You'd think the man Sevilla will have to stop this evening will be Philippe Coutinho. Here's a piece analysing whether the little Brazilian is Liverpool's latest man for the big occasion.
Some more pre-match reading for you to have a look at: our predicted starting eleven for Sevilla, particularly worth a look for those of you who aren't especially up to speed with Spanish football. Read here.
There's also a bit of transfer news to take note of before the game, with Mainz goalkeeper Loris Karius apparently set to be taking the place of Simon Mignolet in the Liverpool first team next season. Read all about it, here.
And now for the venue. The match will take place at St. Jakob-Park in Basel, Switzerland, which opened in 2001 and has a capacity of close to 40,000. The previous stadium, St. Jakob Stadium, hosted in 1988 a Michael Jackson concert attended by both Elizabeth Taylor and Bob Dylan - which is a good one to remember for those tricky 'Swiss football stadium' rounds at pub quizzes.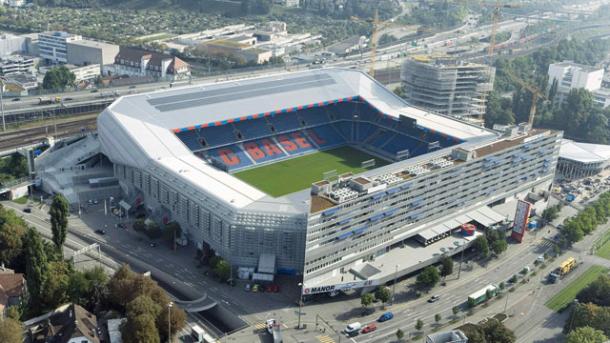 Eriksson (Jonas, not Eric) has refereed a number of games in UEFA competition this season, most notably taking charge of Bayern Munich's stunning 4-2 win over Juventus in the Champions League back in March. He showed 12 yellow cards in Germany that night - let's hope he doesn't have to do anything similar here.
Tonight's referee will be the very capable Swede Jonas Eriksson, who presumably came second to relative Eric Eriksson in the competition for the world's most Swedish name.
Fortunately, our Liverpool writers here at VAVEL UK are some of the best around, so I have plenty of cracking articles to send your way if I run out of things to talk about before kick-off. That won't happen, though - it's a European final!
Of course, I could have just directed you to this article here, which relives the highs and lows of Liverpool's route to the final in much more detail than I just did, and frankly is a much more enjoyable read.
Their following opponents, Manchester United and Borussia Dortmund, provided emotion aplenty but not quite enough on the pitch to haul the Reds back, before Villarreal were slapped aside in the semi-finals to see Jürgen Klopp in with the chance of silverware in his debut season.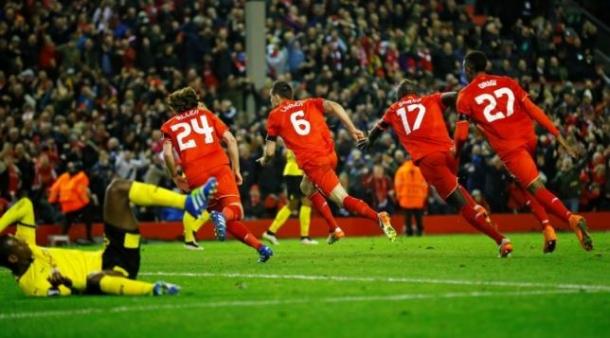 Liverpool's group stage exploits saw them come past Bordeaux, FC Sion and Rubin Kazan, before a fairly tedious 1-0 aggregate win over Augsburg in the round of 32.
Happy to be back in the familiar surroundings of the Europa League, they then breezed past Molde and Basel (tonight's hosts), before penalties took them past fellow Spaniards Athletic Bilbao. Their semi-final opponents came in the form of Shakhtar Donetsk who held them to a two-all draw in the first leg, but the aforementioned 3-1 win in Seville saw them through to today's final.
Sevilla actually came into this competition after dropping out of the Champions League group stage, coming third in a difficult group containing Juventus, Manchester City and Borussia Mönchengladbach.
Now, let's cast our gaze back and have a look at the story so far. I've started with Liverpool with everything so far tonight so in the spirit of fairness and international diplomacy, we'll go with Sevilla first.
For a more thorough run-through of both sides' team news ahead of the game, have a read of our comprehensive preview here.
Their opponents will be able to call on the services of Yevhen Konoplyanka despite the explosive Ukrainian recently complaining of muscle discomfort, but left-back Benoît Trémoulinas misses out after undergoing successful knee surgery.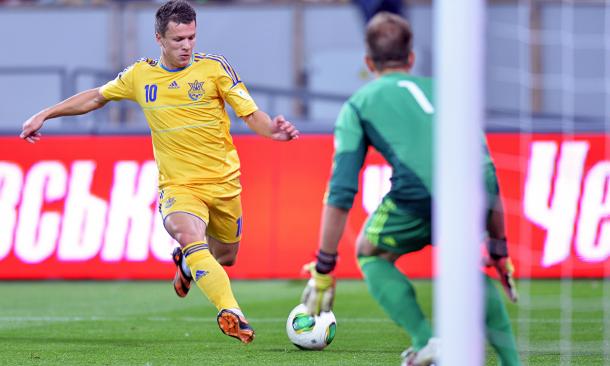 Liverpool's hopes have been boosted by the timely returns of Jordan Henderson and Divock Origi, who had been widely expected to miss out completely. Read about Origi's chances of featuring in tonight's game here.
Shall we have a look at some early team news, then? Yes, I rather think we shall.
On the subject of European history, Liverpool's isn't half bad, and neither is this piece from VAVEL UK's Joel Lampkin, casting a look back over 40 years of the Reds in Europe. It's well worth a read, click here to have a look (then come back here).
Sevilla's win in last season's final against Dnipro Dnipropetrovsk (easy for me to say) was their second successive victory in the tournament, and tonight's game could see them become the first side to ever win the competition three years in a row. Neither side have ever lost a final in this competition - something has to give.
One of those Sevilla wins, however, sparked a spell of dominance in this competition which is nothing short of remarkable. They thrashed Middlesbrough 4-0 in the 2006 final in Eindhoven, and will be looking to make it five UEFA Cup/Europa League successes in ten years tonight.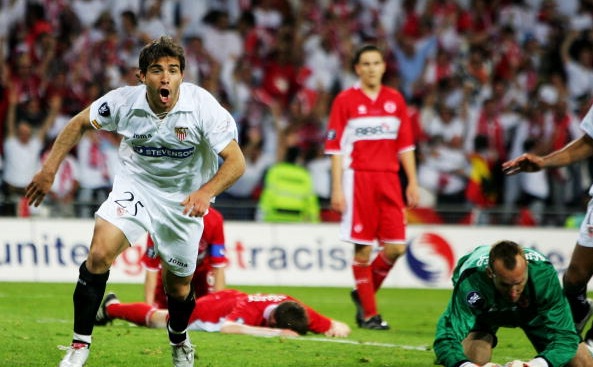 These two sides have never actually met in European competition, but Liverpool's record against Spanish sides is slightly better than Sevilla's record against the English. Liverpool have a 41% win ratio against Sevilla's compatriots, with the Spaniards only managing to win 37% of their games against English sides.
Sevilla, meanwhile, have just one win in their last ten games - the 3-1 win over Shakhtar Donetsk which saw the Spaniards through to the final 5-3 on aggregate. Their league season finished with heavy defeats to Granada and Athletic Bilbao, so their preparation for this game has been far from perfect.
Liverpool come into this game on a patchy set of form, with two wins, two draws and two defeats in their last six games in all competitions. They finished the league campaign with back-to-back one-all draws with Chelsea and West Brom. Click the team names above to have a read of the match reports from those games, if it takes your fancy.
We'll have all of the pre-match build-up, minute-by-minute commentary and analysis so settle down, get the lyrics to You'll Never Walk Alone up on your phone and get ready for the action.
Good evening and welcome to one of our last live football commentaries of the 2015/16 season. It's a big one - Liverpool take on Sevilla in the Europa League final at 19:45PM, so stay right here on VAVEL UK.