Liverpool are lacking some technically gifted players in the midfield area and while Philippe Coutinho as well as Joe Allen both fit the bill, the latter's future with the club is in doubt.
This, then, opens the door for Piotr Zielinski. The flamboyant Pole could give a new dimension in the Reds midfield department, and his pace will fit seamlessly into Jürgen Klopp's high pressing game.
Liverpool fans may be wondering who this youngster is, so I'm here to give the lowdown on what we can expect from this youngster if he makes the move to Merseyside this summer.
Background:
Zielinski starred for the Polish U17's in 2011 and was quickly snapped up by Serie A side Udinese, clearly admired his talent as they paid €100,000 for him.
He made his Udinese debut a year later, replacing Antonio Di Natale before progressing on and making two assists in nine league games. The following season was a tough year for him as he dipped in and out of the Udinese team making just 10 league appearances.
Frustration at Udinese ultimately led to a loan move to Empoli for the 2014/2015 season, playing 28 games for them and contributing three assists. They obviously saw something in the youngster, extending his loan for another season, something that began to pay off as Zielinski added goals to his ever-improving game, scoring four and assisting five in 30 league games.
He is most certainly a player on the up, with Empoli getting the most out of him and he's formed a solid partnership with former Middlesbrough striker Massimo Maccarone, with his performances clearly having caught the eye of Liverpool's scouts.
Strengths and weaknesses:
Zielinski's best position is in the middle of the park, where he likes to control the tempo of the game with his nimble style enabling him to skip by challenges very easily.
He is very comfortable on the ball and he doesn't lose possession often, his best attribute being his distribution which has been enhanced by his understanding with current Empoli attacking midfielder Riccardo Saponara.
He is also quite patient on the ball, and will not give it away easily, always looking for an opening to play a through ball and get into the opposition's penalty area. He loves playing quick one two's and is able to go for the return when he makes a pass, making him even more dangerous as a deep-lying attacking player.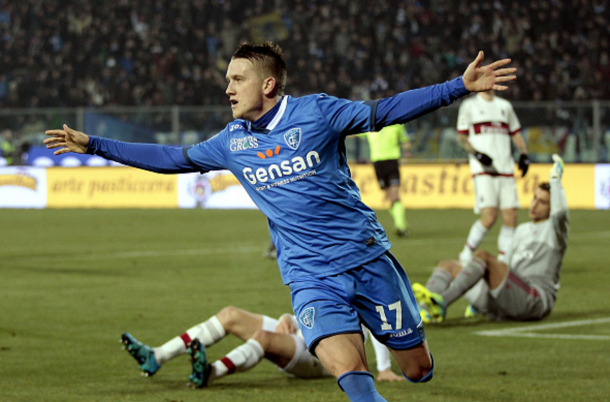 However, Zielinski also has a few diadvantages to his game. He is small physically and it would be very hard to predict how he'd fare in the Premier League, which is notably more intense than Italian football.
Klopp will be looking for that balance between physicality and being able to carry out his desired role. In addition, for a central midfielder, Zielinski is quite poor in the air. Zielinski averages 2.3 succesful tackles per 90 though, second in the Empoli first team and Klopp will like this.
He does not score many goals and this will not be a good sign, especially with the fans crying out for some goalscoring midfielders, but for what he offers - Zielinski is a very promising prospect.
Where would he fit in at Liverpool?
With it very likely that Joe Allen could leave the club sooner rather than later, it could be said that Zielinski could be his direct replacement.
In a lot of ways, they are similar sorts of players, with Allen technically gifted and able to skip by challenges in midfield because of experience and not because of his lack of physicality.
There has also been talk about a link up with Coutinho given that both are young players who are comfortable in possesion and like to be direct and carve open defences.
Whilst it's unlikely that Zielinski will come straight into the team if he's signed, largely because of his age, there is a chance that if he puts in the work behind-the-scenes and improves certain aspects of his game, then he could become an important player for the team.
He is currently in Poland's provisional 28-man squad for Euro 2016 and in a way Liverpool fans will be hoping he doesn't make the trip, because if he impresses in France, clubs will notice his talent and come knocking and his value could rise substantially.