During his time at Anfield, Daniel Agger quickly became a cult figure on Merseyside with the fans accepting him as their own and the Dane displaying his love and passion for the club every time he put on the red shirt.
However, after exiting Liverpool two seasons ago in the summer of 2014, the 31-year-old has today decided to hang up his boots despite having an array of clubs still fighting for his services.
Agger retires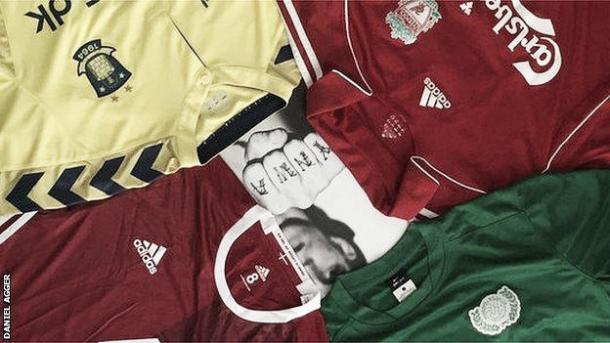 The defender was shown the door on Merseyside by former Liverpool manager Brendan Rodgers, who failed to see Agger in his future plans. However the player was allowed to return to his boyhood club Brondby for a nominal fee.
With a number of clubs still believed to be interested in the Denmark international, his announcement on social media has put to bed these transfer rumours as he puts an end to his 12-year senior career.
During his time on Merseyside, thanks to Agger's cool, calm and collected playing style, he was able to develop a strong partnership alongside Martin Skrtel and was equally as confident when partnered with Jamie Carragher as he picked up a League Cup and Community Shield with the Reds.
With 'YNWA' tattooed across his knuckles, the player never shied away from his well documented love of Liverpool as he frequently spoke of his affection towards the club where he made a name for himself. His heart was so set on Anfield that even interest from La Liga giants Barcelona was not enough to persuade the former cice-captain to leave.
However, after career spanning over a decade and 299 career appearances, as well as 16 career goals; the two-time Danish Footballer of the Year has decided to call it quits on his career as he announced on Twitter the following:
"It's sad, but it is the right decision to stop. I'm proud of my career."
Liverpool Exit
When Agger was allowed to leave the Reds, many fans were shocked and dismayed feeling that the defender still had much to offer to the club.
However, Rodgers was not one to shy away from letting big names leave the club as during his time at Anfield. He allowed big stars such as Pepe Reina, Luis Suarez and Steven Gerrard all leave the club.
Skrtel and Kolo Toure were the preferred options over the Dane, who struggled to work his way back into the Liverpool squad. Agger has criticised the Northern Irishman in the past too, saying the former Swansea City manager was "unappreciative of his efforts."
His comments followed rumours that a breakdown between the two was the cause of him leaving the club; these were confirmed when, during an interview on Danish television, he said his relationship with Rodgers had "broken down."
However, things eventually settled and, with the established player now plying his trade in a less developed league than the Premier League, he felt more comfortable and at home as he said he wanted to be playing football at a "less physically demanding" level than England's top flight.