Age is undeniably just a number, however Father Time always catches up to everyone in the end – especially if you are playing under Jürgen Klopp.
Such is the German's demanding and intense style of football, it becomes harder for a side of senior players to maintain such a standard throughout an entire season. Therefore, Klopp often turns to lesser-known, younger players, who will buy completely into his methods and have the energy to sustain themselves.
Rotation remains an important factor for any Klopp side given the energy levels required to play his 'gegenpressing' football, and this does allow some older players to remain part of the first-team setup.
For instance, Kolo Toure's best campaign for Liverpool in his three years at the club came in his final season, where, despite turning 35, he played a crucial role in the defence whenever Mamadou Sakho, Dejan Lovren and Martin Skrtel were unavailable. Moreover, he was arguably Liverpool's best player in their disappointing defeat to Sevilla in the Europa League final.
If elder players are managed correctly, and their bodies allow it, they can defy Father Time temporarily, which is exactly what Toure proved in Klopp's first campaign with Liverpool.
Yet the decision not to offer Toure a new contract beyond this summer proves that, despite his performances and trophy-winning experience, Klopp would prefer to build his own side from scratch.
Reds boss starting afresh with his Liverpool squad
As he demonstrated with his previous club Borussia Dortmund, Klopp effectively creates his own winning mentality for a side, through a team all equipped to cope with Klopp's methods consistently, performing at the highest level and executing his tactics to perfection.
Building up momentum and confidence through winning, proving their capability and success with the Klopp system, led to Dortmund's successive league triumphs, and it could be suggested that Klopp's methods are most suited to a league format.
Only Bayern Munich managed to overhaul Klopp's Dortmund in the Bundesliga prior to his final season, whereas the German, with the League Cup and Europa League defeats, has now lost five successive cup finals.
Admittedly, there have been some tough opposition in those finals, but on occasions where Klopp's players may be struggling and experiencing an off-day, then without their energy they would be there for the taking, as Sevilla proved in that disastrous second-half in Basel.
Regardless, more time is needed to provide any constructive answer, given Klopp did well at all to even break through the all-conquering Bayern for a period, plus he has yet to have a full season at Liverpool.
Most importantly, when Klopp plans to construct a team, signing experienced players are usually not on the agenda.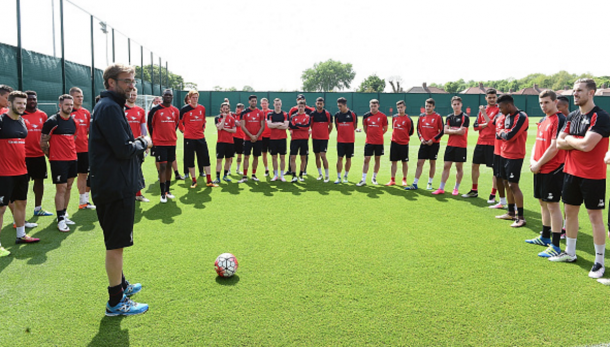 After his first year with Dortmund, he discarded a number of the older professionals who could not adapt to his demands, and brought in many young, talented players, but who had only proven themselves at lower levels. Yet Klopp built them up into world-class stars who, instead of possessing an arrogant superstar attitude, would do anything for their manager.
Robert Lewandowski, Mario Gotze, Ilkay Gundogan, Mats Hummels, Marco Reus – the list goes on.
Even though eventually the majority of these were seduced by the appeal and finances of the very elite clubs, they provided the spine for the brilliant success of Dortmund over the last six years, which has continued post-Klopp under Thomas Tuchel.
Klopp will look to try something similar at Anfield, only this time he'll hope that if Liverpool can be restored to a current superpower, then their history and already considerable size will be enough to hang onto any world-class stars he inevitably creates.
Liverpool have witnessed the departure of many top-class players in recent years as they have struggled for success, with Philippe Coutinho the latest to be linked with a move away, but if they can return to the upper echelons under Klopp, then holding onto their elite stars should be an easier task for the boss than at Dortmund.
Klopp staying youthful with his summer recruitment
Given the rumours in the transfer market, plus the three signings already made by Klopp for next season, it seems Klopp is indeed going for his favoured formula of youth first, over the brash, big-money, high-wage superstars who may dislike the intensity of Klopp's style of play.
Joel Matip and Marko Grujic, both under 25, were captured in January, while goalkeeper Loris Karius became Klopp's first summer signing. Additionally, Udinese's Piotr Zielinski has been heavily linked, while suggestions of future bids for the likes of Borussia Monchengladbach's Mahmoud Dahoud and Bayer Leverkusen's Jonathan Tah again point to Klopp's desire for younger, fresher blood in his squad.
Mario Gotze of Bayern Munich has probably been the biggest name linked with a move to Anfield, however the 24-year-old seemingly would prefer to fight for his place with the German giants, even if his hope is illusory. Conversely, Klopp has stated he does not want players who do not wish to play for Liverpool, especially over the topic of Champions League football and Liverpool's lack of it for next season.
Klopp does not normally sign status players, but instead those willing to go the extra mile, yet equally he is aware that big clubs make statements in the transfer market, and Gotze would have been perfect in this regard – a player still young despite his standing as a top player for numerous years, and a figure who already knows Klopp and his demands well.
Furthermore, Gotze's reduced transfer fee, given his contract has only a year left to run with Bayern, was an added bonus, although finances should not be an issue for Liverpool, should Klopp need the money, with the Premier League awash with cash from its TV deals.
However, whilst the deal is not dead, it seems unlikely.
Nevertheless, perhaps signing one player who is experienced in winning trophies, especially if they are already used to high-intensity tactics, would complement Klopp's young Liverpool squad, who lack leaders and have struggled in recent years to cross the line in competitions. As with Gotze, they do not have to be old, just accustomed to silverware.
Klopp has his template for success, so Liverpool fans will have to wait and see whether he can transfer his youth policy over from Germany to England and experience similar results.