Mario Balotelli became infamous in the English media because of his obscene antics, from the firework incident in his bathroom to the bib confusion moment and of course the "why always me?" top.
He's rarely found himself out of the back pages since those days, when he frustrated and dazzled for Manchester City in equal measure. Before that, he had been known for his love/hate relationship with Jose Mourinho at Inter Milan.
Many believe that Balotelli does not have the quality to compete against top teams, having failed to settle at any club despite his obvious talent. But, contrary to belief, he gave us a glimpse of his true quality in the 11/12 season at Manchester City when he lended a helping hand towards their title triumph, netting 17 goals in all competitions.
His only assist in the league that year was arguably their most important, when he set up Sergio Aguero for the winning goal on the last of the season that won them the league.
The following season, Balotelli moved to AC Milan in the January transfer window. Impressively for the second half of that season Mario netted 12 league goals in 13 Serie A games. He continued that impressive form the following season scoring 18 goals and assisting seven.
But, from there, things have gone dramatically downhill. Mario Balotelli arrived at Liverpool in the summer of 2014 and his form dipped massively. He only scored four goals in all competitions, just one of them four coming in the league.
Due to this bad form he was loaned back to AC Milan in the hopes he could regain his form again, however his performances have actually decreased further. Last season in Milan, he only managed one league goal - in addition to two goals in cup competitions - all season.
Can Balotelli flourish under Klopp?
Jürgen Klopp is viewed as a great man manager, meaning he has a strong and caring relationship with all of his players. Many believe this is what Balotelli has been missing all his career, a great man manager that shows him the attention and guidance he needs to truly flourish as a footballer.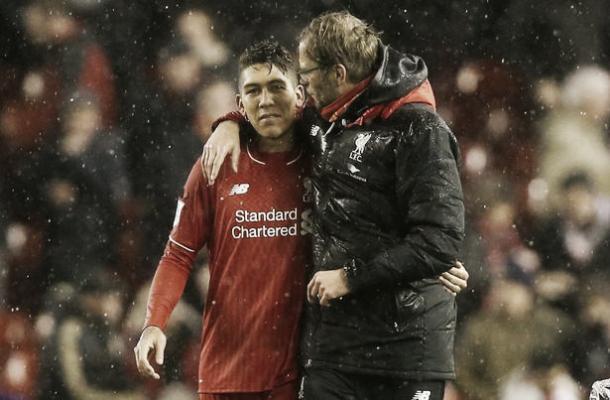 Since his arrival at Anfield, Jürgen Klopp has shown his great man-management skills especially with Dejan Lovren and Joe Allen who both greatly improved under Klopp. Lovren, who had a tough start to life at Anfield, became a true warrior at the back for Liverpool and was a key player this season.
Allen also became a key player for Liverpool, especially in the second half of the season, scoring the equaliser against Arsenal in a 3-3 thriller at Anfield and putting in some fantastic performances to help get Liverpool get the results they needed.
Roberto Firmino is another player that has developed under Klopp at Liverpool. It is never easy for a player in their first season in the Premier League but with Klopp's help and guidance, Firmino had a spectacular second-half of the season, scoring 11 goals and registering 11 assists.
If anyone can get the very best out of Mario Balotelli, Jürgen Klopp can.
Liverpool fans were given some hope of their No.45 turning things around for the better when Balotelli revealed last week to Corriere della Sera that he hopes to prove himself on Merseyside, admitting that he "has underperformed due to injuries and other reasons" and also, perhaps ambitiously, stating: "I want to improve and get to Ballon d'Or levels."
It will certainly be interesting to see if Balotelli is to stay at Liverpool this season, something that could be decided by his performances over the course of the Reds' coming pre-season tour.