After a difficult first few months under ex-manager Brendan Rodgers, Liverpool forward Roberto Firmino excelled under Jürgen Klopp's all-action game style from January onwards.
He definitely looks like a player who will only improve in the upcoming season, with the thinking that he will be a crucial part of the starting eleven.
But given his progress last term, how much further can Firmino develop under Klopp this coming season?
A plethora of attackers?
With the return of many players, the likes of Lazar Markovic and the controversial Mario Balotelli from their respective loan periods and adding to that, the signing of Sadio Mane from Southampton, Klopp can be certain that he can rotate and chop and change as much as he wants.
The German will able to call upon Danny Ings, who initially impressed last year before injury hampered his season. As usual, Daniel Sturridge and Divock Origi will look to compete for the starting spot(s) upfront. We might even see them play together, should Klopp fancy a change of system.
Such an impressive array of attackers will definitely excite Firmino, who will likely look to make build on-field partnerships with each of them to maximise his output.
The Brazilian himself has been used by the Liverpool boss as a 'false nine' in games before, but will more likely be playing in a role behind the strikers/striker this season - due to the increased number of options available.
Second striker?
The versatility of Firmino means that he can play almost anywhere in the final third of the pitch, but he is at his best dictating play through the middle, playing little one-two's and giving defenders problems.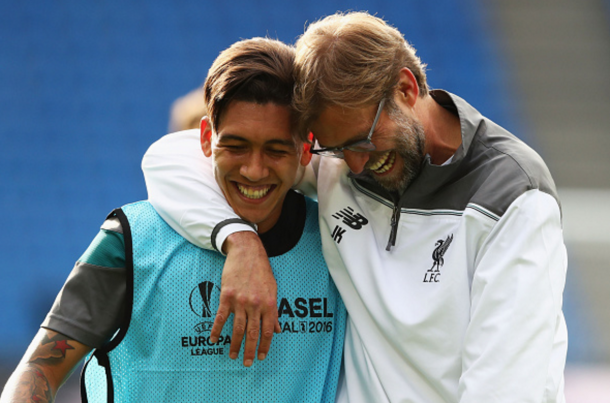 The Reds' No.11 also has a powerful shot on him, so its fair to say he'd do well positioned just behind the striker. His 10 goals and seven assists last term came as a result of his all-round performances and positioned behind a striker such as Sturridge, those figures could improve greatly in 2016-17.
Excellent chemistry with Coutinho
Firmino alsowed enjoys a great relationship with the star of the Liverpool side, Philippe Coutinho. The duo, both of Brazil, combined for some of Liverpool's most brilliant goals last season - including their dazzling display away at Manchester City in a 4-1 win.
Coutinho has made the left side his own with his desire to get past defenders, cut inside and get those dangerous shots on target.
Therefore, if Firmino is played through the middle he will likely enjoy the benefits of Coutinho, as well as the pace of the likes of Markovic, Mane and the tireless work rate of Adam Lallana.
Not just an attacker
While Firmino's real strengths are his attacking, the Brazilian's defensive work high up the pitch is vital as well. He and Lallana love to press and get at defenders until they give the ball away and that will do them both plenty of favours.
That is how Klopp has drilled this Liverpool squad, to press the ball, get high up the pitch and launch a quick counter with full backs bombing forward once the ball is won.
Firmino's fearlessness, showing that he isn't afraid to stand up to the bigger stronger opponents of the league and wins his fair share of aerial duels as well.
As the new season draws closer, Jürgen Klopp has a headache of choosing the attackers he will want to play, albeit a positive one.
But he will surely look to the former Hoffenheim man to be one of the focal points of the side for the season ahead, for he and the team will all be better for Firmino's inclusion.