Shortly after putting pen-to-paper on a new six-year contract, Liverpool manager Jürgen Klopp insisted he and his backroom staff must build on the club's commitment to them.
The Reds manager committed his future until 2020 by inking the new deal, and called himself "very pleased" and "happy" to remain Liverpool manager for such a substantial period of time.
"When I came here, it was the biggest honour I could imagine," Klopp continued, adding that to be talking "about another six years" only nine months on from his appointment is "great."
He acknowledged the new deal wasn't his idea, but that he was "quite happy" to have heard about it - likening it to a penalty and explaining: "When you celebrate hearing the whistle, but first of all we have to score and finish. That's what we have to do now."
The German called himself "lucky" to be at the club and said he has "a really good relationship" with those around him which is "the basis for our future."
He acknowledged that there "a lot of things happening in the world" - meaning transfers and managerial appointments elsewhere in the English top-flight - and said his contract is like "a sign of consistency" and allows the club to "go ahead."
On what he hopes to achieve on Merseyside over the coming seasons, Klopp admitted he and his staff are "quite ambitious" and "want to reach a lot."
"If you always want to swim in the same pool, then you will only have small fishes," the 49-year-old said. "We don't want to swim in the same pool. We want to find our pool and we want to find Liverpool players."
He declared that he doesn't want to have to convince players to sign for Liverpool "with money" and said they should instead be enticed by "the club" and "the atmosphere" as well as "Anfield", "tradition of the club" and "a chance to create something special in the future."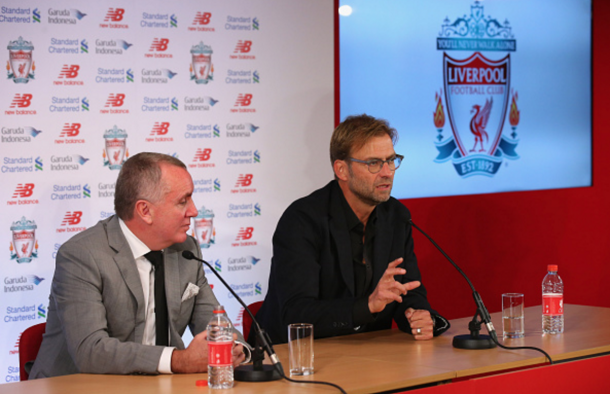 Klopp said it was "hard to express in words" how honoured he and long-serving assistant managers Zeljko Buvac and Peter Krawietz were by the confidence shown in them and said "by being together at all times", they will "be stronger, better and our successes sweeter."
"What is sweet success? sweet success is something special," he insisted, saying that "being together for a long time means you know more about each other and you can use your skills better."
Klopp also said that they must "create an atmosphere where it's natural to show your best" and where "there will be a lot of pressure in the squad" due to the "good players" and their competition for places and how they will "push each other."
He joked that they "have to create a situation where the next painter at Melwood thinks this team should be on the wall" but added that he's "really happy" about this chance and promises to do his best, "full of power and passion for this club and try everything."
Indications and broader objectives
If there is one word that could summarise last season for Liverpool it's passion. Brendan Rodgers had a disastrous start to the 2015-16 season and ultimately paid for it with his job.
Klopp took over and his initial signs weren't looking any better than Rodgers', but the team slowly improved and Klopp was able to stamp his blueprint of attacking football into the Liverpool team, exemplified in their most entertainig match at Norwich City, which they won 5-4 in January.
The team progressed to the final of the Capital One Cup but ultimately lost to a Manchester City team whom they had spectacularly thrased 4-1 at the Etihad a few months prior.
Focusing on Europa League qualification seemed a task too much for Klopp as he chased glory all the way to the final in the. They took the lead in that game, but once again, Sevilla's experience made the difference as they fought back to retain the trophy they can't seem to stop winning.
But progress at Liverpool was clear for all to see, The German's high-press attacking style was winning hearts and games.
Now, the season 2016-17 will be the Reds' real test, they don't have any European football to worry about unlike their rivals and the level of competition in the Premier League is now higher than ever.
World-class managers like Antonio Conte and Pep Guardiola have joined and Jose Mourinho has returned, this will make for a season which may even be more competitive and tighter than it was last year for the top 4 spots. It's going to be tough for Liverpool, but they must give it their all, if they can replicate the passion and determination they showed during the second half of last season, one can only wonder how high up the table can they finish.
They have too many players now and Klopp will certainly have to trim down a squad which consists of 38 players which, according to the former Borussia Dortmund boss is "100% too much", so we can expect a few departures.
The likes of Mario Balotelli, Joe Allen and Jordon Ibe are all expected to leave, while Lazar Markovic may be given a second chance.
In the hope that better times and greater European nights return to Anfield, this move to sign up Klopp for the long term may seem premature now, but might end up being just the masterstroke that the Kop needed.