Jürgen Klopp insisted that his Liverpool side still have things to work on in training despite their comprehensive 5-0 thrashing of Fleetwood Town in pre-season on Wednesday.
Marko Grujić stole the show on his debut in the first-half, winning a penalty which Danny Ings saw saved before firing the breakthrough just seven minutes later.
But a fully-changed side ran rampant after the break, Ben Woodburn, Lucas Leiva and Roberto Firmino's brace adding the gloss to a positive performance against their League One opponents.
Yet though it continued Liverpool's start to winning ways, following on from a 1-0 win over Tranmere Rovers last week, Klopp still believes they "could have done better and should try to do better."
Klopp still looking for improvements
On their performances, the German noted "a few good things" but declared that the squad "have to work, that's clear." He cited the "chances we created" as well as "a few good defensive actions" and "good individual performances from one or two players."
But, he added that he was "not happy with the team play" in the first 45 minutes "especially" because they "could have done better" and should look to "try to do better."
"In a game like this, if the only situations you have are because of the individual quality of the player, then something is wrong," Klopp said, saying that their goals in the second-half were different because "it was a nice pass, a good run, another nice pass and an easy goal" which is "how football should work."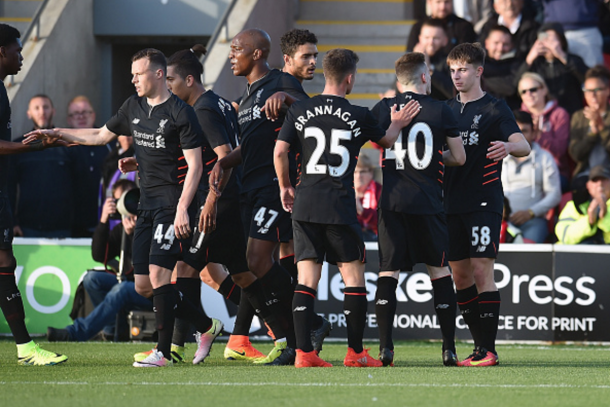 He praised the youthful second-half eleven for doing "better" as he said in the first-half a different XI "had our chances" but that it was "not that clear and the goalkeeper made a few good saves."
Despite his criticism, Klopp believes the performance was "absolutely OK" but that "in pre-season, you really have to fight against the intensity of training in the games" which he says is "really important."
"I think we can do better," the Reds boss continued, explaining that they "have to learn" as they will "not have easy games in the Premier League."
He explained that their pre-season schedule is about "creating situations where it really doesn't feel easy for the boys" and said that against Fleetwood, there were "a few difficult moments" where the Reds had to be "ready to find a solution."
Youngsters have to learn and improve, says Reds boss
Among the positives to take away was the performance of Grujić, on his first appearance for the first-team.
The Serbian midfielder joined from Red Star Belgrade in a £5.1 million deal in January but saw out the rest of the season in Serbia to win the title with his boyhood club.
Bizarre work permit issues meant that he was forced to leave and re-enter the UK to be able to play for Liverpool, meaning he missed the win at Tranmere, but he certainly made up for lost time at Highbury Stadium.
"He is still a young lad, he is 20 years old and that means there is a lot to develop physically and in the football parts," warned Klopp, before praising Grujić's "absolutely OK" display.
Once again, the German was keen to highlight the areas where he felt the team as a whole could improve, suggesting that Kevin Stewart was made to do "all the work" while "the other boys were in the half spaces" in one situation in the second-half.
"That's OK, it's no problem, but they have to learn and they have to improve," Klopp said, who said it was "really good to see" the performances of some of the side's youngsters.
He also singled out Grujić for scoring a goal "in his first game in the first situation" and said it was "a dream" for the player. The manager also joked that "not often a player celebrates like him in a friendly game" but admitted "obviously it was a big moment" and that it was "nice to see."
Klopp: Woodburn's display "really nice to see"
After the break, with Klopp having made wholesale changes - 16-year-old striker Ben Woodburn was one of the side's best performers, scoring his first senior goal and also grabbing a fine late assist to set up Firmino's second of the evening.
He was labelled "a natural offensive player" by the boss, who said it was "really nice to see" his performance having revealed that he spoke to Academy Director Alex Inglethorpe who "sang the big songs about the boys because they trained great."
"It's really good to have them around," he said, adding: "Ovie [Ejaria]. What a player. [In] the first game and today again."
He revealed that the younger players are "a little bit tired" from the demanding training sessions, as well as having played two friendlies of a nine-game programme, but lauded them for being "really good" and "smart, well-educated players."
"It's good to see. I'm happy with this," Klopp enthused, insisting he and his backroom staff are "ready to work with the boys" and help them to improve their game - saying they "have to improve" but that "for the first game, it [their performance] was absolutely fine."
Pre-season tests are "very important" insists German
Liverpool have a month until their top-flight campaign begins away at Arsenal on August 14 and Klopp acknowledged that he has pushed his squad hard in training at Melwood recently.
Asked about the work he's asked his players to do, he responded: "A lot" but refused to say "it's so hard or something like this" as he spoke of the importance of putting the work in in pre-season.
"It's important because the whole season, you have no time to train actually," despite then acknowledging "maybe this year we will have a little bit of time to train" with no European football.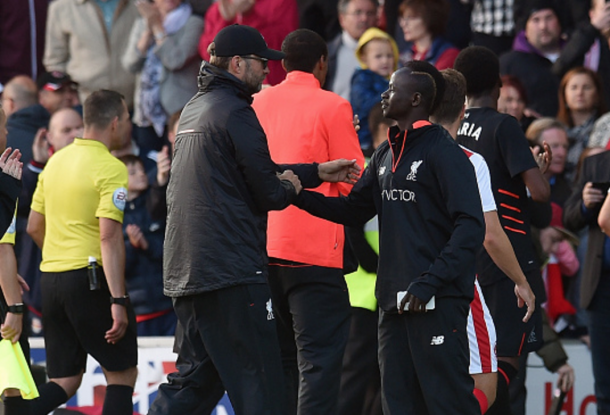 However, he reiterated that pre-season is "really important" although as a squad they are "not together" because "the first three weeks we are with one group and the other group."
Klopp said that they must "try to bring these two groups together" and "find the best solution for the first [Premier League] game" and again "find the best for the second game."
"It's very important," he said, of their pre-season matches. "We can do a lot and so that's why I say it's not that I stay here and watch the game and think 'it's only a friendly.' No, it's very important. It's an important test."