Jürgen Klopp felt that there was more to take away from Liverpool's second-half performance as Danny Ings and Ben Woodburn's goals after the interval helped them to a 2-0 win over Wigan Athletic on Sunday.
The Reds travelled to the DW Stadium looking to maintain their 100 per cent pre-season record and were comfortably the better side for much of the first-half, though the returning Philippe Coutinho could not break the deadlock.
He struck the crossbar from an inventive free-kick from the edge of the box before hitting the post from 10-yards, also managing to create a good chance for Sadio Mane with a clever piece of skill.
But after eight changes at half-time, Klopp's men had to wait until the 71st minute, Ings scoring his second of pre-season by poking past Lee Nicholls.
Just three minutes later, their lead was doubled by 16-year-old Ben Woodburn - who only completed his GCSE exams a few weeks ago - scoring his second in as many games with a tidy finish.
That was enough to secure Liverpool their third straight warm-up victory, having yet to concede a goal after previously sweeping aside Tranmere Rovers and Fleetwood Town.
Afterwards, Klopp was keen to focus on the positives of their performance - although it took them time to find a breakthrough against a weakened Wigan side changed from a defeat by the same scoreline to Manchester United just the previous day.
Reds boss says second-half display was much improved
He told journalists that it was "a good first 30 minutes" but that his side allowed the opponents to play after then, explaining they "lost the formation" and allowed "too big spaces" which meant they "could play a little bit."
Klopp revealed that he told his team that he had seen "a few more exciting games" than the first-half, but regardless said his side's performance was "okay" and he "saw a lot of good things" including "creating chances."
But he acknowledged that the dull nature of the game was largely to be expected because Wigan "had a good formation" and had been "in training a week longer."
Klopp also cited that it was Coutinho's "first game" and that Mane and Firmino "were a little bit tired" so it meant that they "had to fight from the first minute" called it "okay" and "nothing more."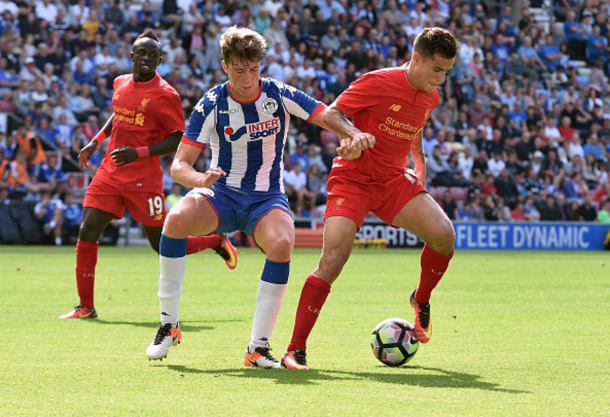 But he found himself more pleased with the second-half performance, insisting it was "more than okay" and explaining their improvements were because "the young boys obviously didn't think too much about tired legs and the intensity of training."
He praised their "good organisation" and hailed Tiago Ilori alongside Joel Matip in the centre of defence as well as Lucas Leiva's midfield partnership with Trent Alexander-Arnold, whom he said "did really well" while the rest "were involved in our offensive play."
On the Reds' attacking, Klopp lauded their "really flexible" moves, which he said were "quick and direct" and gave them "good direction in the game." He also reserved praise for the "two wonderful goals" they secored and insisted: "We could have scored one or two more. It was absolutely deserved, so I'm quite satisfied."
Klopp praises summer signings for impressing again
Liverpool's summer signings all got their chance to impress further - although Marko Grujic was absent as a precautionary measure after complaining of illness.
Klopp joked that goalkeeper Loris Karius, who had to make few saves throughout, "made his own work" referring to a moment when the shotstopper miscontrolled a backpass and almost allowed Wigan's Sanmi Odelusi to bundle home.
But the manager could otherwise pick no faults with his countryman, calling Karius "a good goalkeeper" and "a good footballer" which he said is "important" for him and his backroom staff.
"We can play with him, and that's good," Klopp continued, praising centre-back Joel Matip for getting "better and better and better" although he limped off late with ankle pain.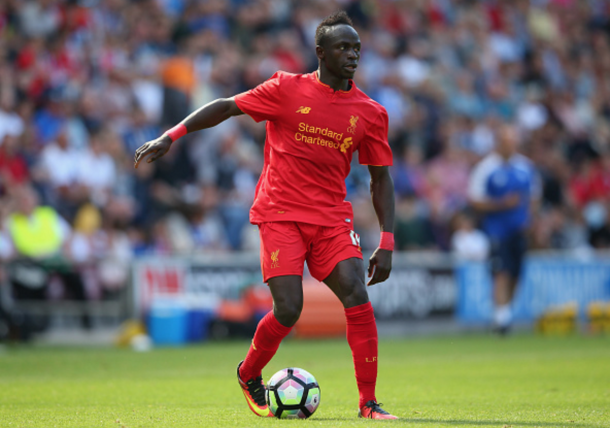 The Reds boss also explained that Mane "was in a very good way" despite being "a little bit tired" as he added that Grujic was suffering "a little bit of back problems" and was also "a little bit sick."
Senegal international Mane, who arrived just a couple of weeks ago from Southampton for £30 million, continued to impress on this his third outing - his pace causing no end of problems down the right-hand side.
On the winger, Klopp continued: "Everything is good. We are really happy about the transfer," before insisting that his presence is "good for us as a squad" and revealing that Mane "likes the club, he likes the other players and he likes to work high quality.
He admitted that the 24-year-old was "a little bit tired" against Wigan, which he said was "obviously, no problem" and "all good" due to the demands of their pre-season regime.
Klopp warns about overhyping Woodburn too young
Another of the stand-outs was half-time substitute Woodburn, who followed up his display against Fleetwood with another goalscoring performance here.
The teenage forward, who was hailed by Academy coaches for his form in the Reds' Under-18s FA Youth Cup run last term, was also hailed by Klopp - who said that the problem is the media can "write too much about" youngsters.
"You have enough time, they are young enough," Klopp said on Woodburn, adding that the staff must "really keep an eye on them" and dismissing it as "not important" as to whether they will join the squad for the tour of North America, to which they fly on Wednesday.
He insisted that it's "not the most important training for them in their lives" if they remain on Merseyside, saying that therefore some will stay with "their own team at home" and they will "see what will happen."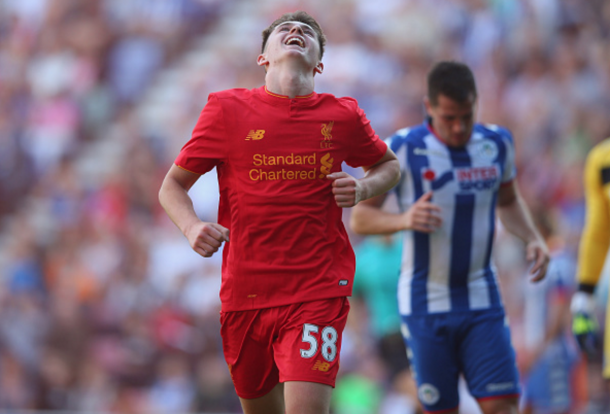 "If they learn, if they listen and stay concentrated and disciplined then they have a bright future, that's for sure," Klopp declared, insisting that there is still "a lot of work" between now and then and that they must "start with the work and not with the news."
And he claimed that the performances of players like Woodburn and Ejaria are "proof of the good work of the youth department" and "of the Liverpool Academy."
Klopp said he would "need to be blind" to ignore "the talent of these boys" but removed any suggestion that he is the cause of their "qualities", insisting that he will remain "patient" so that the club can "wait until these guys are really ready."
He warned that their progression is "about timing" before acknowledging that they "are in a good way" and that they will not be forgotten throughout the season.
"It's not that we have them and use them now in pre-season and then never think about them," he said, suggesting competitive first-team appearances could be on offer to those who make their mark, and saying that the Reds will "do everything so that when they are old enough [to play regularly for Liverpool's first-team], they will be good enough."