Ever since Steven Gerrard announced he was leaving his lifelong club Liverpool FC there have been rumours suggesting that he would return to Merseyside for a coaching role after his stint at LA Galaxy.
It is expected that the Reds former captain will retire from football after the 2016 MLS season ends in late October, when his contract with LA Galaxy runs out.
Gerrard, who has scored three and assisted seven so far this MLS season, is currently working on getting his UEFA A Licence which he will need if he is to make a move into the world of coaching.
He has apparently already received many offers for coaching roles at various clubs, but it's no secret there's one he would love to work for the most and that is of course Liverpool.
Reds boss Jürgen Klopp invited Gerrard to train with Liverpool back in December when the MLS was in it's off-season.
Gerrard admitted to speaking with Klopp about a possible return to Liverpool in the form of a coaching role, but said there is nothing yet on the horizon.
Gerrard told Laduma: "He [Klopp] has got his own team of people around him that he is very happy and content with."
When speaking of his connection with Liverpool, the former skipper said: "Liverpool is in my heart and always will be. but there's nothing to really comment on [in terms of a coaching role]."
Gerrard, who made 710 appearances scoring 186 goals for the club, then stated: "There's no future decision to work with Klopp" he went on to admit: "I get on really well with him, we're in contact but there is no job opportunity there at the moment."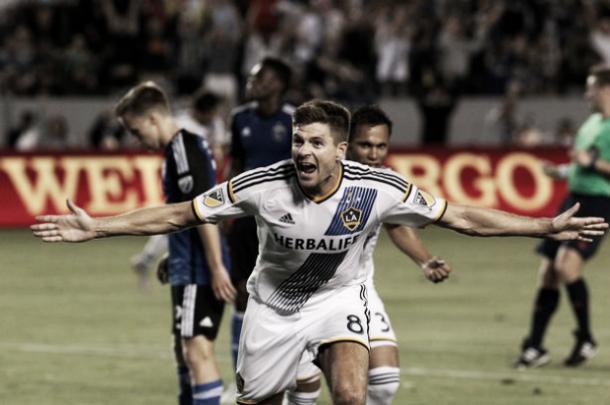 Visit back to Anfield
The former No.8 went on to discuss Anfield, the redevelopment and relived the atmosphere of the stadium. To no surprise he revealed that it is his "favourite stadium" and hailed the club's fans as "very unique and special" because "they follow the team all over the world in numbers."
Talking about the atmosphere at Anfield, Gerrard said: "Some of the atmospheres I've played in at Anfield are difficult to describe, the noise and the passion and the atmosphere."
Discussing the redevelopment of the Main Stand at Anfield, Gerrard said: "I'm just really happy and pleased that they are developing the stadium and not moving to a new stadium" adding that he believes: "It's got a lot of history there and a lot of special moments."
When speaking of a visit back to his beloved Anfield, he continued: "I'm really looking forward in the future to going back and watch Liverpool there and enjoying the atmosphere."
Gerrard is a homebird
It is no secret that Gerrard has not only a special bond with Liverpool Football Club but with the city of Liverpool itself. He explained: "I've lived in Liverpool all my life so I'm always going to have a special bond towards the city and the people."
On the topic of the future, Gerrard declared: "That'll always be my base moving forward because you know, I'm a Scouser. I'm a homeboy but I am absolutely loving this experience."
Many supporters would undoubtedly love to see Gerrard, an icon at the club, return in a coaching capacity and potentially, even in a managerial role further down the line.
While no coaching offer is yet on the table, it would not be a surprise to see Gerrard offered some sort of job at the club after he returns to England permanently.