Dejan Lovren has made it clear that the Reds' tour of the United States will be key if they want to be in prime condition ahead of the start of the 2016-2017 season.
Lovren had admitted that "it's a tough time for us, the legs are tired for us," after being part of Jürgen Klopp's gruelling pre-season preparations but he understands that it is what they have to go through if they want to be in perfect shape ahead of the campaign.
Pre-season has been successful so far but things will only get tougher - with more players returning from their breaks after the European Championships, increasing the intensity of training, and opposition also increasing in quality. Liverpool are scheduled to face Chelsea, AC Milan and AS Roma in the space of just six days and Lovren is optimistic about the trip:
"We are now looking forward to going to America and playing some tough games out there, so we will see where we are," he told the club's official website.
"We have less than a month before our first game [against Arsenal] so we have a lot of time to train hard - we are ready for that."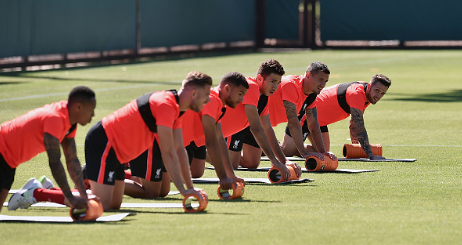 Promising performances
The part of Liverpool's pre-season tour in the UK culminated last night with a 2-0 victory over Huddersfield Town, with goals from Marko Grujic and Alberto Moreno. It meant Liverpool won the Bill Shankly Trophy which Lovren, captain for the night, lifted.
The Croatian admitted that "it was nice to get a trophy," but recognises that "it's just a friendly game" and isn't looking too much into the win; instead he is focused on the performance.
Whilst it is good to get his hands on some silverware, Lovren was keen to state the game and pre-season is more about the "need to improve step by step and get more preparation" for the upcoming Premier League season, which begins with a trip to the Emirates on the opening weekend.
Liverpool's No.6 has been more than satisfied with the performances from the team thus far, with them registering wins over Tranmere Rovers, Fleetwood Town, Wigan Athletic and Huddersfield.
Reflecting on last night's game in particular, Lovren was pleased with the team's performance, especially a fourth consecutive clean sheet.
He told Liverpoolfc.com: "We have created a lot of chances in these games and in this game [against Huddersfield]. We had some chances so it could have been more than 2-0, but we won, kept another clean sheet, and that is good."