Liverpool striker Danny Ings is "back to enjoying football" after putting the "dark days" of his injury nightmare behind him as he looks to push on in pre-season tour and impress manager Jürgen Klopp.
The Reds' No.28's first season at Anfield was over before it had even begun when he suffered a knee ligament injury in October, but the Englishman revealed that he feels "as sharp as ever" and claimed that pre-season is "more exciting for me this summer because I feel like I've had a year out."
The injury came at a cruel time for the 23-year-old as he admitted himself that he "was just finding his feet" and "getting settled into the team" after scoring three goals in seven games before he was hit with the season-ending injury.
Ings continued: "I had just made my debut for my country – it was the best week followed by the worst week of my career. It was an extremely strange period, but now I am back, I am just looking forward to getting to the level I was at."
Ings returned on the final day of last season with a 30-minute cameo off the bench against West Bromwich Albion and since then has continued to work hard.
He began Liverpool's 2016-17 pre-season in good form, scoring goals against Tranmere Rovers and Wigan Athletic as Klopp's men took on four clubs on home soil before flying out to the United States.
"In the pre-season games so far this summer, I feel I've looked as sharp as I've ever looked in the last couple [of matches]," Ings said, insisting that he feels "a lot more confident now" that he has taken "a couple of whacks" on his knee, which he feels "is also good" for him.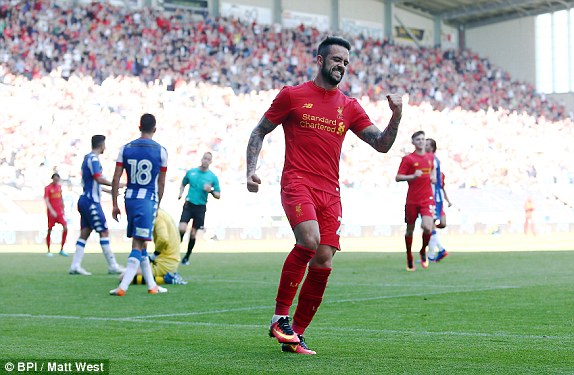 Ings wants to learn from Klopp
Ings' injury came in one of his first sessions under Jürgen Klopp shortly after the new manager arrived to replace the sacked Brendan Rodgers at Anfield.
Ings spoke of his disappointment at missing out on time on the training field with Klopp and therefore is keen to work with the German and learn as much as possible.
"I want to be tactically more aware of what the manager wants from me because with the year out," continued the striker. "I didn't have as much time to work with him whereas other players have."
Ings outlined the importance of the US part of Liverpool's tour "with the heat out here" and "the amount of sessions and work that will be on for us" meaning that he has access to all the "ingredients" to get him ready for the opening day of the new season.
The Reds' frontman wants to make up for lost time and is determined to use the tour to get himself in the best possible shape and force his way into Klopp's plans.
He admitted that there will "be loads of hard work to do" while they're on tour and said that he wants to be "in the best shape possible after it all" by the time the squad are "getting on that plane back to Liverpool next month."
"I won't be happy with myself if I don't come back home in the best shape I can be in," declared Ings, who said that the tour will be for him "about learning as much as I can, getting as fit as I can and trying to prove myself every day."