Liverpool goalkeeper Alex Manninger has declared that he still has something to add to the club's squad, despite acknowledging he's in the twilight of his career.
The vastly-experienced custodian signed a one-year deal with the club, subject to international clearance, to become the club's third-choice between the sticks.
The Reds have loaned out Academy 'keepers Danny Ward and Ryan Fulton, as well as the out-of-favour Adam Bogdan, leaving the need for an established option to come in as a back-up.
Manninger is viewed as just that, having recently ended a four-year spell with FC Augsburg in the Bundesliga after spells with clubs such as Fiorentina, Arsenal and Juventus.
Manninger: Move was unexpected, but it's an honour
Speaking after putting pen-to-paper on the move, to become the club's new No.13, Manninger admitted that it was "quite a surprise" that he received the phone call from Liverpool to be asked to train, but called it "an honour" to later speak to manager Jürgen Klopp.
On what the Reds boss told him, the Austrian added: "He told me to have a look, get myself over there and convince myself. He said: 'We know what you've done in the last 20 years, so you don't need to show anything.' It took me half-an-hour to know. It's an honour to be here."
The 39-year-old joined the club knowing that he would largely be behind Simon Mignolet and Loris Karius in the goalkeeping pecking order, but insists he's fully prepared to step in when necessary.
He insisted that he will "definitely be part of the team", calling it his "ambition" to "help on the pitch" as much as he can, as well as to "help off the pitch."
He called it his "focus" to "keep an eye on every bit" he can see or do to help out the other goalkeepers at the club, continuing: "Always keeping myself in the right shape and helping the other [goalkeepers] or the whole team a couple of per cent would make me happy."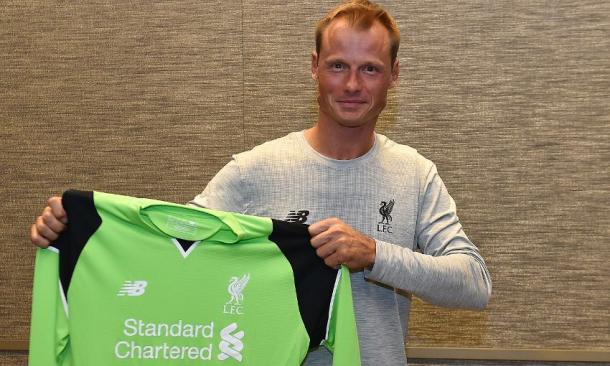 The competition for places is fierce at Anfield, particularly in between the sticks where Karius' arrival this summer ensures that last season's first-choice Mignolet is no longer guaranteed his starting position.
Manninger acknowledged that there are "25, 26, 27 players all nearly of the same quality" in Klopp's squad but declared he's "still got something left" to add even if it's "probably not the time" for him to push to be No.1.
Insisting that he's "definitely there" to fill in for Karius or Mignolet when necessary, Manninger insisted that he will "definitely be in the changing room [for] every game" in order to give his "input" to help his teammates.
He revealed that such competition for spots is the same "for every player" because there are "10, 12, 14 [who] don't know when they'll play or if they'll play" behind the starting eleven.
He dismissed it as "part of the job" and simply said players must be "ready for whenever the boss calls" on them. He acknowledged it as his job even if he's "late in years."
Despite the fact he'll act only as a deputy, Manninger insisted that he's "definitely a guy who wants quality around" and said that is why he has chosen Liverpool, "because it has got it [quality]" and it's "the perfect way to work or finish a career" not "only on the pitch."
Veteran 'keeper lauds Karius, Mignolet and Klavan
Manninger explained that he already knows both goalkeepers at Liverpool, saying that he's "seen a couple of training sessions" of Karius having already known him "from the last few years in Germany" where he played for Mainz.
And after the two side's Europa League meetings back in February, he also said that he knows Mignolet because he "followed European football all the time" and because of Augsburg's last-32 clash with Liverpool.
He labelled the two as "modern 'keepers" and said that it will "definitely be fun and good work to be on the pitch every day" with both of them, hailing coach Jon Achterberg who will be "forcing us in the right way" and "getting out of us the best the club needs."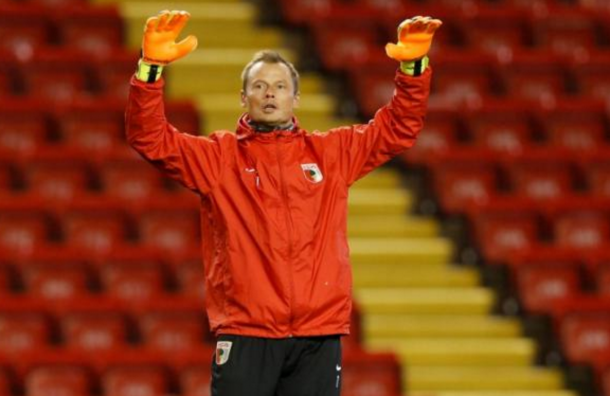 On Merseyside, Manninger joins up with a familiar face in Ragnar Klavan. The defender, who also signed from Augsburg, joined the Reds earlier in the week in a £4.2 million deal.
The Estonian international, also recruited to provide much-needed depth in the back-line, was hailed by Manninger who said it was "fantastic" to see Klavan get "the chance" to play in England.
"I'm just glad to play with a player I trust 210 per cent," he added, explaining that he was "happy for him to get the chance at one of the biggest clubs in Europe" and said that it's "the right thing he deserved."
Quizzed as to what the club's supporters can expect from the 30-year-old, Manninger revealed that they "can expect a player who gives more than 100 per cent" and is "a professional" but "not only on the pitch."
According to the 'keeper, Klavan "lives football 24 hours [a day]" and is "a guarantee in every part of a sportsman" which is "what he can do for himself and the club."