Liverpool captain Jordan Henderson believes he's ready to put his injury woes behind him going into the new season.
A long-standing heel problem curtailed the start of the midfielder's season, while metatarsal and knee ligament injuries kept him out for large spells later in the campaign.
But after making just 26 appearances across all competitions - less than half the amount of games he managed the previous term - Henderson made his return off of the bench on the final day of the season at West Bromwich Albion.
With the 26-year-old having since taken part in Euro 2016 for his country, he's raring to prove his fitness over pre-season ahead of the Reds' Premier League opener in just over a fortnight's time.
Reds skipper keen to put injury problems behind him
Asked for an update on his injury progress, Henderson explained that his "foot is feeling good" after being "injured for most of last season."
But he said that he's felt the benefit of having "trained with England" and "played one game [at the Euros]" as well afterwards doing "a little bit" of his own individual training throughout the summer.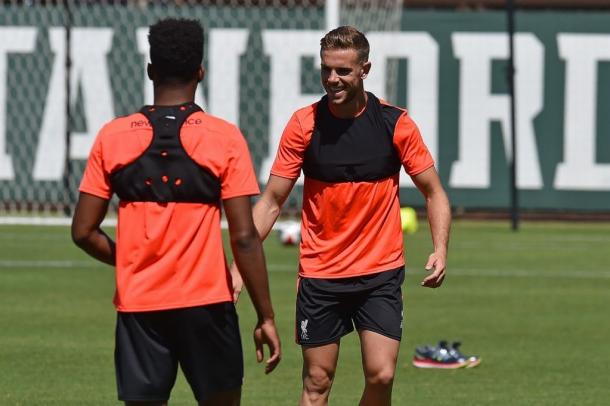 "I've come in and I feel very good. I feel probably the best I've felt in a long time," continued the Reds skipper, who hopes "that can continue" in order to have "a good pre-season" and "get even fitter."
Looking back on the 2016-17 season, Henderson admitted that "personally" his year was "definitely" the toughest of his career "purely for injuries."
The Reds' No.14 said: "The type of injuries I had were injuries where I was trying to get through it, even when I was playing I was trying to just play and maybe sometimes I shouldn't have."
Henderson raring to get going again
The skipper's issues over the last 12 months have cast a cloud of uncertainty over his future at Anfield, as has the arrivals of midfielders Marko Grujic and Georginio Wijnaldum.
But Henderson is keen to lay down a marker in pre-season and says that training over the summer has helped him be prepared to push himself on their tour of the US.
He noted last season as a "a very disappointing" and "a tough one" but explained he feels he needed less time off over the summer as a result.
Because he was "injured for quite a lot of the season" and "was out for a lot [of time]", the England international revealed he felt like he "didn't really need a rest" and instead continued to ensure he remained sharp.
"I tried to do a little bit and just build up to make sure when I came back I was feeling good," he said, saying that "so far" his previous work has been "working well."