Jürgen Klopp is looking for 100 per-cent effort from his players when they take on Chelsea in the International Champions Cup in California, and believes Liverpool must aim to win the tournament.
The Reds are one of 10 teams to feature in the United States and Europe edition of the ICC, with a clash against Premier League rivals Chelsea, at Pasadena's Rose Bowl, the first of three fixtures.
Further clashes against AC Milan and Barcelona see the Reds take a step up in opposition, having maintained a flawless record after four games against lower league opponents on home soil earlier this month.
And despite pushing his squad for their all in training at Stanford University since landing Stateside last week, Klopp is keen to see his side give their all in their first US friendly - although he admits that won't be to the best of the player's abilities.
We want to try and win the ICC, says Klopp
The German, speaking to Liverpoolfc.com, acknowledged that the game "will be quite tough" because Chelsea are in "something [of a] similar" situation with "a new manager" in Antonio Conte.
"It's a tournament, and if there's something to win we want to try and win it," continued Klopp, who explained that they must "see what we can bring on the pitch" over the course of their three games.
He revealed that many of his players will not be fully rested, insisting that pre-season is "always the best opponent you can get in the wrong moment."
The Reds boss said that in "another moment", the players "could rest before" the match and as a squad "you could do something else."
"But we have trained a 95-minute session this morning," he said, speaking the day before the game, adding that it was "quite warm outside" as he explained they "had to do it" and it was an "important" session for the team.
Klopp unsure what to expect of Chelsea side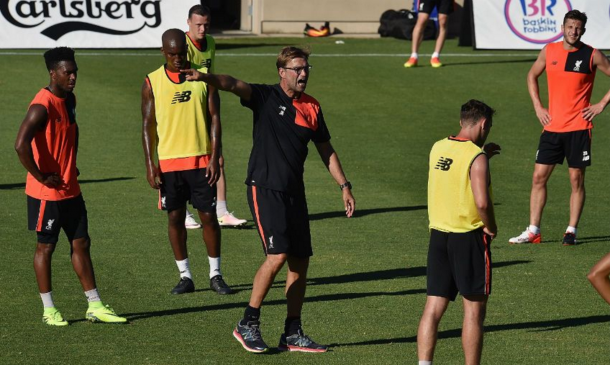 Conte's men have already concluded a tour of Austria, where they won twice and lost once, but Klopp has admitted he's not sure of what shape the Londoners are in going into this game.
He admitted that he doesn't know "exactly what level they are at" and looked forward to their meeting "in a few weeks" in the league on September 16 at Stamford Bridge.
The Reds boss declared that the friendly is "not the most important game in the world" but said they must use it as an opportunity to "learn" and to "use all we have in terms of knowledge, rhythm and fitness."
Klopp admitted that it's "clear" the players cannot yet be "at 100 per-cent" but said he's "not interested" in excuses and is looking to "see the 100 per-cent that is possible on this day."
Reds boss hoping for impressive performances in US
This summer is Liverpool's first involvement in the ICC since the summer of 2014, when a differently-formatted tournament saw them defeated by rivals Manchester United in the final.
This year's competition is centered around a group-stage format, rather than a typical tournament knock-out, with the best-placed team after three games crowned champion.
With the likes of Paris Saint-Germain, Leicester City, Real Madrid and Celtic of the others outside of Liverpool's fixtures - to win overall, they will likely need to claim a minimum of two victories with games against AC Milan in San Francisco and Barcelona at Wembley Stadium.
Between then, the Reds also face AS Roma in St. Louis before winding down their pre-season campaign against Mainz in Germany - one week before their league opener.