Daniel Sturridge is undoubtedly one of England's best strikers right now and up to now he has been Liverpool's starting striker.
Danny Ings suffered a bad injury early last season which saw him miss the remainder of the whole season and left Liverpool with Christian Benteke, Divock Origi and Sturridge as options to lead the line.
However, Ings has now recovered from that injury he sustained last season and is raring to get back on the football pitch. On the other hand Origi is hoping to carry his form from last season into the new season and continue to improve all the while.
Injury Prone
One of Sturridge's biggest faults is how injury prone he can be. Since his arrival at Merseyside in 2013 the No.15 has had 18 injuries, missing a total of 614 days. Many believe Sturridge can never be Liverpool's starting striker because he is out with injuries so often and that rather, they need a striker that they can rely on to be there week-in week-out scoring goals and performing.
All that being said, even with all the injuries Sturridge has sustained, he has never seemed to lose his goal-scoring ability. Last season - after missing 11 games with injury - he returned to score six goals in seven games in the league.
Similarly in the 14/15 season, he was out with a muscle strain and then a hamstring injury from September 2014 to January 2015, but he returned to score three goals and assist two in eight games.
So when people speak of his faults, they always talk about his injuries but they never question his ability because as a striker, Sturridge is very well-rounded.
When fit, he is a very consistent goal scorer which he showed last season when he netted 13 goals in 25 games in all competitions.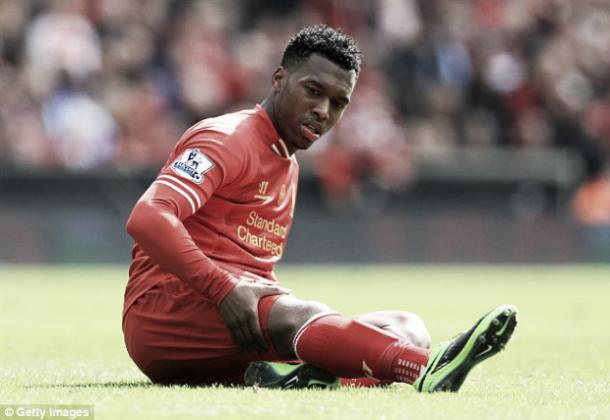 Upcoming Season
This upcoming season will be very interesting and different for Liverpool fans because for the first time in a very long time almost every position on the pitch will be challenged for a starting spot.
Especially up front, where this coming season Sturridge will be challenged by a fit and healthy Ings and Origi and possibly Sadio Mane if Jürgen Klopp decides to play him in a striker role opposed to on the wing.
This competition for starting spots will be good for Klopp and Liverpool as they can get the best out of all their players. Many fans are interested to see if Sturridge can in fact keep his fitness for the whole season and stay consistent with his goal-scoring, or whether Ings or Origi knock him off of that top spot.
Origi, the 21-year-old Belgian had a very impressive first season in the Premier League having bagged 10 goals and three assists in 34 games. He gave the Liverpool fans a taste of what he can offer last term and being just 21 years old, he has a lot time still to improve.
Ings, as mentioned above, is also a player that could grab that starting spot off of Sturridge. Ings' first season at Liverpool was cut short due to a cruciate ligament rupture which meant he only played nine games last season. But, he did manage to net three goals in those games.
Most recently in Liverpool's domestic pre-season games he performed very well netting two goals. Ings is still only 24 years old, meaning he also has time to improve and push on in his career.
Certainly for the beginning of this coming season Sturridge will be Liverpool's undisputed starting striker but as the season goes on that is when the real test begins. His fitness will surely be crucial.1