Jürgen Klopp believes there were positives for Liverpool to take away from their performance although they fell to a 1-0 defeat to Chelsea.
The Reds fell to their first pre-season loss in their opening International Champions Cup tie in Los Angeles, failing to bounce back from Gary Cahill's 10th-minute header.
In a game of few opportunities Philippe Coutinho forced a good save out of Asmir Begovic from a free-kick, while Roberto Firmino saw a goal disallowed before half-time.
Although Cesc Fabregas was sent off with 20 minutes left, Liverpool - for all of their possession - could not muster an equalier at the Rose Bowl, although Klopp says he is looking beyond the result.
We needed to show more belief, admits Reds boss
Despite his team's inability to break down their Premier League rivals, the German acknowledged that "when a team with the quality of Chelsea defends so deep, then every team in the world will have a little problem."
He explained that the problem for Liverpool was that "80 per-cent of our passing game was absolutely okay" but that "20 per-cent [was] not" and "most of the time" their "last pass" let them down.
"The last pass is a very important pass," Klopp continued, saying that when they lost the ball then they "had a long way to go back to defend" and "not create real chances."
He told reporters in his post-match press conference that as a result they "had to run a lot to avoid this" and added: "We had to play football and we had more ball possession against a really good side. We could have scored [but] we didn't. 1-0. That's what we have to accept."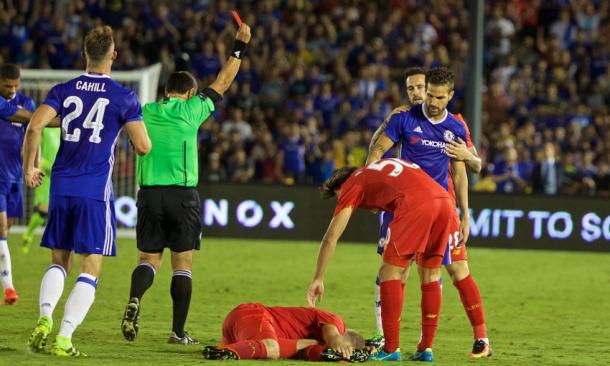 Asked about what his side needed to do differently to earned a draw, or a win, Klopp said that his side needed "a little bit more freshness" but "only with the finishing."
Expanding on this, Klopp declared that there were "two things" they needed to do "for the last pass" as he said that "a little bit fresher legs" would have helped "against a deep formation" as well as "more belief in our skills."
He explained that the squad are "able to play really good football" and showed "a lot of good movements" against Chelsea, as well as "a lot of really good individual situations."
On their "team tactics", he insisted they enjoyed some "really good moments offensively and defensively" but that overall the display was "okay" and they "could have done better."
"For the moment, I am not dissatisfied," he said. "It is okay, nothing more."
Klopp: We can take "a lot of good things" away from the game
The rivalry between the two teams led to a physical 90 minutes, the American referee handing out six yellow cards and a straight red to Fabregas late on.
But though Marko Grujic was forced to go to hospital with a head injury and debutant Ragnar Klavan spent some time down on the turf after Fabregas' dangerous lunge, Klopp wasn't concerned by the aggression between the two teams.
He said that game was played at a "normal intensity with a few hard challenges" and admitted that the challenges were "sometimes a little bit late" because "all of the players are not in 100 per-cent shape."
"I don't think it was too hard," he said, acknowledging that the manner of the game was "far away from a friendly" but that it was "okay" because "that's why we are here."
On Fabregas' dismissal, he added: "It's a red card," before revealing that the Spaniard "came by in the dressing room [after the game] and said sorry" for "coming too late" into the tackle.
Klopp welcomed back a number of internationals to the squad, the likes of Jordan Henderson and James Milner getting their first minutes of pre-season.
But it was more familiar faces that impressed, with summer signing Sadio Mane - making his fifth appearance of the summer - among the stand-outs.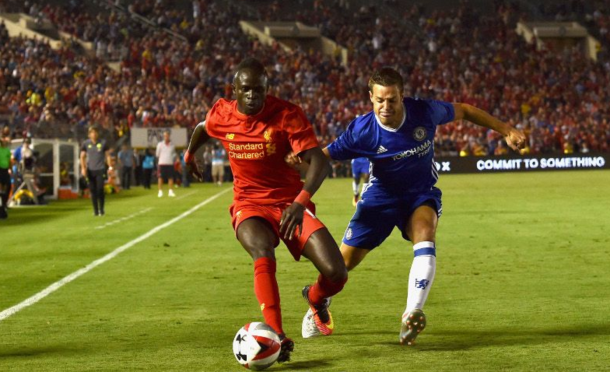 Klopp called Mane "a wonderful player" but said that he can still "play much better than he did" although "he was good in a lot of situations" against Chelsea.
The Reds boss also had praise for Philippe Coutinho as he said that there was plenty of "individual quality" throughout their performance.
"We will always find very good moments," he said, insisting that Firmino has "until now played a fantastic pre-season" but did not have "the most wonderful day" in Pasadena even though "he is a great player too."
Klopp said that he wants to see "more about the team play" because although "individual skills" can "win some games", according to the manager they must "involve all of these individual skills in team play."
"We wanted to get the draw, we wanted to win, we were in the game until the last second - that was all good," he insisted, but acknowledged that they "should not ignore" the result even "when it's not a Premier League game."
He admitted he'd rather "lose today" than in a competitive league meeting, but said that they still come away "a little bit disappointed" because they were "only here to win the game." Nevertheless, he says they can "take a lot of good things" out of the performance despite the result.