Divock Origi is setting his sights on playing a key role for Liverpool in the forthcoming 2016-17 season after he returned to he first-team with a goal in their 2-0 victory over AC Milan.
The Belgian striker took less than 15 minutes to get back on the scoresheet on just his first appearance of pre-season, coming off the bench at half-time and controlling Alberto Moreno's lofted pass before curling into the far bottom corner.
Origi, who impressed in the rest of the second-half with his tireless efforts up top, had only returned to training earlier this week after featuring at Euro 2016.
But he showed no lack of sharpness, injecting desire and determination into Liverpool's forward line, Roberto Firmino poaching a second goal with 17 minutes left to make sure of a deserved victory.
The 21-year-old, who expressed his delight at being back with the squad on their tour of the United States, is keen to keep improving after hitting double figures in his first year on Merseyside last term.
Origi called himself "very happy" to "be back on the pitch" as he explained that Jürgen Klopp's squad are "enjoying our first minutes" and were "very hungry for this game" after having "worked a lot in training."
He told Liverpoolfc.com that they "enjoyed the game" and insisted he's "very happy" about the result and the performance, bouncing back from their defeat to Chelsea - also in the International Champions Cup - just a few days ago in Pasadena.
I can still improve even more, insists Origi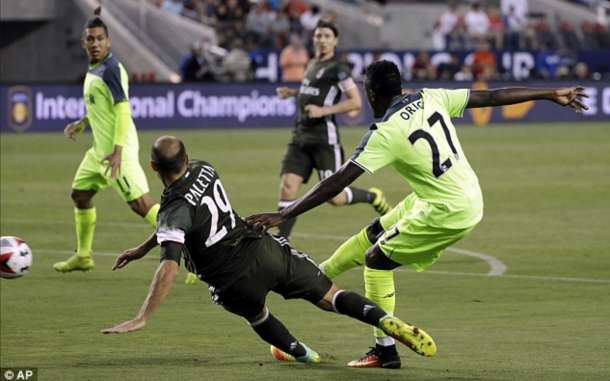 Asked as to whether he's hopeful of building on his first season at Anfield, Origi suggested it "can be" a big season for him but insisted: "I still have to work a lot and there's a lot of room for improvement."
Adding that he tries "to learn day-to-day" as well as "learning as a team", the Reds' No.27 revealed that he "can feel the confidence from everyone" and says he "can improve" and "enjoy my game."
Origi - who struck 10 goals in all competitions across 33 appearances last season - says that he's "still young" and "year-by-year" is still "improving."
He explained that "the most important thing" in his development is "to make steps" after last season, in which he "some good moments." The striker added that he stil wants "to learn" and to "become more consistent" so that he can "help the team even more" and "become an important player in the team."
Central to such improvements is Origi's manager, Klopp, who oversaw immense progress in the second-half of last season before an unfortunate ankle injury cut his stunning run of form short.
Origi, on what he has learned under Klopp and the German's backroom staff in pre-season so far, said that they have "worked a lot on the tactical things" and insisted: "You can see that the team has one idea and that is very important in football."
He acknowledged that they still "have to work on things" but is confident they "have time" and that "everyone is smiling and has a good attitude" which he said is "the most important thing" for them.