Jürgen Klopp came away delighted with Liverpool's performance as they deservedly beat AC Milan 2-0 at Levi's Stadium in Santa Clara, .
Second-half strikes from Divock Origi and Roberto Firmino topped off a fine performance from the Reds as they bounced back from defeat to Chelsea for their first International Champions Cup win of pre-season.
It was the Reds' fifth win from six games, accompanied by a fifth clean sheet, and the performance was one which left Klopp hugely satisfied after full-time.
Klopp "pleased with performance of the whole team"
"All these players, if they stay fit and without injuries, can play a very good season," insisted Klopp, who - when asked about Divock Origi - said that it was "not a night for talking about single players."
Rather, he hailed "the way we played and the style of play" as well as "the dominance we had and the passing situations we had."
"In the first-half we played brilliantly," Klopp continued, lavishing praise on his team for doing "the right thing" and passing "until we were through" although he admitted they "didn't finish" well enough and "created chances and didn't score."
But the German insisted that their finishing "will come, 100 per cent" as he explained that they simply "lost a little bit of patience" and "chose the wrong way" because of "one or two long balls too many" or because they "forced the play" after losing patience.
He insisted that they created their own problems, but said this was "not the biggest problem" as he said that there are still "a lot of things to do" throughout the rest of pre-season.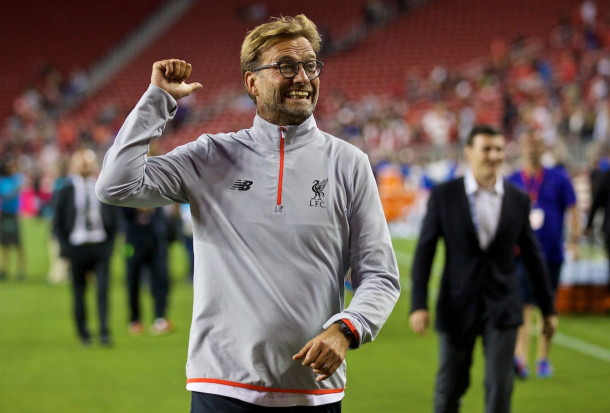 Klopp insisted that the England internationals, who have had just "five or six days" back from their three-week holidays after Euro 2016, are "doing so well" and also praised debutant Georginio Wijnaldum who too "did really well."
He also lauded Ragnar Klavan, whom he believes performed well despite "not long" being in the squad, as he insisted that all of these things are both "important" and "a good sign."
On the test his side faced, he insisted he was "really happy" about their opponents because Italian teams are traditionally "always well organised" and "always make problems" because of their defensive solidity.
He admitted that it is "not easy to play" against Italian outfits and beamed at the fact his side "did really well and scored wonderful goals" although he added: "We had one or two more chances and especially in the first-half, we had four or five big moments - not only Sadio [Mane] but especially his chance."
Klopp also praised his side for playing "dominant football" and "reacting on balls we lost" in their "counter-pressing situations." He admitted that is the "the only moment" in a game "where it should be a little bit hectic" and said "the rest should be calm and really dominant", which he believes it was against Milan, calling himself "pleased with performance of the whole team" as a result.
Still plenty more work to be done, says Klopp
With just three pre-season games remaining over the next eight days before Liverpool begin their preparations for their opening Premier League clash away at Arsenal on August 14, Klopp believes his side are progressing well.
He insisted that pre-season is "time for fitness" and insists they "have to use" their time on the training pitches to improve, as he acknowledged that the friendlies they play are "important" but are still "not Premier League games."
The Reds boss explained that they "don't have to think about" their games too much "in the week and days before" and that it's "more intense" during the actual league season, but said their performances indicates they are "in a good way" with their style-of-play.
Despite that, Klopp declared that there is still "a long way to go" but that he won't "think about when we are finished" but rather "what we can do tomorrow" in the next session.
He admitted that for the forthcoming fixture against AS Roma in St. Louis they have "a little bit of a problem at centre-half" and they will have to "find a solution for this game."
Elsewhere, he said that they have "different options" as he revealed that he's promised Danny Ings will play after he failed to make an appearance against Milan, insisting: "The next game he will be involved. They will all have their match time and that's good."