Sheyi Ojo believes there are plenty of positives to take from Liverpool's pre-season tour of the United States although they return to England having lost two of their three games.
The Reds' final fixture saw them beaten 2-1 by AS Roma at the Busch Stadium in St. Louis on Tuesday, following a win over AC Milan and defeat to Premier League rivals Chelsea.
But 19-year-old Ojo, who joined up late with the first-team squad across the Atlantic, believes that Jürgen Klopp and co.'s 12-day stay in the States has been more than beneficial.
We're relishing the start of the new campaign, says Ojo
The hugely-promising winger, who netted a header in the loss to Roma, told Liverpoolfc.com that while it was "disappointing to lose the game" there were "a lot of positives" to take both from "the game and our time out here."
He said that it was "very tough" against their Italian opponents because it was "very humid" and "the pitch wasn't the best" although he acknowledged: "That's not an excuse. We will assess the game and look forward to the next one."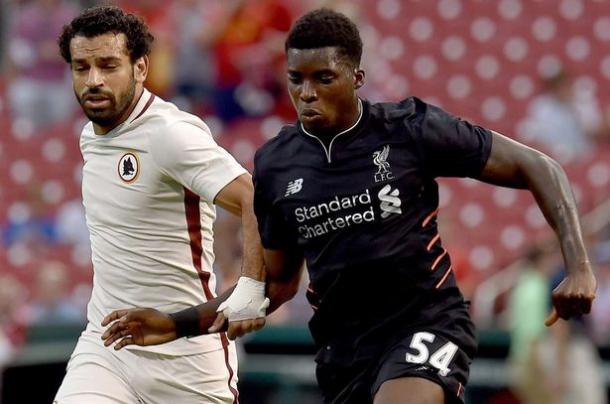 The England U19 international, in action at the U19s Euros over the summer, believes there "a lot of positives to take from each game" and in particular the way that the team "responded really well" and how "everyone has got along well with each other."
He also lauded the fact the Liverpool players are "getting fitter" which he called "the main thing" of the tour, insisting that they are now "all looking forward to the start of the season."
Ojo focused on working hard in training
Asked for his thoughts about getting on the scoresheet, Ojo said: "Dejan [Lovren] headed the ball across. I just assumed he was going to do that and luckily for me, I was there to head it into the net."
But the Reds' No.54 - who could play an important role in Klopp's senior squad across the 2016-17 season - insists the "most important thing" was simply that "everyone got fitter" and as a team they are "getting stronger and looking forward to the new season."
Having returned to Merseyside, the Reds now focus on taking on Barcelona in another International Champions Cup tie - this time at Wembley Stadium - on Saturday evening.
Ojo added that it would "be nice" to feature against a team of the reigning La Liga champions stature, with former Reds Luis Suarez and Javier Mascherano in line to feature, but insisted: "For me, I've just [got] to keep my head down and keep working hard in training and see what happens."