Jürgen Klopp felt that "98 per-cent" of Liverpool's performance was "really great" but suggested that they can still improve after they hammered four past Barcelona in the International Champions Cup.
The Reds' penultimate pre-season run-out saw them reunited with former Kop hero Luis Suarez under the arch of Wembley Stadium, with almost 90,000 packing out the national stadium on a sun-soaked Saturday evening in the capital.
But despite the inclusions of Lionel Messi, Suarez, Javier Mascherano and Sergio Busquets, Klopp's men ran riot. Sadio Mane finished off a well-worked team move for the opener after 15 minutes.
Within three minutes of the second-half, Liverpool led by three after Mascherano turned Mane's cross into his own goal before half-time substitute Divock Origi got on the scoresheet.
Another substitute, the impressive Marko Grujic, rounded off the scoring in the last seconds of injury-time as he looped a header up over Claudio Bravo to seal a convincing victory.
But although he said much of what happened was "wonderful" on the day, Klopp believes they can't get overexcited about their performance and the result.
Reds boss reluctant to get too carried away
He insisted that "of course" he is happy "with the result and a lot of parts of the game", in particular highlighting "the tactical side" as he explained that when his side "were active" they "were really good" as well praising their "defending", their "passing game after winning balls" and their "direction."
"Great football, good build-up, we played between their rows and in the half-spaces and it was all good," Klopp continued. He admitted that his side "became a little more passive" after the half-hour mark and "needed a bit of luck" to stay in front after Messi hit the post and Simon Mignolet denied Suarez.
But he insisted that it was "not a big problem" because it "can happen against Barca", adding: "Of course, when you win 4-0, you have to use it. It was wonderful today, special. 90,000 people came here for a friendly game and they could enjoy it. I would say 98 per cent of what happened today was really great."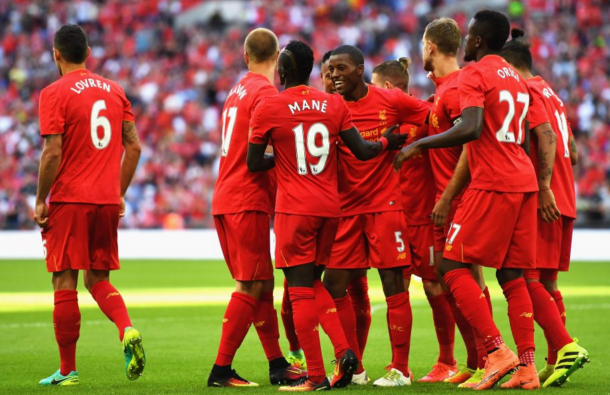 Asked whether he thought Barcelona were better than the scoreline suggested, Klopp insisted that the Catalan giants were "not bad" and "are never bad" and instead lauded the performance of his team.
He said that they "did really well around the goals" and though "in one or two situations" needed "a little bit of luck", suggested that they fully deserved their win.
However, Klopp was keen to downplay the significance of the result, noting that Barcelona are at a different stage of pre-season and that it was "a more important game" for Liverpool.
"I don't want to overestimate this game but it's still good for us," the German said, insisting they do not think they "are on a higher level than Barca" after beating them because they are "not crazy."
But he enthused that his side came to "play football as good as possible" and "did it", though he admitted Barcelona can be "better than today."
Klopp: We're "really ambitious" ahead of the new season
Such a performance against esteemed opponents - Luis Enrique's men having won La Liga and the Copa del Rey - inevitably led to questions around the potential of Klopp's Liverpool team.
But asked about whether he believes Champions League qualification is the target, he declared: "I don't know, we will see.
He vowed that his side will "fight for everything" and "be ready for everything" because they "know [what] we're working for" in a year "without European football."
He insisted that the current squad are "really amibitious" and "want to win as many games as possible" but refused to lay out any early targets, instead suggesting they will "see what happens at the end" because they are surrounded by "ambitious" teams which will make it "a quite interesting league."
The Reds boss continued: "We have to fight and I know we will be ready for this, but at the end, I don't know now where we will be at the end of the season."
No decisions made yet on Arsenal line-up, says Klopp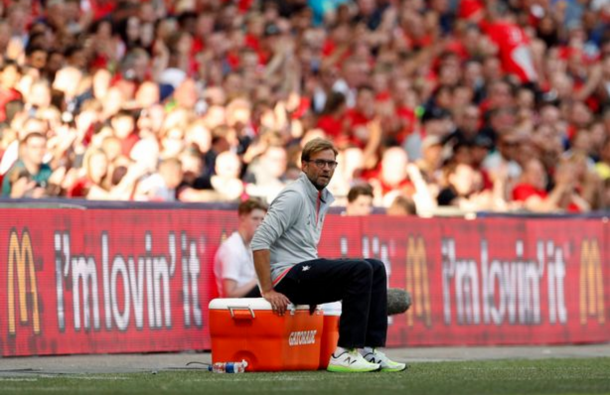 Klopp also gave very little away as to whether the eleven that started against Barcelona will be similar to the one that he will pick for their trip to Arsenal for their opening Premier League game next Sunday.
"No of course not, how could I?" he responded when asked whether he had a clearer idea of his team, instead declaring that he has "an idea" about his squad which is "much more important."
He acknowledged that "a lot of players played really well" but hoped that they "do it tomorrow again" against Mainz in the Reds' final friendly, adding that they then "have one week's time" that they "should use" to continue their development.
He said that experience has taught him "everything can happen" and so that he will not make a decision on his team until later in the week, but insisted that they will have "11 very good players on the pitch" and "a very strong bench" althoug he has "no idea who is where" at the moment.
Klopp also admitted that, if they suffer further injuries, then they will "have to react" in the transfer market as he spoke about the "few injuries in positions that are not too good for us."
"We have to keep our eyes open, that's absolutely clear. Until August 31, something is possible for us, why should I say it [our transfer business] is over?", explaining that they will "react if we need to."