At their best, Liverpool in the 1970s and 80s were as reliable as anything made in Switzerland, but since their last league title in 1990 the Reds have become the masters of inconsistency.
Granted, Gerard Houllier and Rafael Benitez managed to introduce a little more assurance and predictability through their defensive methods of play, but Liverpool's more modern cavalier approach resurfaced under Brendan Rodgers and now Jürgen Klopp.
Rodgers' title challenge with the club in 2014 was based entirely on a pure attack-minded philosophy, always attempting to out-score the opposition given the porous nature of the defence.
In the end, Liverpool's high-risk strategy caught up with them, but the inconsistency remains.
Under Klopp last season, Liverpool were at times unplayable and at other times dreadful, with irresistible performances against Chelsea, Manchester City, Southampton and Villarreal alongside dire defeats to West Ham United, Newcastle United and Watford.
Then there were the rollercoaster matches that encapsulated all of Liverpool's issues for the best part of three decades – a 5-4 victory over Norwich City, the unforgettable 4-3 comeback against Borussia Dortmund and the hugely disappointing 3-1 defeat to Sevilla in the Europa League final.
Even this weekend, with the final pre-season warm-ups ahead of the proper campaign, demonstrated Liverpool's Jekyll and Hyde personality. Despite all the changes and the proximity of the fixtures, few teams could sweep aside Barcelona 4-0 before falling to Mainz by the same scoreline.
It sums Liverpool up perfectly.
Liverpool too often just turn up for the big games
Usually, the Reds turn up for the bigger games (unless they are cup finals) against the best opposition, almost preferring the role of spoiler and counter-attacking the favourites who dominate possession.
By contrast, when Liverpool are placed on the other side of the coin against an underdog, they rarely muster performances on the same level, struggling to break down resolute sides.
Now it does not matter how you play, if it is your most effective method of achieving results, and without question Liverpool will prosper more from an intense, high-pressing style of football instead of a possession-based game.
However, if the Reds want to progress this season under Klopp and achieve a top four finish or better, then their inconsistencies must be ironed out, which means winning more games against teams traditionally below them in the table.
Liverpool will need to be patient, counter whenever they can if the defensive side makes a rare foray forward, use width to stretch opposition defences (allowing the option of crosses or cutting inside for quick play or potential shots at goal), flood the opposition box with midfield runners and, crucially, be clinical in front of goal.
Often when playing 'smaller' teams at Anfield, clear-cut chances for the Reds are at a premium, leading to wild, frustrating efforts from outside the box.
Yet once the first goal goes in, then the defensive side will have to open up in order to secure a result, which allows more space to operate in and more chances to counter-attack. Moreover, there is often the opportunity of scoring soon after an opening goal, with the other team momentarily demoralized. Then, the floodgates could open and instead of a 0-0 draw, the match turns into a comfortable four-goal afternoon.
Obviously, the key is scoring the first goal, ideally early on in the encounter, but scoring nevertheless.
New arrivals will help break smaller teams down
Liverpool seem more equipped to deal with these situations this season, with the arrivals of Sadio Mane and Georginio Wijnaldum in particular.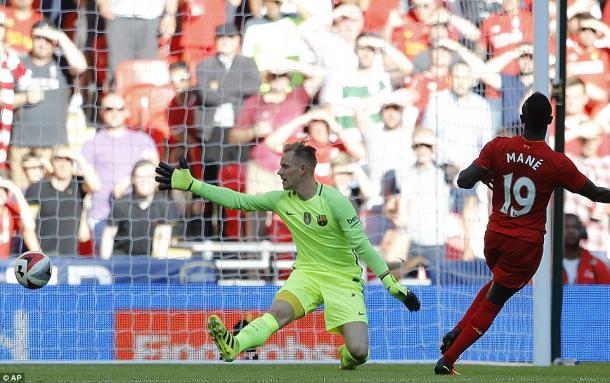 Mane carries blistering pace which will further aid Liverpool's counter-attacking potential, but he should also bring more goals, which the likes of Philippe Coutinho struggle to achieve. Meanwhile, Wijnaldum already in pre-season is always looking to get forward with runs from midfield.
With more bodies in the box, Liverpool should be able to break teams down quicker, particularly with their increased athleticism from relentless training under Klopp – allowing more to perform box-to-box roles, tracking back defensively and going forward in droves.
In addition, if Daniel Sturridge can remain fit for an extended period of time, then his finishing could prove the difference, while Divock Origi's pace and power provides another presence upfront and a useful asset to aim for from wide positions.
In these tight fixtures, playing both Sturridge and Origi in attack is a viable option, as there is less need to flood the midfield when playing against a team on the defensive.
It will be these matches that decide Liverpool's position in the league, especially given the sheer number of these fixtures compared to the fleeting encounters with the big boys, but the opening of Liverpool's Premier League season is actually more top-heavy.
Starting againt the big guns could suit Reds
Beginning with three away clashes against Arsenal, Burnley and Tottenham, before welcoming the defending champions Leicester City in the first fixture at Anfield, then travelling to Stamford Bridge to take on Chelsea, once again the Reds have been handed a tough start on paper.
However, given Liverpool's struggles against lesser opposition, this could play into their hands.
Arsenal will have a depleted side on Sunday, with the likes of Laurent Koscielny, Olivier Giroud, Mesut Ozil, Per Mertesacker and others unavailable because of extended breaks following international duty and injury respectively.
Furthermore, Burnley will be adjusting back to life in the Premier League, and Tottenham will provide a good indicator of how far Klopp's side have come athletically, as Spurs under Mauricio Pochettino have been the fittest side physically in the division for over a year.
These away fixtures should allow the Reds to implement their favoured high-pressing, counter-attacking style, especially against Arsenal and Tottenham. Consequently, not only is beginning positively essential for picking up points, but also for Liverpool's players to gain early belief and momentum in the methods of play they have worked extremely hard on.
This does not mean returning to Anfield with nine points from nine, but ensuring each game yields a positive result – such as remaining unbeaten, creating chances, appearing solid at the back and scoring goals. Five points would be a satisfying start.
Leicester proved last season that anything is possible, and despite the lavish spending from the elite, the Premier League promises to be the most open division ever this year.
Liverpool do not want to be playing catch-up.