Liverpool manager Jürgen Klopp revealed he is satisfied with a "very positive" pre-season campaign as they prepare for their first Premier League game of the season against Arsenal with the German confident his side "are ready to show their best."
The Reds' season begins on Sunday and Klopp thinks the "wonderful training sessions" and the "fantastic attitude" of his squad, which has pleased him most, has allowed him to pass on his ideas of how he wants to play and have put them in a good position heading into the new season.
He explained to the club's official website: "In pre-season you can do a lot more and with 'a lot more' I don't mean intensity, I mean about the kind of training, the tactical things – different things we could involve in our training.
"They were really open because a few things were 100 per cent new, completely new, to them," he continued. "Seeing then how ready they are to learn, that's quite exciting and so that's what I enjoyed most."
The German saw enough in pre-season to be optimistic such as the 4-0 victory over Barcelona at Wembley, but as the season approaches focus has turned away from that and the squad are now solely focused on the Arsenal game.
Klopp warned that Liverpool must respect that the Gunners "have their own targets, aims and ambitions" as he explained that the Reds have had scouts watching their pre-season games so that they can "know as much as we can know" about them.
He said that they will go to the capital with what information they have and try and cause Arsenal "as many problems as possible."
Ahead of the clash, Klopp said his side have been working on "bringing freshness into the legs and into the mind" as he added: "It's not the highest intensity in this week – we stopped intensity on Sunday and now we are in something like a normal rhythm, and that's what we have to use."
Intensity of training will differ throughout the season with Liverpool not being involved in European competition. That one game a week means Liverpool will "have intense sessions" but the idea is still to "rest and recover long enough and then you'll have the benefits."
Klopp added that they "don't have a special rhythm for the whole season" and rather that their pattern "depends [on] how we play, what we did in the last game, what we have to do in the next game and all that stuff."
"It's not making a plan for the whole year, it's making a plan for the next day and then seeing how it works," he explained. "We could only set a base [in pre-season], but you have to refresh it all the time. That's what we'll do and we will have intensity sessions during the year."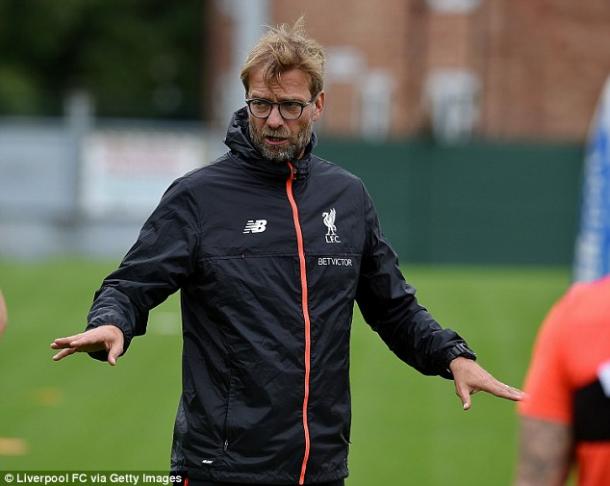 Excitement building for the start of the season
Klopp talked of the excitement about starting the new season and how he was "looking forward to a game against Arsenal" ahead of the opening day, but acknowledged that the starting period of the campaign will be very tough.
He insisted that it's "exciting" to start the season off at Arsenal and said they "need to be" at their "best shape" in order to beat them away from home, with the game representing their "first big challenge of the season."
The Reds boss accepted that their "really intensive" start - with trips to Burnley, Tottenham Hotspur and Chelsea to follow in the coming weeks as well facing Leicester City and Burton Albion in the League Cup - is "how it is."
Arsenal's defensive problems have been highlighted in the lead up to the game on Sunday with both Gabriel Paulista and Per Mertesacker being ruled out with long term injuries and Laurent Koscielny being given an extended break after the European Championships.
It leaves Arsene Wenger with a selection problem with a possible centre back pairing of Calum Chambers and summer signing Rob Holding being touted to line up against the Reds.
Klopp doesn't want to "think too much about them" and their injury issues as he feels Arsenal have "had a pre-season that they're fine with."
Instead, Klopp wants to focus on how Liverpool approach the game and how they can go about getting the best result possible to bring back to Merseyside.
The former Borussia Dortmund manager praised the Arsenal manager, describing him as an "Arsenal legend" who is both "very experienced" and "a very good manager."
Klopp is looking forward to going up against the 66-year-old, who he respects massively, describing it as "the best day to meet Arsenal" and is keen to see who is more ready for the season ahead.
Dismissing the idea that it is a good opportunity to face Arsenal because of their injury problems, he insisted that it's only "the best day" to meet them because that's the date the fixture computer has handed them.
"Now we will see who is in the better shape, who has the better plan, who has more confidence about what they want to do," Klopp said. "It is how it is – nobody knows exactly, but everybody hopes. Big expectations from all sides, but now we have to show we are ready to show our best."