Jürgen Klopp has dismissed the idea that Arsenal's injuries will have a significant say in the result in Liverpool's opening-weekend clash at the Emirates Stadium on Sunday.
The Reds kickstart the new campaign in the capital against Arsene Wenger's men, who are dealing with a number of absences after prolonged summer breaks and injury problems.
The Gunners could be forced into fielding a weakened side, with a number of problems at the back depleting their options, but he believes his side mustn't think the game will be easier as a result.
Klopp, speaking in his pre-match press conference, admitted that he has "no idea exactly" how Arsenal will line up but acknowledged that they have summer signing Rob Holding "and a few of the other guys from last year."
With Laurent Koscielny having only returned to training on Monday and Gabriel and Per Mertesacker both out with ankle and knee troubles, Klopp added: "I think [Nacho] Monreal played centre-half one or two times [last season] and Kieran [Gibbs] can play full-back."
He said that they also might "bring a few other players back this week" or "over the next few weeks" meaning their problems won't be as severe, but he also warned that such absences "only play a role in a game" when the other team is "really strong offensively."
We cannot afford to think Arsenal absences will make the game easier for us, insists Klopp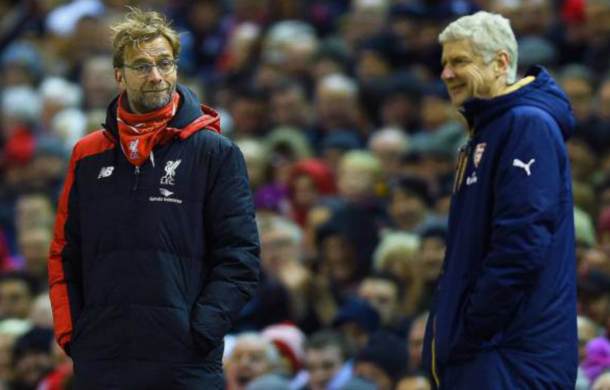 Among the others who could miss out for Arsenal are Alexis Sanchez and Mesut Ozil, who were allowed extra time off after being involved at the Copa America and Euro 2016 over the summer.
Yet Klopp insists his side will treat the Londoners as seriously as ever, no matter whom the teamsheet reveals as starters.
He explained that Sanchez played in pre-season and noted that they have "a lot of wonderful players" going forward, such as Alex Oxlade-Chamberlain and Santi Cazorla.
The German told reporters that it's "not like" they "have to play the whole season with this team" and that it won't play "a big role" for just "this one game."
"The first mistake we can make is to think they have defensive problems," he declared, insisting that they "haven't thought for a second about this" and instead must continue to "only think about our play and our game."
He also said that they will use what they took away from Arsenal's pre-season games, including "their style of play, how they defend [and] how they attack."
Klopp has only come up against Arsenal once, back in January where his Liverpool side required an injury-time equaliser for a 3-3 draw at Anfield.
Looking back on that game, Klopp felt Arsenal - who he says are "a football playing team" - adopted a more direct style with "a lot of long balls" in that game.
He said that they profitted from having Olivier Giroud winning long balls with Ozil picking up the long ball which caused Liverpool "a lot of problems", insisting: "That's what we think about, and not the kind of [injury] problems they could have."