This was a deal that was always on the horizon; 22-year-old defender Megan Campbell was already listed on the team sheet when Manchester City Women faced the current reigning Damallsvenskan champions FC Rosengard in a friendly a week ago, but today the English club has officially announced the signing of the Ireland international.
Campbell marks City's fourth signing of the off-season after Kosovare Asllani, Jane Ross and Marie Hourihan have also joined the Citizens.
The talented defender, who is known for her incredible throw-ins, has recently completed her scholarship with Florida State University and is said to be "up to the challenge." Campbell told the club's official homepage that it's "a bit surreal" and that she "didn't expect to be here [Manchester City Women]" because it's "a big club."
City officials were eager to sign Campbell
The throw-in specialist just graduated and was looking for a professional team when City officials made the first move and indicated interest in signing her. The 22-year-old mentioned that once she got word City were interested, she "came straight over" and once Campbell did, she knew "it was something I [Campbell] knew I'd love to be part of."
But the Ireland International also talked down some of the high expectations. Campbell says the move is "a big step up from college soccer in the States" and that she will "take her time" and use the first year to grow as a player and keep progressing.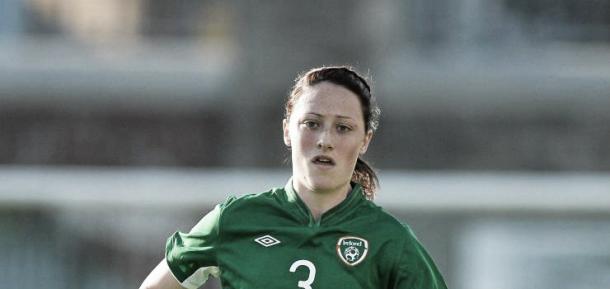 Campbell is settling into the squad well
The youngster has already got to know her new team and pointed out that they are all "very friendly" and that it's easy to "get along and integrate with the team [Manchester City Women] and the staff." She also complimented Steph Houghton, the captain of Manchester City Women, and said that her "leadership is a great quality." Campbell is eager to learn from her new teammates.
Ireland International has already impressed the world
The 22-year-old just recently competed with Ireland against the current World Champions USA in their so called "Victory Tour" and has left a great impression. Campbell's throw-ins are Ireland's secret weapon and, according to the newspapers, the USWNT was impressed. The talented defender has already collected 33 caps with her country and is a solid part of their defence.