I'm Noel Alberto signing off, and I hope you all have a great night!
Next Wednesday will be when these two sides meet again with Ronaldo and Benzema raring to go at full fitness. Should they be ready, that could be the major difference.
It was a tale of two halves for both sides. Madrid started the first half on the defensive side of the ball, but in the second half with Jese, they were much better on the attack. However, Joe Hart was up to the challenge to deny two-three great opportunities in the end to keep his side leveled.
90': Navas denies and a corner ensues but it's cleared and the full-time whistle blows.
90': Carvajal booked after taking down De Bruyne. Free kick to City.
90': Two minutes of stoppage time.
90': Kroos off for for Isco.
83': Clichy sends in a low cross but is smothered by Navas.
82': HART AGAIN DENYING FROM A MADRID CORNER!
81': Free kick for Madrid on the edge of the box.
78': Casemiro CLOSE! Hart with a reaction save with his leg to deny the Brazilian!
77': Sterling on for Jesus Navas.
75': Bale cuts in on his left foot and it just goes wide.
73': Modric's shot goes wide this time.
71': Jese's header loops over Hart and hits the bar.
69': De Bryune sends in a low cross that Navas smothers.
66': Bale's pass to Marcelo goes out wide as the Welshman apologizes.
63': Ever since Jese came on, Madrid has looked more lively.
55': City get a corner, and Kompany gets a head to it but sends it out for a goal kick.
54': Sergio Ramos gets a good, strong head to it but sends it right to Hart.
47': Bale's tripped himself in the box, trying to draw a pen.
46': Aguero's left-footed shot goes high.
46': Jese on for Benzema
46': Second half under way.
45': Halftime and it is still a 0-0 stalemate.
45': Benzema finally gets a shot off and sends it high and wide.
44': Madrid finally with a good spell of possession but nothing with Marcelo trying to take on Sagna.
38': Silva slow on the pitch as the trainers come to look on at his hamstring. As of right now, it doesn't look too good. Silva is distraught as he's walking off as Kelechi Ihenacho comes on.
37': David Silva second in the books after a tackle from behind on Gareth Bale.
35': Madrid finally have a good spell of possession and with Vazquez on the ball, Kompany wins it and follows through and hits the stomach of Vasquez who goes down.
30': At the half hour mark, City have bossed the possession lately but still have to test Kaylor Navas.
27': Another free kick from De Bruyne is cleared out, and Navas comes in with a goal kick.
26': Another free kick is given to City as Sergio Ramos argues he won the ball, which he did, but he stepped on the incoming attacker, drawing the free kick.
25': De Bruyne whips in a free kick but Madrid are awarded a free kick because of a push in the back.
24': Pepe first in the books with a slide tackle from behind on Kevin De Bruyne.
20': Madrid have another corner but once again amounts to nothing. Bale flies down the right-hand side and then cuts the ball back but his pass was poor, finding no one in the box.
18': City have had a bit more possession so far but have yet to threaten on goal.
16': Bale goes down easily and the referee is having none of it as play continues.
13': Bale burst down the right hand side to keep it in and sends in a cross but not one Madrid player can get their head or foot on it.
9': Navas sent in a threatening cross but no one was there in the center.
8': Fernandinho gets a ticking off after a high boot but no booking.
8': David Silva appeals for a corner, but replays show the ball went out before he hit it off the Madrid player.
2': Early corner for Madrid comes to nothing with City's counterattack amounting to nothing as well.
1': Kickoff is under way.
Teams are walking out now with kickoff just under three minutes away.
Real Madrid's star tallisman Cristiano Ronaldo will not feature today. Despite manager Zinedine Zidane saying he was 100 percent, the Portugal captain is not in the starting 11 nor on the bench.
Team news; Real Madrid: (4-3-3) Navas; Carvajal, Pepe, Sergio Ramos, Marcelo; Kroos, Casemiro, Modric; Lucas Vazquez, Benzema, Bale.
Team news; Manchester City: (4-2-3-1) Hart; Sagna, Kompany, Otamendi, Clichy; Fernando, Fernandinho; Jesus Navas, David Silva, de Bruyne; Aguero.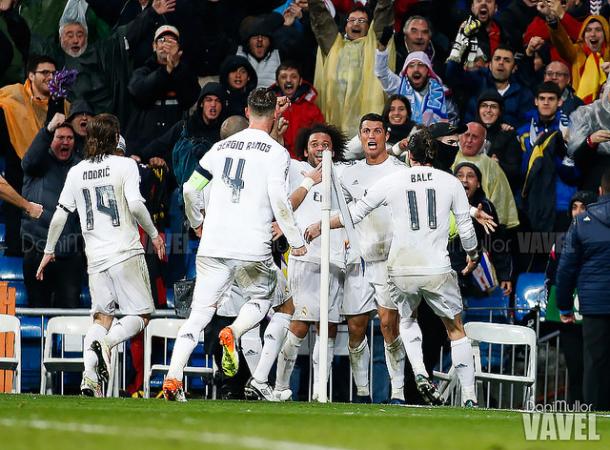 Their quarterfinal tie however, was not as straightforward as they liked. Against VFL Wolfsburg, the German side took an early lead thanks to a Ricardo Rodriguez penalty and doubled it under ten minutes later via Maximilian Arnold. The Wolves looked prime to steal this tie from Madrid, but a Ronaldo goal in the 16th minute, thanks to some poor defending, saw Madrid only down a goal with 70+ minutes left to play in Madrid. Just two minutes later, the tie was leveled all of a sudden with Ronaldo bagging his second of the day. Wolfsburg did not look too threatening for the rest of the night as they tried to hold on and force extra time. Despite their best efforts, it was the Portugal captain who sent Madrid to the semifinals thanks to his free kick sneaking in through the slightest hole in the wall to make it five straight semifinals for Los Blancos.
In their first round of the knockout stages, they faced a tricky draw in AS Roma. Los Blancos, like City did against Dynamo Kiev, all but wrapped up the tie on the road, winning 2-0 as Ronaldo and Jese gave them two crucial away goals. Ronaldo and James Rodriguez added two insurance goals at the Bernabeu for a 4-0 aggregate win.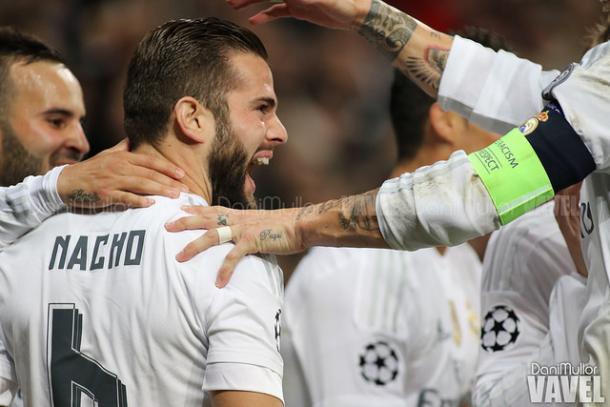 In the reverse leg in Madrid, Nacho scored the lone goal just 10 minutes before halftime, and that was enough to put Los Blancos in the driver's seat for good in the group stages. In Ukraine, Madrid were relaxing up 4-0 and then became too lackadaisical, as they let that 4-0 lead evaporate to 4-3. They held on still, but it was a scare that Madrid needed to refocus. They finished their group stage campaign with an 8-0 thrashing of Malmo, putting them top of the group on 16 points. Cristiano Ronaldo led the way in the group stages with 10 goals.
Madrid loved the sixes as they bagged a perfect six out of six points in their opening two Matchdays and bagged six goals (4-0 win - Shakhtar and a 2-0 win - Malmo), four of them from star talisman Cristiano Ronaldo. They went to Paris for their first true test of the group stages against PSG. It was a back and forth game, but it ended in a 0-0 stalemate.
Real's Road to the Final Four: Los Blancos were placed in Group A as the team from Pot 2 since they did not win La Liga or the Champions League title last year. Despite the Pot 2 placement, they were slight favorites to top the group over Paris Saint-Germain with Shakhtar Donetsk and Malmo as afterthoughts in a battle for the third-placed Europa League spot.
After the firing of manager Rafa Benitez, Zinedine Zidane, the man who fired Madrid to their ninth Champions League title, has made Los Merengues look like a rejuvenated side under the Frenchman. Madrid are firmly back in the La Liga title race, closing a once seven point gap down to one but still lie in third place behind their two biggest rivals, FC Barcelona and Atletico Madrid.
Real Madrid, who are in their fifth successive Champions League semifinal, are looking to grab "Undecima" after grabbing "La Decima" two years ago. Despite five straight Champions League semifinals, Los Blancos have only reached the final once, the year they won their 10th Champions League title, the most in UEFA Champions League history.
In the quarterfinals, City met Paris Saint-Germain in what was a near toss-up for most people to see who would advance to the last four. It was a 2-2 draw in Paris, thanks to Joe Hart, who saved a Zlatan Ibrahimovic penalty before the enigmatic Swede scored. Hart was once again up to the challenge in the second leg of the quarterfinals, denying Ibrahimovic's free kicks twice before De Bruyne scored with just under 15 minutes to play to seal City's first-ever spot in the Champions League semifinals.
In the knockout stages, thanks to topping the group, City were gifted with a trip to Ukraine to start against Dynamo Kiev. Three away goals at the Olympic Stadium all but wrapped up the tie in the Ukrainian capital for Manchester City. A 0-0 draw in Manchester was more than enough to see City through to the final eight.
It was on the final Matchday where City saw themselves clinch the top spot in the group with a 4-2 win at home against Monchengladbach. The Sky Blues scored three goals in a five minute span from the 81st-86th minute to put them ahead for good, with Raheem Sterling coming on to score the equalizer and game-winner. Juventus was knocked down to second after ex-Bianconeri, Fernando Llorente, sunk the Old Lady.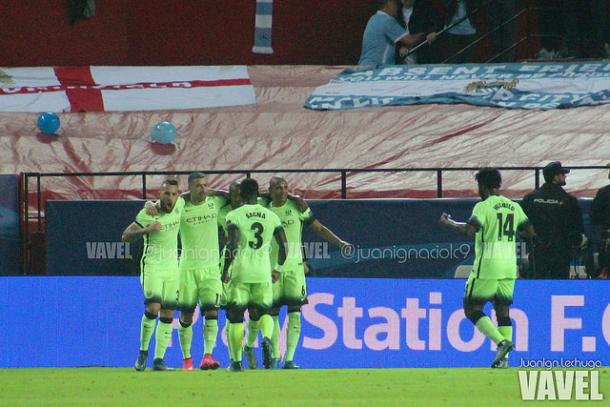 The Sky Blues jumped to the top of Group D on Matchday 4 thanks to their win over Sevilla and a Juventus draw, but the Italian side jumped in front once again with one Matchday to go after Mario Mandzukic's goal on 19 minutes saw the Italian side win 1-0 in Turin.
It wasn't the brightest start for Man City, falling in their opening game to Juventus. They were nearly in trouble after threatening to only pick up a point from their first two games before a Sergio Aguero penalty at the death gave them three points in Germany. Another last-minute winner at home - Sevilla, this time from open play thanks to Kevin De Bruyne, put City just a point behind Juventus after Matchday 3.
City's Road to the Final Four: Manchester City were placed in Group D alongside last year's Champions League runners-up, Juventus, defending Europa League champions, Sevilla, and Borussia Monchengladbach.
Realistically, this is the only major trophy left that The Citizens are in play for. They did win the Capital One Cup earlier this year over Liverpool but were knocked out of the FA Cup earlier this year and are too far back from league leaders Leicester City to make a run for the Barclays Premier League title.
The hosts, Manchester City, are in their first-ever Champions League semifinal, an unbelievable achievement getting through some of Europe's best in the group and knockout stages. Oddly enough, Manuel Pellegrini, their manager, will not be in charge after this season as he will be replaced by Pep Guardiola of Bayern Munich.
Hello, welcome all to live commentary of the UEFA Champions League semifinal between Manchester City and Real Madrid. I'm Noel Alberto, and I will be giving you guys live commentary throughout this match as well as team news leading up to kick-off. Stay tuned for a preview to the match.