With Manuel Pellegrini on his way out of Manchester City, just how did he fare in his final season at the Etihad?
With four competitions to look back at, we assess his latest campaign as he prepares to make way for Pep Guardiola.
Premier League; 6/10
The Premier League season began brightly for the Sky Blues, with wins over West Bromwich Albion, Chelsea, Everton, Watford and Crystal Palace coming in their opening five games, with them scoring 11 and conceding nine. Confidence was building in the City camp as it looked as though they'd struck an unstoppable formula, blistering attacks combined with an unwavering defence.
Perhaps the deciding factor in City's downfall for the remainder of the season was the absence of captain Vincent Kompany for long spells of the campaign. A troublesome calf injury played havoc with the Belgian's season as he struggled to keep his fitness levels up and City's defensive record with and without him speaks volume. While Nicolas Otamendi and Eliaquim Mangala have got to grips with each other, consistency has been a real issue for them.
Post Christmas and the Blues enjoyed intermittent bursts of form to briefly keep them in the race for the title, however an injury to Kevin De Bruyne seriously harmed the team's creative element; the Belgian having been pinnacle in keeping City's dreams alive with his goals and assists.
Some may argue that the announcement of Guardiola succeeding Pellegrini at the end of the season distracted City from the task at hand ,though the existing inconsistencies of the team is what really plagued them.
FA Cup; 5/10
City's FA Cup campaign got off to a comfortable start. A 3-0 win away to Norwich City was secured with ease and followed by another away battering, this time Aston Villa the victim of a 4-0 scoreline with teenage star Kelechi Iheanacho bagging a hat trick in the process. The fifth round was another away tie, this time to Chelsea.
However, due to the congestion of fixtures the Blues faced, Pellegrini opted to field an XI comprised mainly of youth with Fernando, Martin Demichelis and Willy Caballero the exceptions.
Both sides drew blood in the first half, with goals from Diego Costa and David Faupala teeing up the second half nicely. As expected with a vastly inexperienced youth side, Chelsea comfortably demolished City in the second half, scoring a further four goals to cement their place in the sixth round.
League Cup; 10/10
Perhaps the highlight of the entire season, clinching the League Cup in such dramatic fashion over Liverpool gave City something to smile about in what had been a rather glum period for the club.
Having comfortably beaten the likes of Sunderland, Crystal Palace, Hull City and Everton in the previous rounds, not only was it an excellent exhibition for City's attacking ability, it also saw the likes of Iheanacho and Manu Garcia flourish.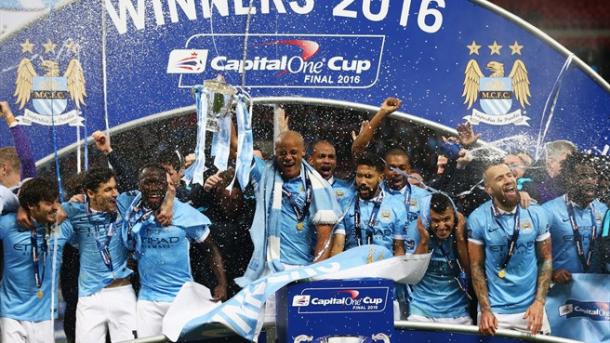 Champions League; 8/10
Perhaps City's highlight of the season was setting the record for the club's best ever performance in Europe. The Sky Blues made it to the semi-finals, only to succumb to a 1-0 defeat to Real Madrid.
Pulsating football in the group stages saw the club finish top of their respective group for the first time, earning a much less formidable draw against Dynamo Kyiv.
Slick and measured performances saw them breeze into the quarter finals, where Paris Saint Germain awaited. Proving a much tougher task, City needed every ounce of quality at their disposal and De Bruyne was the deciding factor in the second leg, his curling shot firing the Blues to the semis.
Sadly it ended there, in the second leg a somewhat lacklustre and feeble performance left City fans dismayed. With them having played such class football to get there, this performance was so painful to watch as the players lacked any desire to get to the final - of all places.
Despite the poor finish, it was still a remarkable campaign though with plenty of positives to draw on for next year.
Best Performance - PSG 2-2 MCFC/ MCFC 1-0 PSG
It's difficult to pick between these two performances because both were a true exhibition to how vastly City have improved in Europe.
Over the two legs, we saw a mature European side in Manchester City; one that attacked with intelligence whilst the back four remained composed, Mangala in particular pocketing Zlatan Ibrahimovic was delightful to see.
It also saw the emergence of the Fernando/Fernandinho partnership which proved to be valuable for the remainder of the season and something the incoming Guardiola may look to harness.
Worst Performance - MCFC 1-4 LFC
Without question one of the most shambolic performances of the season was City's 4-1 defeat to Liverpool - the first time City had conceded four goals at the home in the Premier League since February 2003 against Arsenal.
Jurgen Klopp's side picked apart the City back four with ease, capitalising on a shaky Mangala/Martin Demichelis partnership as goals from Phillipe Coutinho, Roberto Firmino, Martin Skrtel and an own goal from Mangala emphasised how badly City missed their skipper.
Player of the Season
The marquee signing of the season has been a revelation for City this season; Kevin De Bruyne has fully justified his £55m price tag. Arriving from VFL Wolfsburg, the Belgian immediately settled into the side and struck up a fruitful partnership with Sergio Agüero.
Scoring 15 and assisting 15 in all competitions, he's proven himself as an integral part of City's attacking contingent, combining his eye for goal with incisive passing and movement. He is sure to be a mainstay in the City XI for years to come.
Verdict
It's been gruelling at times this season, naïve and catastrophic performances have plagued a campaign filled with so much promise.
Despite this, reclaiming the League Cup and reaching the semis of the Champions League - along with Champions League qualification - means Pellegrini has done well to salvage what looked to be a write off season.
Promising breakthroughs from Iheanacho, Manu Garcia and Bersant Celina will hopefully see them incorporated into Guardiola's master plan as the City squad is set for a regeneration.
This won't be a season remembered too fondly by City fans, but is certainly one of the least disappointing by a long chalk.